By Brian Sears
23 September 2011
In the 20-year history of the Premier League, only six teams, including Manchester United this season, have ever accumulated winning sequences as long as five straight matches at the start of a season.
But despite United's five straight wins this term – against West Brom, Tottenham, Arsenal, Bolton and Chelsea – history suggests that it's not sensible to think United are going to romp to the title – yet.
Of the five other teams starting with at least five wins (and their records are in the graphic below) three of the five failed to go on and win the title.
The two teams who did start with at least five wins and then bag the title were both Chelsea sides, in 2005-06 when they started with nine wins, and in 2009-10 when they started with six wins and won the title on the final day by a point.
Yet Newcastle started with six wins in 1994-95 and blew the great start to finish sixth.
Arsenal, Invincibles in 2003-04, started as they'd finished with five straight wins in 2004-05, but finish second, eight points behind Chelsea.
And Chelsea themselves last season started with five wins but trailed home nine points behind United in the end.
Worryingly though for rivals of United – champions for 12 of the 19 completed Premier League seasons – Fergie's young devils have already improved on their previous best start, which was when they began with four consecutive wins five years ago. And as we know, United tend to get stronger as the season wears on.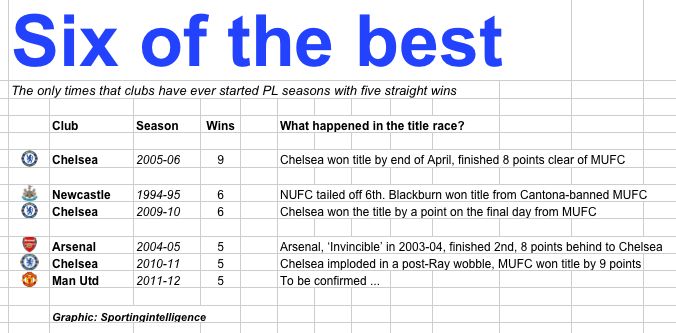 .
And another thing …
West Brom, now in their sixth season of Premier League football, have played 97 home games at the Hawthorns and gained 111 points by way of 29 wins and 24 draws.  That leaves 44 defeats, including six to Manchester United and five to Chelsea.
The most points they have gained from a single club is 11 from Fulham, who are their visitors this weekend. West Brom are yet to be beaten in the five games played with Fulham at the Hawthorns. This is all the more surprising when put alongside the five straight defeats they have suffered to Fulham at Craven Cottage, scoring just the one goal while conceding a total of 15.
With both teams starting the weekend in the relegation zone of the Premier League, West Brom will be hoping Hawthorns' history repeats itself and Fulham will be looking for the reverse.
West Brom's full Premier League record by opponent is in the table below. They also like facing Everton, Man City and Tottenham – and hate United, Chelsea and Stoke.
.
Sportingintelligence home page
More on West Brom / Fulham / Man Utd / Man City / Arsenal / Chelsea / Liverpool (or search for anything else in box at top right)
.