Screen Break

By Martin Kelner           To sponsor this column, see foot of page
11 April 2016
This time there was no escape for Murdoch. Regular readers will know the apparently still potent press potentate had a last-minute reprieve at the cricket last week when my tenner and Ben Stokes fell at the last. But now I'm into his Sky Bet people for £353.75 thanks to my fiver each way on Danny Willett at 55-1 to win the Masters.
And who better to tell you of an unexpected windfall than the ever chucklesome Peter Alliss, who I know irritates the hell out of some golf aficionados, but I find fun in a Wodehousian kind of way. I only switched on the BBC2 coverage when it became apparent my finances might be favourably affected, but the veteran commentator seemed to be in classic old duffer form.
Over shots of Willett checking his scorecard with the scorer, Alliss remembered other instances of golfers "in the hut," checking their scores, "though I suppose they call them chalets over here."  Hmph, what will they think of next in the colonies?
And as Danny called home to pass on his happy news, our hero marvelled: "The things you can do with a phone nowadays."  Like, er, making 'phone calls.
I'll miss him when the BBC loses coverage, in the same post-modern ironic way I still miss ITV's quirky Saturday afternoon show World Of Sport (Teenagers, ask your dad or similar role model) which, because the BBC had sewn up the rights to most major sport, regularly featured more outré events like log rolling and cliff diving. 
It also introduced Britain to the phenomenon of Evel Knievel, in clips bought in from the American show ABC's Wide World Of Sports which played a big part in the daredevil's rise to fame.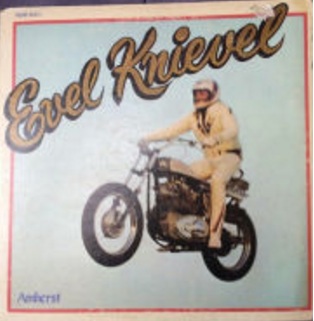 Some of the sportscasters from Wide World, extravagantly lacquered comb-overs and garish sports jackets now replaced by bald pates and cardigans, appeared in the Storyville documentary on BBC4, Being Evel, remembering how the motorcycle stuntman (immortalised, right, on record sleeve) insinuated himself into the sporting fabric of the States through shameless self-promotion, doing wheelies for instance right through L.A. to make an entrance at the sportscasters' monthly meeting. 
The mixture of archive and memoir was as richly entertaining as we have come to expect from these Storyville programmes. I loved the opening titles of Wide World, the stentorian tones of the announcer setting out the show's raison d'être:
"The thrill of victory, and the agony of defeat, the human drama of athletic competition," a neat summary of why so many of us on the weekend of the Masters, the Grand National, a heavyweight boxing title fight, and four matches in football's Premier League on TV, found ourselves unavailable for much in the way of social intercourse.
I also enjoyed the interviews with some of the older denizens of Evel's home town of Butte, Montana, who remembered him (born Robert Craig Knievel, 1938) growing up. These grizzled old chaps, four of them with approximately half a dozen teeth between them, painted a vivid picture of a one-horse town where someone just shot the horse. "Butte was just a tough ass mining town," said one.
"Drinking and fighting," he said were the predominant leisure time activities – "Evel was a fighter from the get-go" – although another witness remembered Butte as "a town of 3,000 whores," which I estimate works out at about one per five male residents over the age of consent, or whatever passed for it in those days in Butte, Montana.
George Hamilton, the actor who played Knievel in a 1971 bio-pic about the stuntman, told how he met Knievel to discuss the movie, at a place called the Saharan Motel, which looked as if it might struggle to rise a notch above the Bates Motel in the Good Hotel Guide (though our lawyers tell me it's much better now).
"He was on the bed, lying there like a Pasha, in a bad motel, swigging from a bottle of Wild Turkey, and he made me read the whole script to him. It was the best performance I ever gave.  I should have got the Academy Award."
It was the Evel Knievel action toy, though, that made Evel millions of dollars, a fortune it will hardly startle you to learn he didn't invest wisely in the Prudential, but instead in five Ferraris, two Lear jets and, in a nod to his Working Class Hero status, a van, albeit a $140,000 "luxuriously appointed" van.
Meanwhile, another week, another dismal celebrity sporting challenge.  ITV's Drive featured eight quite well-known people competing in a series of not very interesting driving challenges, banger racing and suchlike. 
The cast included Johnny Vegas, Mariella Frostrup, and Professor Green, who disappointingly was not a real professor, but then Count Basie wasn't a real Count, nor Duke Ellington a real Duke, nor Doctor Fox a real doctor, or even a real fox, so I suppose the rapper can choose what title he wants.
One of the participants, Angus Deayton, said: "I have no experience of racing so I'm slightly wondering what on earth made me say 'yes' to this." Hmmm, a three-pipe poser, but I think I could give it a go.
Finally, good to see the excellent Bournemouth striker Callum Wilson, whose season has been cruelly blighted by injury, return in a cameo role in the match at Aston Villa. 
It's often a struggle to regain match fitness after a long lay-off, but Callum showed he's nearly up to speed in his post-match interview on Match of the Day, beginning his first answer "Yeah, no…", which is what we in the trade recognise as the classic "Henman."  Once he introduces a "Like I say" or two we'll know he's raring to go.        
.
Screen Break ran in The Guardian for 16 years, and then in the Racing Post. The first two episodes in its current incarnation can be found here, and here. Week three, now better know as 'The Screen Break that cost Steve McClaren his job', can be found here. Week four featured the wacky world of Jonny Wilkinson. Week five came witha money-back guarantee on laughs. (It was so funny that nobody at all asked for their money back). Week six was all about managing with an iron bar (and the boat race). Week seven was the Windies winning wonderfully. Also well worth a read is the most amusing 'My celebrity death match'. This piece is also a MUST READ. And so is this one.
.
And you can follow Martin Kelner on Twitter @MartinKelner
.
The column is cross-promoted every Friday afternoon on Talksport in Martin's regular light-hearted sport-on-TV spot with Hawksbee and Jacobs. If you wish to be associated with the values of (a) sport, and (b) having a laugh, then Sportingintelligence is entirely open to including your branding on this feature each week.
In other words we're looking for a sponsor. For a small amount of money, 100% of which will go to a good cause (MK Screen Break Ltd, Cayman), you'll get ads in this space, as much promotional exposure as you can dream about (almost), and a warm glowing feeling of having done the right thing. To find out more, contact Martin via Twitter, Facebook, or email him at martinkelner01@gmail.com
.