Screen Break

By Martin Kelner           To sponsor this column, see foot of page
4 April 2016
You'll be familiar with William Shakespeare's famous gag about suffering the "slings and arrows of outrageous fortune." Well, if the Bard of Avon were still with us, and wanting to see real suffering, he needed to be watching the cricket with me yesterday afternoon.
Talk about Ss & As. My modus operandi on occasions such as the World T20 Final is to watch in conjunction with the Sky Bet online betting app, wait for what I feel to be a propitious moment to back the losing team, equip myself with a cup of tea and a Maryland cookie, invest, and wait for the comeback.
Thus it was that when England lost quick wickets at the start of the match, I took advantage of the 13-8 on offer, but soon sailed into a sea of troubles – see what I'm doing here – as we continued to succumb to the West Indies' bowling. Aye, there's the rub, I thought, although in slightly stronger terms.
But wait. When Joe Root bestowed some plausibility on the England innings, and the West Indies, early in theirs, fell prey to 'heartache and the thousand natural shocks' of their own ("That's enough Hamlet" – Reader's Voice), Rupert Murdoch popped up to tell me that England were now odds-on favourites and it was the Windies who were 13-8.
Murdoch, by the way, still owns a slice of Sky Bet. You would think with his billions, his many houses, and recent connubial bliss dancing the horizontal hornpipe with Jerry Hall – at least one assumes he is, it's not something one wants to think about too much – he could do without getting his mitts on my children's inheritance on big match days.
As it happens, with the Windies drifting, I could have stuck it to Rupe by backing them at 13-8 or longer, thus guaranteeing myself a winning afternoon whatever the result. But as I'd only had a tenner on England in the first place, my winnings would have been around three pounds, scarcely enough to make the Anglo-Australian-American media magnate reconsider his position.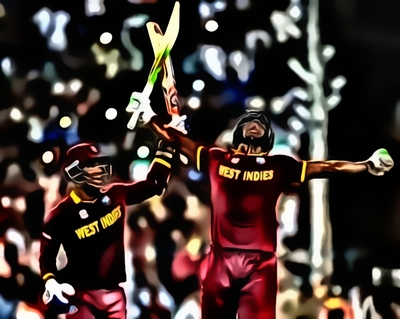 We all know what happened in the end, so what with the Sky subscription on top of the bet I feel I've made a larger contribution to the connubial bliss than I intended. 
I actually slightly regretted my bet in the end, because the afternoon would have been thrilling enough without a financial interest. I may have been unduly influenced by Sky's old advertising slogan: "It matters more when there's money on it."
I ended the afternoon on Radio 5 Live Extra, when some friends came round to show off their new baby. Very cute and all that, but with the World Cup in the balance, the little mite's feeding and dribbling regime proved a less than gripping narrative. I fared better though than those following the match on Radio 4 long wave, who with around a dozen balls or so to go and West Indies needing 27 runs, were diverted from Kolkata for "a speedily read shipping forecast." 
Now I've never piloted an ocean going vessel, but I should have thought a "speedily read" bulletin rather defeats the object. While cricket loving mariners would resent the interruption at a crucial point in the match, gabbled weather forecasting is hardly going to help the more dedicated sea dog. 
"Where did he say that gale was?"
"I don't know, I couldn't catch it. German Bight, Ross and Cromarty, somewhere."
Finally, the BBC, as I know to my cost, is trying to save money at present. I have a suggestion. Stop commissioning programmes that are almost exactly the same as other programmes, except not as good. Show a couple of Laurel and Hardy shorts instead.
The latest dismal addition to Saturday night family viewing is Can't Touch This, where a bunch of ordinary folk, fun people, salt-of-the-earth types who like to dress up as St. Trinian's girls and collect money on Children In Need night, go round an obstacle course which is uncannily similar to the one in a previous superior Saturday night show, Total Wipeout, trying to reach up and touch pads enabling them to win some electronic gewgaw.
They fall in the water a lot, and sometimes they are hit in the genital area by a swinging pole – but a very soft risk-assessment-friendly one – and just in case the comedy of this escapes us, there are endless replays, accompanied by Sue Perkins' ho-ho commentary, which forensic analysis reveals to be entirely humour-free.
Presenters Zoe Ball and Ashley Banjo mug to camera, mock wincing and the like, about 12 times as much as the material can support. 
The only way these programmes work is if there is at least the illusion of genuine danger, the way the Japanese do them. They'd have people being bashed in the nadgers by a steam hammer, starting with the presenters hopefully.
. 
Screen Break ran in The Guardian for 16 years, and then in the Racing Post. The first two episodes in its current incarnation can be found here, and here. Week three, now better know as 'The Screen Break that cost Steve McClaren his job', can be found here. Week four featured the wacky world of Jonny Wilkinson. Week five came with a money-back guarantee on laughs. (It was so funny that nobody at all asked for their money back). Week six was all about managing with an iron bar (and the boat race). Also well worth a read is the most amusing 'My celebrity death match'. This piece is also a MUST READ. And so is this one.
.
And you can follow Martin Kelner on Twitter @MartinKelner
.
The column is cross-promoted every Friday afternoon on Talksport in Martin's regular light-hearted sport-on-TV spot with Hawksbee and Jacobs. If you wish to be associated with the values of (a) sport, and (b) having a laugh, then Sportingintelligence is entirely open to including your branding on this feature each week.
In other words we're looking for a sponsor. For a small amount of money, 100% of which will go to a good cause (MK Screen Break Ltd, Cayman), you'll get ads in this space, as much promotional exposure as you can dream about (almost), and a warm glowing feeling of having done the right thing. To find out more, contact Martin via Twitter, Facebook, or email him at martinkelner01@gmail.com
.