By Brian Sears
and Nick Harris
SJA Internet Sports Writer of the Year
23 February 2012
When Tottenham play Arsenal on Sunday, they'll kick off with a 10-point advantage over their North London rivals in the Premier League, and with realistic hopes of finishing this season as London's highest placed club.
The last time they were the capital kings of English football was 17 long years ago.
In the 1994-5 season, starting under Ossie Ardiles and finishing with manager Gerry Francis, Spurs finished in seventh place in the Premier League. That was good enough to make them London's best team ahead of QPR (in 8th), Wimbledon (9th), Chelsea (11th), Arsenal (12th), West Ham (14th) and Crystal Palace (19th).
Foreign owners were rare. Leveraging was something you did when you changed a tyre. Kroenke was a sound you made when you had a heavy cold.
The following season Arsenal were London's best club and Tottenham were second best.
And in the 15 completed seasons since then, it's been Arsenal and Chelsea as No1 and No2 in London every single season, Arsenal as No1 for eight seasons, then Chelsea for the past seven. In six of those 15 seasons, London has provided the title winners with Arsenal and Chelsea winning three apiece.
Our first table shows the story of the London top dogs and also-rans in the Premier League era.
(Article continues below, where we move onto cash)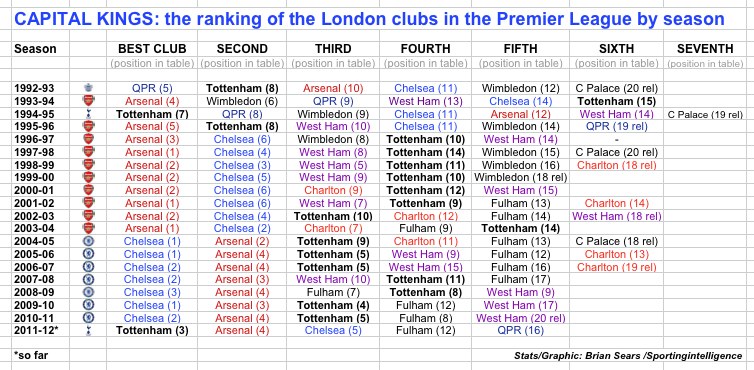 .
Tottenham's journey through the Premier League era has had more of a roller coaster feel to it.
They've been best in London just that once before (1995) and the worst of six London clubs (in 1994, finishing 15th). They've most often been the fourth best club in London (eight times, behind a variety of combinations of rivals), but now they really do look like having a shot at being London's best in an era where big money is otherwise calling the shots.
This season they have the best inter-London record, as this shows:
.
The London derby table 2011-12
Played W – D – L – F – A – Pts
Tottenham 4 – 3 – 1 – 0 – 9 – 4 – 10
Fulham 5 – 2 – 2 – 1 – 11 –  6 –  8
Arsenal 5 – 2 – 1 – 2 – 9 – 8 – 7
QPR    4 – 1 – 0 – 3 – 2 – 10 – 3
Chelsea 4 – 0 – 2 – 2 – 5 – 8 – 2
.
So how have Chelsea and Arsenal managed to monopolise London football for 15 years, and why might Tottenham now be catching up?
Money clearly plays a part. But it's not as straightforward as who spends the most on transfers. That's Chelsea by a mile in the past 10 years, as our next graph shows. Chelsea have spent a net £560.8m on transfers in a decade.
But Arsenal (less than £20m net in the same period) are a distant third behind Tottenham (£207.9m), as shown below. So transfer spending in itself is not the explanation.
(Article continues below)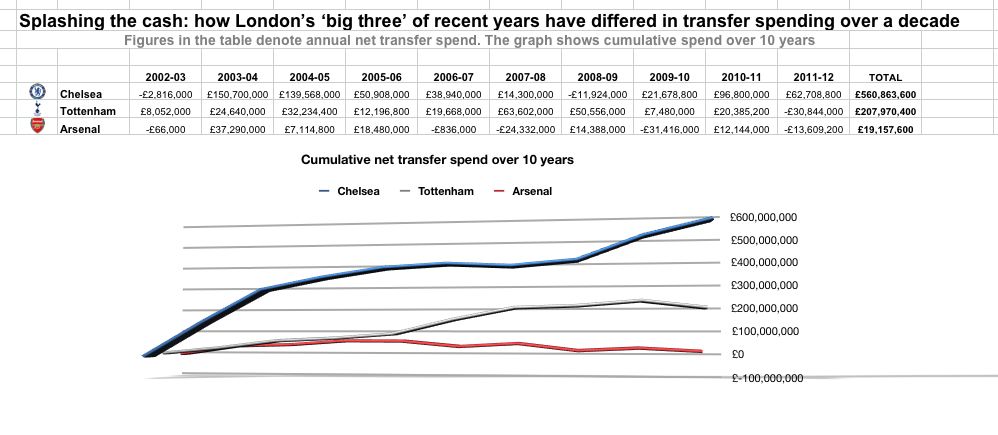 .
What about wages? (Our third and final graphic, right at the bottom of the page, looks at this).
Again Chelsea have led the way, by a long way, for most of the past decade and certainly for all of the Abramovich era since summer 2003.
Arsenal have been behind them and Tottenham lagging, although as the third graph shows, Tottenham's rate of increase of pay is much quicker recently that Chelsea's or Arsenal's.
A decade ago, the average first-team salary at Arsenal was a little under £1.5m a year for a first-team player and at Chelsea it was a bit lower than that, and at Tottenham it was under £1m a year.
Chelsea's wage bill went boom in the 2003-04 season and they've been ahead since.
Now, give or take a few hundred thousand, the average annual salary at Chelsea is just north of £4m a year, at Arsenal it's just north of £3m a year and at Tottenham it's closing on £2.5m a year.
To put that in some perspective, Chelsea's average wage has increased about one and a half times since 2003-04, Arsenal's has doubled, and Tottenham's hasn't quite trebled but is heading that way.
See the graph LINKED here for combined transfer and wage spend for the three clubs since 2002.
.
England's Champions League gloom? Bobbins. Get some perspective.
More on Tottenham / Arsenal / Chelsea  (or search for anything else in box at top right)
Follow SPORTINGINTELLIGENCE on Twitter
Sportingintelligence home page
.