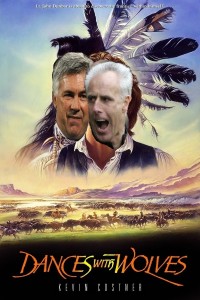 By Brian Sears
19 February 2010
Occasionally in this life as a statistician, you unearth a statistical gem so lovely that you want to pop it into your anorak pocket, go for a stroll around town in the splendid late-winter sunshine, and share it with everyone you meet. Today, dear readers, is such a day.
I've been looking this week at the records of the seven teams who have been ever-present in the Premier League since it began in 1992 against the promoted teams each season, as you do. The 'Resident 7', as we'll call them, are Manchester United, Chelsea, Arsenal, Liverpool, Everton, Aston Villa and Tottenham, and it's not a surprise that they have generally done well against promoted teams, and have strengthened their advantage over time.
Our block chart below shows this; the trend is clear when you note that the total points won by promoted teams in the first three season were 48, 50 and 48, and in the last three completed seasons 20, 18 and 24.
But that is not the gem. Oh no. It glitters brighter than that.
One ingredient in the gem is the discovery that Chelsea, with the best record against promoted teams over the years (see chart at the bottom) have now gone unbeaten in their last 53 of these meetings, dating back almost nine years to April 2001, when they lost to Charlton, who had been promoted that season.
Meanwhile Wolves, under Mick McCarthy, have already amassed nine points against the 'Resident 7' this season. Those points came thanks to draws against Everton, Villa and Liverpool, plus two wins over Tottenham, firstly away in December, and then at home last week.
Our gem is made whole, and sparkling, when we look at this weekend's fixture list. See Wolves, so fearless again the 'Resident 7'? See who they host this weekend? Yes, Carlo Ancelotti's Chelsea, who have not lost to a promoted team in the league for almost nine years and who have lost only 12 games to promoted teams in 18 seasons. What a match we have in store, statistically speaking. Ancelotti's title hopes may in part be realised or dashed this weekend as he dances with Wolves.
A perusal of the data shows it's no surprise that Spurs should have been victims of a double beating by Wolves this season. Spurs have lost 30 games to promoted Premier League sides down the years, more defeats of this kind than any of the other 'Resident 7', and they could muster no more than draws on 30 other occasions.
Since Chelsea last lost to a promoted side, they have only drawn three of these games, at home to Reading on Boxing Day 2006, at home to Hull a year ago, and at Birmingham last Boxing Day. For Chelsea, this Saturday's visit to Wolves will complete another season's campaign against the promoted sides.
Even Manchester United in their defeat at Burnley proved fallible this season after four whole seasons without defeat to a promoted side, leaving Liverpool with the longest unbeaten record after Chelsea. Liverpool last lost to a promoted team in April 2005, 0-1 at Crystal Palace, 28 games ago.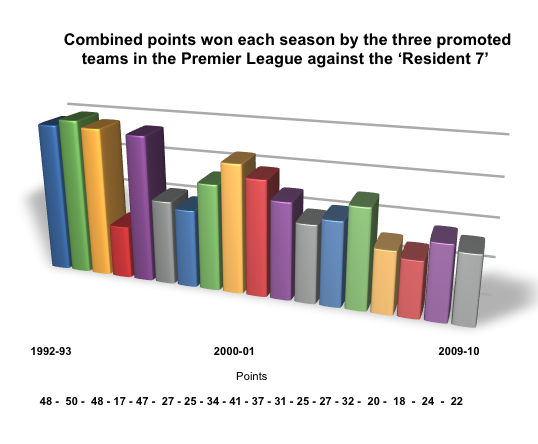 .