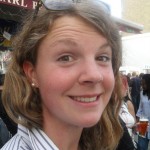 ALEXANDRA WILLIS is the Deputy Editor of ACE Tennis Magazine, and alongside mag work and an affair with social media, has the dubious honour of following British players to Grand Slam qualifying from time to time as part of her professional duties. If you happen to bump into her court-side, she'll probably tell you that she went to Oxford (and not just shopping).
.
.
.
.
.
Perhaps the only thing to surprise the world of tennis more than Justine Henin's retirement in 2008 was her decision to return to the circuit for this year's tour. ACE Tennis travelled to Belgium to find the former world No.1 far from retiring … and sportingintelligence is happy to share this extract, exclusively online, from the finished article.
.
By Alexandra Willis
2 March 2010
Justine Henin doesn't do things by halves. When she visited Roland Garros with her mother Françoise at the age of nine, she made up her mind that she would one day be the French Open champion. Eleven years later, she lifted the Coupe Suzanne Lenglen, notching the first of seven Grand Slam titles she has accrued to date. A similar sense of determination saw her marry a man that her father wasn't too fond of, Pierre-Yves Hardenne, causing a five-year rift with her family. Then, in May 2008, when she decided to retire from tennis at the grand old age of 25 – a seismic shock that hit women's tennis far harder than any pundit could have predicted – she removed
herself from the professional game in a most emphatic fashion.
Now, less than two years later, divorced and speaking to her father and siblings again (her mother died when she was 12), she has once again donned her trademark cap, rejoined the Sony Ericsson WTA tour and devoted herself to tennis. Being Henin, this was never going to be a half-hearted comeback.
Speaking eloquently and openly – surprisingly so, for one known to be intensely private – the diminutive Belgian revealed to ACE Tennis that her comeback is largely the fault of a certain Roger Federer. 'I didn't follow tennis at all. I was tired of it,' she says, talking at her academy in Limelette, a small and sleepy village just half an hour from Brussels. 'I needed to breathe with no tennis, live with no tennis. But when Roger Federer was trying to win the only Grand Slam he had never won, at the French Open, that little voice in my head began talking a lot. I couldn't believe that this thing inside my heart that I thought was dead was coming back, this thought that I could walk on the court again.'
The French Open looms large in Henin's career. It was less than two weeks before the 2008 event (where the former world No.1 had been a dead cert for a fifth title in six years) that she held a press conference announcing her retirement with immediate effect. She was the first reigning world No.1 ever to quit and the first player to retire at the height of their game since Bjorn Borg. But  as she now explains, she had been miserable for quite some time.
Despite completing one of the best seasons in the game in 2007, winning 10 titles (two of them Grand Slams) and suffering just one loss from the start of the French Open to the end of the year, the suffocating grind was already taking its toll.  In the 2008 Australian Open quarter-finals, at the hands of the battling banshee, Maria Sharapova, she dropped her first set to love in nearly six years. A few short months later, in Miami, she managed to win just two games against the might and muscle of Serena Williams.
'I was asking myself, "Where is my life? Is it to still be on the tour, or to be more like a normal person?" I didn't want to be on the court any more.I was going to hate tennis forever if I kept on playing,' she explains. 'I didn't want people to talk to me about the French Open or Wimbledon; to me it wasn't important. I just wanted to know more things about myself and I had the feeling that tennis didn't have the capacity to make me happy any more. I felt it was the time to go away.'
And go away she did, dropping off the tennis planet quietly and with a minimum of fuss, as only Henin would. She threw herself into a variety of enterprises: setting up her club and academy, N1 (which sounds like 'Henin' when said in French), at home in Belgium, appearing on TV shows, playing football… trying just about anything and everything she could get her teeth into.
'I wanted to do different things, different projects and just take the time to know myself better, far away from tennis, and know that I could exist without it,' she says. While she jokes that learning to cook on the TV series De Twaalf Werken van Justine Henin ('The 12 Labours of Justine Henin') was one of her toughest challenges, it was travelling to the Congo and Cambodia as a Unicef ambassador that brought the biggest rewards. 'I was facing the world, coming out of the bubble that I was in during my tennis life, and for a while I had to face a reality, a tough reality, and I realised how lucky I am with my life, it is really precious,' she says.
.
To read the full version of this interview, published in the new issue of ACE Tennis Magazine, pick up a copy today, on sale at WH Smiths and local newsagents.
.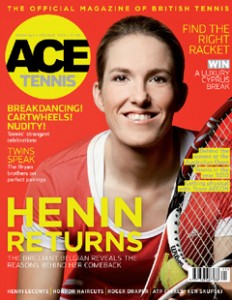 .
Have a look at what's making the headlines on sportingintelligence's front page
.
For more columnists click here
.
To take a lucky dip to see other articles on this site that mention the word 'tennis', however tangentially.
.
.
.
.
.
.
.