Brian Sears
16 March 2012
The Premier League's 20 clubs have won 772 points between them so far this season, and more than three-quarters of all the points – 588 points, or 76.1 per cent – have been won by the teams scoring the first goal.
Some clubs are better than others at capitalising on scoring first, and Manchester United are the best of all.
They've scored first in 23 games and gone on to win 21 of them, and draw the other two. They've won 65 of the 69 points available to them in those games, only failing to gain maximum points when they drew 1-1 away to Stoke and at home to Newcastle.
Manchester City have also scored first in 23 games, and gone on to gain 62 points (89.9 per cent of those available in those games). They let a 1-0 lead slip by drawing at Fulham and Liverpool and, maybe crucially, allowed a 1-0 lead at Chelsea to turn into a 1-2 defeat.
Other clubs are excellent at turning 1-0 leads into wins, and notable in this regard are Bolton and Stoke (winning 90 per cent or more of the points available in games where they score first). Their problem is they don't score first often enough.
West Brom have lost the most games, in absolute terms, four games to be precise, having scored first. They did this at Chelsea and three times in front of their own fans against Tottenham, Wigan and Swansea. But the Baggies have still gone on to gain two-thirds of the points available to them when they have scored first.
On the rare occasions QPR and Wigan have been the first on the score sheet they've only then kept half the available points and Wolves a shade under half.
Our first graph tells the full story of first mover advantage.
(Story continues below)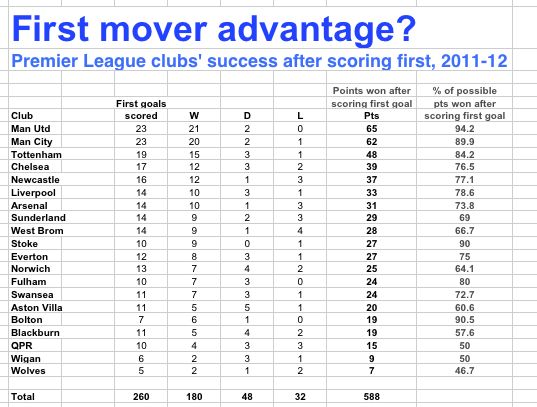 .
Nil-nil but not pointless
Points can be gained, of course, when neither side manages a first goal and the result is 0-0.
Forty points, or 5.2 per cent of all points so far in the Premier League this season, have come this way.
Manchester United, Everton and Blackburn are the only three clubs to have avoided any 0-0 results.
The clubs with points from 0-0s:
5 points Aston Villa, Swansea
4 points Liverpool
3 points Fulham, Newcastle, Stoke, Wigan
2 points Arsenal, Chelsea, Sunderland, West Brom
1 point Bolton, Man City, Norwich, QPR, Tottenham, Wolves
.
Which just leaves the comeback kids ….
With 588 points to teams scoring first, and 40 points to teams in 0-0s, that leaves 144 points (or 18.7 per cent) earned by teams who conceded first but managed to come back and draw or even win.
In this regard, Arsenal are the kings of the comeback.
Not only have Arsene Wenger's team bounced back to win in their last four Premier League games but they also did it earlier in the season at Chelsea and Norwich.
In all, Arsenal have conceded first in 12 of their 28 games so far, but won six and drew one of those 12 for a total of 19 points from a possible 36 points in those games.
This works out at a ratio of 52.8 per cent of points.
In other words, Arsenal are better at winning games in which they concede first than QPR, Wigan and Wolves are at winning games in which they score first!
No other teams have won as many as 30 per cent of the points on offer in which they've gone behind, although Chelsea come close to that.
Wolves have gained 14 of their points via the "bouncing back" route but they have had the most practice having gone a goal behind in 22 of their 28 games.
Bolton must envy Wolves.  Bolton have gone behind 20 times but have only bounced back to gain any points just once – winning 2-1 at Everton.
Manchester United, it should be noted, have not won any of the five games in which they've conceded first, although they have drawn two of them.
The story of the comeback kings is in the graphic below.
.
More on Man Utd / Man City /Arsenal / Liverpool / Chelsea (or search for anything else in box at top right)
Follow SPORTINGINTELLIGENCE on Twitter
Sportingintelligence home page
.