By Brian Sears
and Nick Harris
7 February 2014
Everton and Tottenham are both aspiring to play Champions League football next season and along with Liverpool, and perhaps Manchester United, are the only credible challengers for a top-four finish behind the three teams already highly likely to finish inside the top four: Arsenal, Manchester City and Chelsea.
This weekend's fixtures are particularly interesting then, not only pairing Liverpool and Arsenal at Anfield on Saturday, but in Everton's trip to Tottenham on Sunday.
First the bad news for Tottenham fans: Spurs's home form has been relatively poor, with just five of 13 league wins this season coming at White Hart Lane. If the league table were drawn on home form alone, Tottenham would not be in contention for CL football, they would be 11th, as here:
Article continues below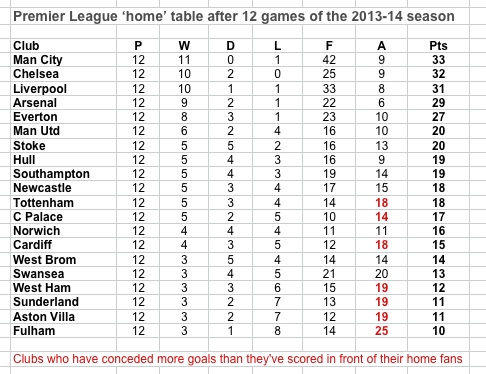 .
Tottenham are one of the seven clubs who have conceded more PL goals in front of their own fans this season than they have scored. In contrast, their away form of eight wins, two draws and two defeats is second only to Arsenal's, and then only on goal difference.
For the record, here are the four White Hart Lane PL 'misadventures' already this season:
6 Oct 2013 Tottenham  0 West Ham  3
10 Nov 2013 Tottenham  0  Newcastle  1
15 Dec 2013 Tottenham  0 Liverpool  5
29 Jan 2014 Tottenham  1 Man City  5
.
So where is the solace?
Tottenham have earned more points at home from Everton in the Premier League than they have won against any other team, or 42 from 21 previous seasons to be precise. Everton have only won there three times in 21 visits.
Here is Tottenham's complete home record by opponent, which also shows that Tottenham have managed two or more points per game against several other long-term Premier League rivals including Manchester City.
Article continues below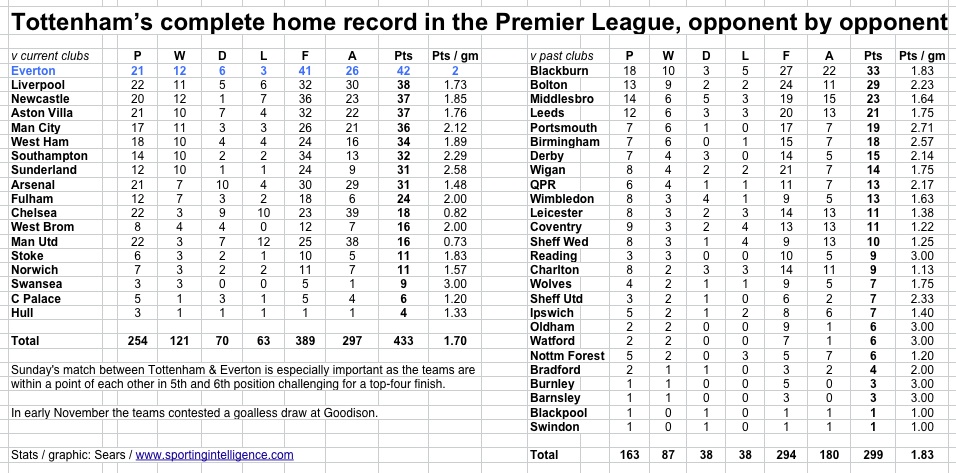 .
But which of the clubs, Tottenham or Everton, are punching most above their weight in terms of financial resources?
Today's final graph makes that abundantly clear: Everton.
The methodology used here takes the amount spent on assembling the first-team squads for each Premier League club for 2013-14 (data from the Football Observatory, here) and adds the wage bill for each club (total wage bill as listed in most recent accounts, 2012-13, or the season earlier and adjusted).
Is this an imperfect measurement of a club's financial power? Of course, there is no perfect measurement, not least as spending is dynamic.
Does this graphic give a clear like-for-like comparison of resources? Absolutely.
Manchester City's squad cost £362.6m in fees to assemble for example, and their latest total club wage bill (a large percentage of which goes on players) was £233m, for a total spend of £595.6m. Manchester United, Chelsea and Arsenal round out the top four, and frankly from an economic point of view those four clubs 'should' finish in the top four. (But quite possibly won't as United are in transition).
But look at which club should, economically, be fifth: Spurs.
And where 'should' Everton be? Probably around mid-table, scrapping it out with Villa, Newcastle and Sunderland.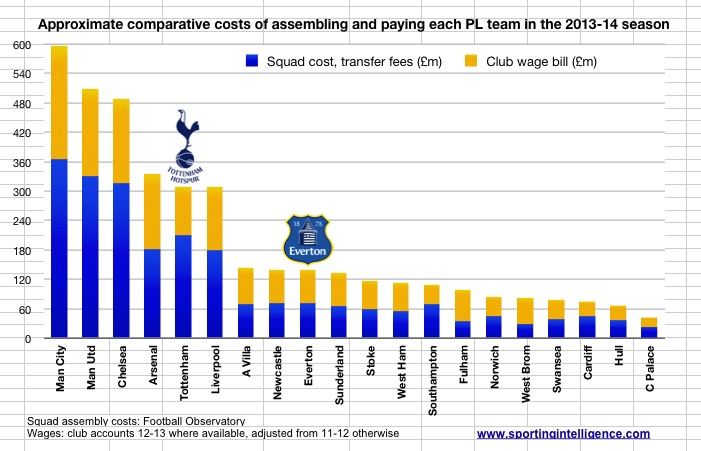 .
More on Man City / Chelsea / Man Utd / Arsenal (or search for anything else in box at top right)