By Brian Sears
3 February 2014
Chelsea visit the Etihad Stadium on Monday evening to face a team racking up goals at unprecedented levels in the Premier League era. This season already City have netted 115 goals in 37 matches in all competitions for an average of 3.1 goals per game. At home they have been more rampant still, scoring 72 goals in 18 games in all competitions for an average of 4 (FOUR) goals per game.
Chelsea's trip north is made in the context of wanting to end two City runs. First, City's 100 per cent home league record this season: 11 games played, 11 games won with 42 goals scored and eight conceded.
But less well documented is City's record of scoring in 61 consecutive home league games dating back to November 2010.
Before that run they had had three home games without scoring; on 24 October 2010 Arsenal won 3-0 at the Etihad in the Premier League. The next league visitors were Manchester United on 10 November, then Birmingham City on 13 November. Both games ended 0-0.
But since then in their 61 home league games played, City have scored at least one goal on every occasion and indeed on 46 of them more than one goal.
Article continues below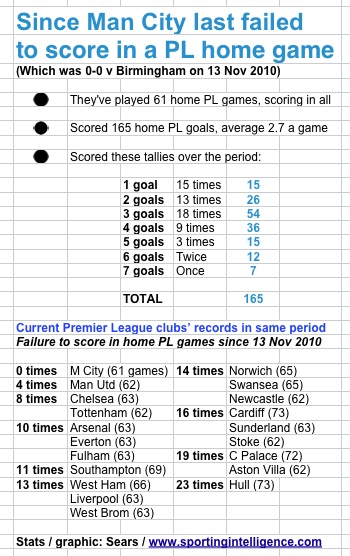 The baton for scoring every game has passed across Manchester from red to blue. On 12 December 2009, Manchester United lost 0-1 to Aston Villa at Old Trafford and for their next 66 home league games, United scored every time until losing 0-1 to Chelsea last May. (This season United have failed to score in three home league games of the 12 played)
That run of 66 by United is the Premier League record for serial home goal scoring. If City are to match it they must score in games against Chelsea, Sunderland, Stoke, Aston Villa and Fulham . Then a goal against Southampton in early April would see them claim the record from United.
(Yes, yes, yes, I know there was football before the Premier League era; but the PL era stands on its own as the 'big money' era, and if ever two clubs encapsulated it then it is Chelsea and City).
Arsenal are the only other Premier League club to have completed two consecutive seasons of scoring in every home game – 2001-02 and 2002-03 – a run that lasted 44 games altogether. That 2001-02 season was notable for Arsenal in that they scored in every game home and away, a run that lasted for 55 games altogether.
But back to Man City's  current run and the home records of all current Premier League clubs over that period since 13 November 2010.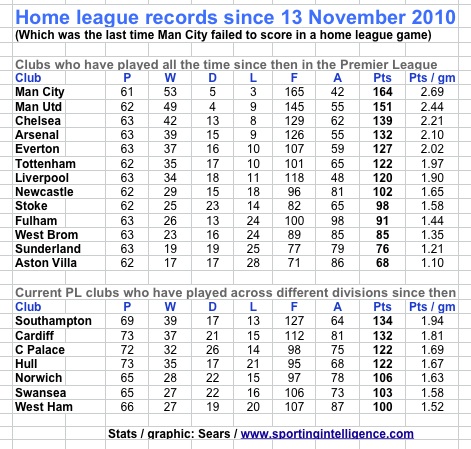 .
More on Man City / Chelsea / Man Utd / Arsenal (or search for anything else in box at top right)