*
Never mind Lady Gaga, Oprah Winfrey and Justin Bieber. The Queen of England, the Pope and Barack Obama also trail ROGER FEDERER in a list of the world's most respected figures (only Nelson Mandela is higher). The Swiss is also earning more money than ever before, with an estimated annual income of £30m. Mark Hodgkinson, editor-in-chief of a new tennis website, The Tennis Space examines why Federer, two years after his last grand slam victory, has never been as influential as he is now.
.
.
By Mark Hodgkinson
14 January 2012
These are Roger Federer's boom years. Not between the tramlines – it is now a couple of seasons since he won his last slam title at the 2010 Australian Open, and he starts this year as the world number three – yet, off the court, he has never been more powerful, more influential, or earned so much.
Federer has biffed aside Lady Gaga, Oprah Winfrey and Justin Bieber, with the American business magazine Forbes putting the Swiss at the top of their rankings for press coverage, while a survey by the Reputation Institute made him the second most respected figure in the world, behind only Nelson Mandela. The Queen of England, the Pope and Barack Obama trail a tennis player from Switzerland.
Federer in decline? He is approaching 10 million Facebook fans, more than any other tennis player, while in recent Swiss elections, more than 100 people voted for him, even though he had not put himself forward as a candidate, by writing in his name on their ballot papers.
You will be wanting to know about the money, what this all means for his wealth. Two years after that last major, Federer is making more money than ever before, with Forbes estimating that the Swiss banks almost £30m  a year, which is £10m  more than the second highest tennis player on the money list, Rafael Nadal.
Some will wonder why Novak Djokovic, with an annual income of £11m, even bothers to slide out of bed in his Monaco apartment, while Andy Murray is on the top-four minimum wage on £8.5m.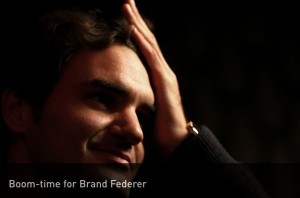 Maria Sharapova, the highest-earning female tennis player on an estimated £16m, has spoken of having the money to feed her great-grandchildren, but her commercial success is limited compared to Federer's. And, for Roger Inc, for Brand Federer, it hardly matters if he ever wins another slam – this is the reward for all those years of sustained success, of gathering a record 16 majors, and of having never come close to scandal (look back at his career, and the greatest crime anyone has ever accused him of, after he marked his fifteenth slam by wearing a tracksuit top with '15′ embroidered in gold on the back, was of looking as though he had hired Liberace's stylist).
There are no cocktail waitresses, party girls and fire-hydrants in this story.
"If a sportsman or woman develops a brand image over a long enough period, it is possible to extend and even increase their earning power," Nigel Currie, of the sports marketing firm Brand Rapport, said.
"Tennis is one of the few truly global sports and if you become the number one player for a period of, say, five years, the potential riches are enormous. As his powers on the court fade, he will have more time to devote to developing his image and fulfilling sponsors' needs. Certainly Federer has developed a very good clean-cut image which, combined with his enormous global profile, makes him highly marketable."
Federer's contract with Nike is considered to be the most lucrative sponsorship deal in tennis – he signed a 10-year extension in 2008, with each year worth in excess of £6m. His other long-term commercial relationships are with Credit Suisse, Jura, Lindt, National Suisse, Net Jets, Rolex and Wilson.
Federer's name and face had been used to sell Mercedes-Benz cars in China; that deal has now gone global. And while Gillette ditched Tiger Woods and Thierry Henry, they have retained Federer. "His income has never been higher," said Kurt Badenhausen, a senior editor at Forbes.
"Federer has incredibly broad appeal on multiple continents in a sport with extremely strong demographics. Many of his biggest endorsements are 10-year deals and he has continued to add to his sponsorship portfolio even as he has fallen from the top of the world rankings. I think Federer has a certain elder statesman appeal now after being in the game for so long."
Rene Stauffer, the tennis correspondent of Zurich's Tages-Anzeiger, argued that Federer's break with IMG, around the time he won his first slam at the 2003 Wimbledon Championships, has helped him in the long term. "When Federer's career took off in 2003, he was just ending his contract with IMG. From 2004 to the fall of 2005 he had no big agency to represent him, before he chose to work again with IMG.
"In this time he had an in-house management team, built around his family. This was a blessing in hindsight: in those years, when he started to dominate the tour, he almost did not sign any contract – since he and his parents always had the policy to have only few, but very good partners. And then, when Tony Godsick and IMG took over again, his market value and reputation was already that high, that they could basically choose their partners and get huge contracts.
"And Federer only works with brands that are well chosen and mean something to him. He has long-term-contracts with almost all his brands. And Federer's market value has grown with each successful partnership.  He has been linked with Nike and Wilson since the earliest days.
"Gillette took his name into another sphere, as it was the first big, international, non-tennis-related contract. Big Swiss companies also soon discovered Roger's value for them, and they build the biggest part of his partners – with Rolex, Jura, National Suisse, Lindt and Credit Suisse. The big Swiss bank also gives one million Swiss francs for the Roger Federer Foundation, which has become much bigger through this endorsement."
And, as Stauffer noted, Federer "has never been hit by scandals – his image has been as steady as his career".
.
This article was produced for simultaneous publication today on TheTennisSpace.
.
Follow SPORTINGINTELLIGENCE on Twitter