By Nick Harris
SJA Internet Sports Writer of the Year
9 January 2012 
The most lucrative Grand Slam in tennis history is nigh, with the Australian Open singles winners due to collect Aus$2.3m each (£1.49m), which is more than any Slam singles winners to date.
For triumphing in the doubles, the winning couples will split Aus$454,500 (£296,000), also a record. The mixed doubles winners will split Aus$135,000 (£88,000).
To put that in context, each half of the winning mixed pair will earn more from that one tournament than the average Australian does in a year. Plus expenses for local travel, accommodation and food.
The singles winners – Federer or Djokovic or Murray or whoever, and Serena Williams or Kvitova or Clijsters or whoever – will make about 40 years' pay for a ordinary person. Plus expenses.
And yet it is inevitable that at some stage this year a debate will rage within the sport over whether tennis players are underpaid.
Are they?
Given that it's easy to make quick, emphatic cases for "Yes, of course they're underpaid" and "Not at all underpaid", I'd have to conclude they're pretty much paid about the right amount.
Certainly it's tough to make a case that the very best tennis players are underpaid when the on-court-earnings alone of the top tennis stars soar above the average first-team earnings at the best-paid clubs in global sport.
And as the graphic below stresses, for most top-100 tennis players, their on-court earnings are a minority of their income, whereas for most players of team sports, their club salaries are a majority of their income.
Novak Djokovic made $12.6m in 2011 in on-court winnings, which dwarfs the most recent figure of $7.9m first-team average pay at Barcelona, the world's best-paid sports team by average pay. (For more on the Global Sports Salaries Survey, click here).
Similarly, the world's No1 on-court earner in the women's game in 2011 was Petra Kvitova, whose $5.15m put her just ahead of the average first-team pay at Manchester United, who came in at No16 in the world's best-paid teams in the 2011 GSSS.
WHICH TENNIS STAR IS WHICH TEAM?
The graphic is self explanatory and shows how Serena Williams is comparable to the Nashville Predators and how Andreas Seppi is like the New York Red Bulls and how the 100th best-paid on-court women's tennis player of 2011 is like Hibernian of the SPL.
(Article continues below).
.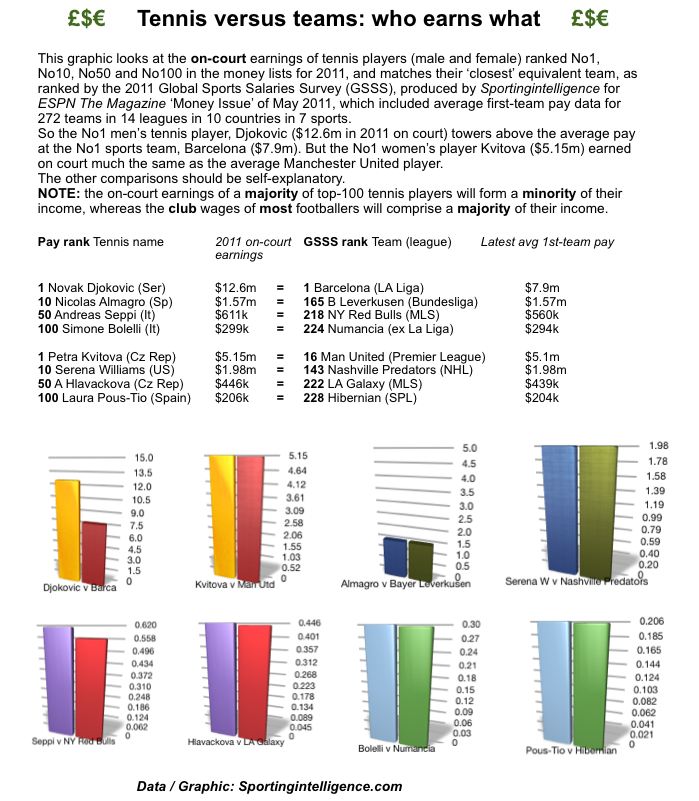 .
We can argue, however, that tennis players are underpaid because typically the total prize funds at Grand Slams (the biggest, richest and most profitable events) are around 12 to 13 per cent of those tournaments' income.
Let's consider Wimbledon 2011, where the total prize fund (including per diem expenses) was £14.6m. Prizes ranged from £1.1m for the singles winners down to £11,500 for first-round singles losers, and as much as £1,750 for losers in the first round of qualifying.
Exact Wimbledon income is not publicly declared but I estimate it was around £120m, with c.£25m of that from ticket sales, c.£35m from suppliers and sponsors, and c.£60m from broadcasting companies. That means the £14.6m prize fund falls between the 12 and 13 per cent of income, and it is similar across the Slams.
Compared to some of the world's other major sports, a 12-13 per cent cut of income for the players might be considered derisory.
Within English Premier League football, first-team players collectively typically take home about 50 per cent of a clubs' total income, although in some cases it's often a much higher percentage than that.
In NFL American football, the players take a 48 per cent split of revenues. In NBA basketball, the players used to take 57 percent but following a pay dispute that led to the cancellation of the first part of the 2011-12 season, that's down to 51 per cent – or around four times what tennis players get at Slams.
Wimbledon could certainly afford – in theory – to pay the players more. The summer's big English tournament typically makes a 'surplus' (profit) of around £30m, or around twice the prize fund. So theoretically prize money at Wimbledon could be trebled across the board and the event would still be in the black.
But that doesn't happen and won't happen. That 'surplus' goes into tennis development. And it isn't guaranteed in any case; it won't necessarily persist. And frankly, why pay players even more than the big sums on offer when nobody is staying away for financial reasons? It would make no sense.
Most tournaments, of course, don't make anything like the profits that the Slams can make. Many events at less glamourous levels actually run at a loss, subsidised by national or regional associations or other benefactors. Even modest prize money could be argued to be too high to be sustainable at such events.
This is where it starts to become easier to argue that, in fact, tennis players are not underpaid at all.
In team sports, a club will – generally speaking – have a fairly fixed income over a season from ticket sales, commercial revenues and television money, and its single biggest expense will be player salaries, and most clubs know they'll have a stable audience level.
But in individual sports, certainly at sub-Major level in the two most global 'solo' sports of tennis and golf, tournament organisers must should all kinds of costs and risks to stage an event while lacking certainty of income. Often a stellar name or two can make all the difference to ticket sales, sponsorship, media interest – and hence income.
And what's the best way to guarantee a big name? Pay a big, fat appearance fee, a common but largely unspoken source of significant secondary income for tennis players after prize money. Rafael Nadal will skip the Wimbledon warm-up at Queen's in 2012 for an appearance fee in Halle, Germany, reportedly worth £750,000. That's about seven times as much as Philipp Kohlschreiber picked up for winning at Halle in 2011! Large six-figure appearance fees are not unusual for the leading names.
In fact for many tennis players, certainly inside the top 100, prize money will routinely be a minority part of total income. Appearance money, racket and kit endorsements and other off-court commercial sponsorships can dwarf on-court earnings.
Maria Sharapova made $2.9m (£1.88m) in on-court winnings in 2011 – of an estimated total of $25m (£16.2m) in total, most of which was commercial income.
Five women made more on the court: from Kvitova's $5.1m, via Wozniacki, Azarenka, Na Li to Stosur's $3.5m, and each will have made millions more from other sources.
If we assume the world's tennis fans have an appetite for around 100 top players of each sex at any one time (enough to fill a Slam singles draw, leaving room for absences and wild cards), then I don't think the No100 ranked players in the world can argue they're doing too badly for cash.
In 2011, the men's 100th best male on-court earner was Simone Bolelli of Italy ($299,021 before appearance money, kit deals, endorsements and any personal sponsorship) and the world's 100th best female earner was Laura Pous-Tio of Spain ($206,222).
.
A version of this article was produced for publication today on a new tennis website, TheTennisSpace.
.
Follow SPORTINGINTELLIGENCE on Twitter