By Nick Harris
2 January 2011
America's Wayne Odesnik has become the first tennis player to become a top-level whistleblower in exchange for a reduced drugs ban, and sportingintelligence can reveal he could be asked to spill the beans about irregular betting as well as about doping. The authorities hope his information will lead to convictions.
A special feature report on the curious case of Wayne Odesnik is here
Odesnik first gained major attention at Wimbledon in 2009 for being at the centre of an unusual betting episode. Bookies suspended markets on his low-key first-round match with Jurgen Melzer after massive 'suspicious' sums were wagered on Odesnik losing 3-0. He lost 3-0. Nobody has yet been charged with impropriety.
"I would never do anything [improper] to jeopardise my future," Odesnik, 25, told me immediately after that match. Six months later, he was caught in possession of illegal human growth hormone in Australia, for which the International Tennis Federation banned him for two years.
The ITF has now effectively halved his punishment for "substantial assistance provided by Mr Odesnik in relation to the enforcement of professional rules of conduct." The ITF statement last month detailing his reduced ban is linked here. ITF insiders stress that the ban has not been halved, rather that half of the two-year ban has been suspended indefinitely, and that for it to remain suspended, Odesnik will need to be a high-quality whistleblower.
The press statement at the link in the previous paragraph was carefully worded so as not to suggest the limitation of Odesnik's help would be on drug matters. If you look at the full anti-doping rulebook in tennis (it can be downloaded from this link, scroll to the bottom), the relevant sub-section that details how shorter bans for whistleblowers can be handed out is M.5.3, the key part of which is reproduced here:
.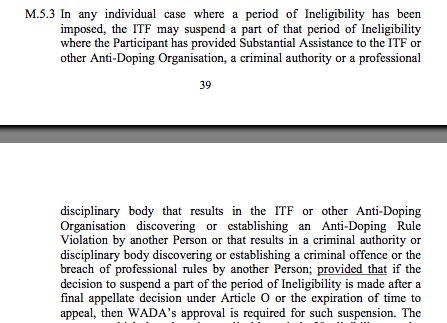 .
The key words that allow for a tennis player to get a reduced drugs ban for turning whistleblower on a non-drugs issue are "or that results in a criminal authority or disciplinary body discovering or establishing a criminal offence or the breach of professional rules by another Person."
Under this wording, Odesnik can tell what he knows – if anything – about banned betting activity in order to partly fulfill his duties as whistleblower.
Odesnik was free to resume playing from last Wednesday.
The Gambling Commission spent months looking at the suspicious bets in the Wimbledon case before dropping it earlier this year without explanation. It is not unusual for the Commission to drop a case if it cannot get a police force interested in taking it further. In that case, it will often return to the desk of a sporting authority. The Odesnik case remains in the hands of the Tennis Integrity Unit, which keeps all its work completely secret. No progress reports are given on open cases; in fact no confirmation is given about open cases.
Odesnik was certainly a case being dealt with by the TIU, where the response for updates is: "No comment".
.
Other stories on this site mentioning the Odesnik case