By Brian Sears
1 May 2015
Barring one of the most absurd sets of results this weekend that the game of football has ever seen, Bournemouth's promotion to the Premier League will be confirmed. They play at Charlton while Middlesbrough are at home to Brighton and it would need a loss for Bournemouth coupled with a win for Boro and a 19-goal swing to upset the cherry cart.
Statistically it is more likely that alien life will be found on earth in the next five years, and that it will be found by Lord Lucan aboard Shergar. I exaggerate only slightly. Suffice to say that by the end of the weekend Bournemouth's elevation to the Premier League for the 2015-16 season will almost certainly be confirmed.
They will become the 47th different club to play in the Premier League since English football's top division was revamped in 1992-93.
Next season, of the 92 clubs in the top four divisions of the English game, more than half of them (47 of 92, or 51%) will have played Premier League football. Premier League football will have become a majority experience inside 24 years for what is effectively the professional game (those 92 clubs) in England.
First of all today, in the chart below, we examine the records of the 46 to have played PL football so far. They are ranked in order of the total number of seasons there (from a maximum of 23); and if equal in seasons then ranked on the number of titles; and then finishing position.
Only five clubs have ever won the title, and only another three have ever finished inside the top two places, and none of them for 18 years and counting. Younger readers may be surprised to know clubs as varied as Leeds, Norwich and Nottingham Forest have finished in the top three in the Premier League – something Tottenham and other 'bigger' clubs have never done.
.
Article continues below
.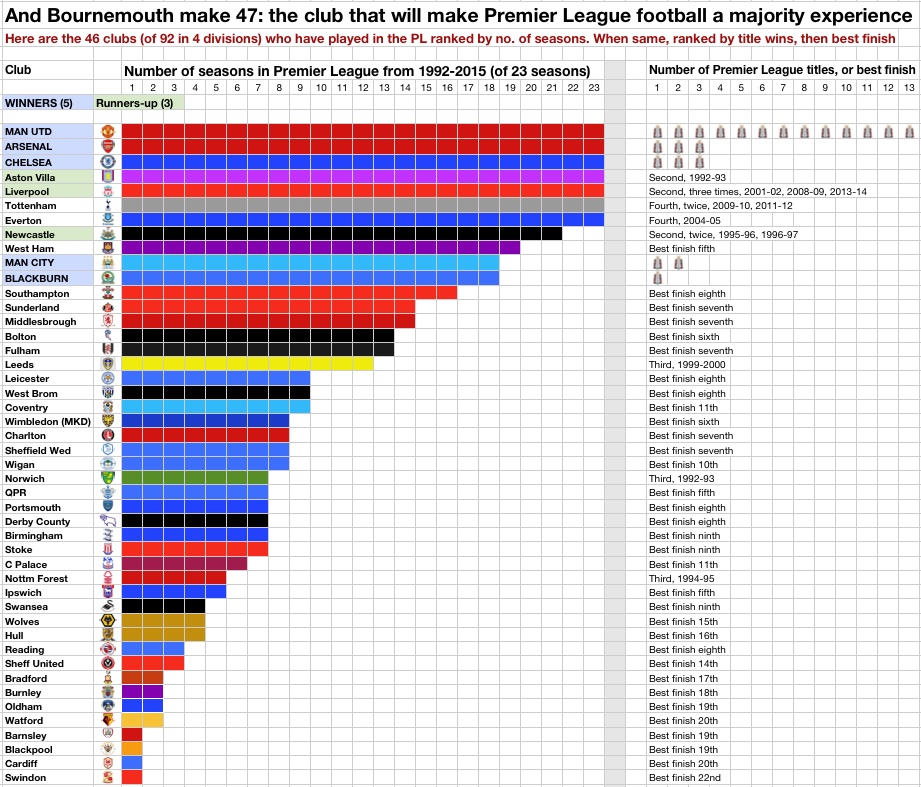 .
Seven clubs have been ever-present over the 23 seasons of the Premier League.  Below are their all-time PL records, and the two clubs with the worst records of these seven, Everton and Aston Villa, meet this weekend.
They have also been the clubs among those seven to most often risk losing that ever-present status. This season has been no exception. Everton have hauled themselves towards safety in recent weeks but Aston Villa still have a fight on their hands. Everton travel to Villa Park this weekend. In games in the Premier League between the two clubs Villa lead Everton by 68 points to 50 points. But Villa fans might like to look away as we list the points gained in those matches season by season.
Four seasons ago, Villa's points advantage over Everton was 65-35. And now Villa have just the one win over Everton in the last 12 games (four Everton wins and seven draws). And those four Everton wins have come in the last five meetings.
Unsurprisingly considering this season's form Villa are the only ever-present club to be in overall deficit when it comes to goal difference.
Article continues below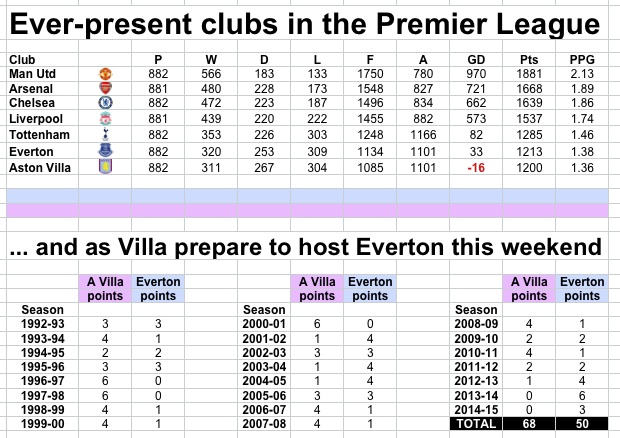 .
And another thing …
Plotting the points season-by-season for Aston Villa and Everton encouraged the same approach for Tottenham and Man City.  The outcome is remarkably similar showing a sea change from Spurs to the Blues. Up to 2009-10 the Premier League points stacked up as 61 to Tottenham and 13 to Man City. Since then Tottenham have only gained four points in the nine games played with City winning seven of them and gaining 22 points.
Perhaps a more natural division of time to consider is the pre-Mansour and post-Mansour era at City, or before and after Abu Dhabi's oil cash funded their recent improvement and titles, since 2008. In the PL era before then, Spurs won 79% of the points split in head-to-head meetings and City won 21%. Since Mansour arrived, the split is 42% to Spurs and 58% to City.
With four games left to play this season City will go to White Hart Lane on Sunday with a nine-point advantage over Spurs.
Article continues below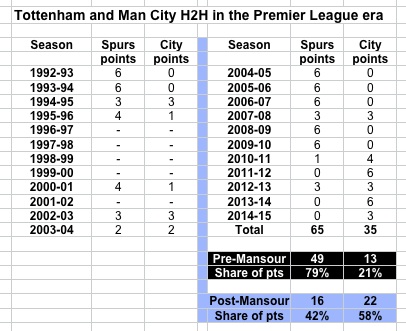 .
…. And finally
The statistics in these pages will often be in relation to the Premier League era when they deal with English football. We know the game is a bit older than that. We know Preston won as Invincibles in the league's first season in 1888-89. But the Premier League is a distinct era if only because of the money that has transformed the picture. This is the 'monied era'.
To get some idea of how the financial situations of these clubs have changed over time – and finance is a big influence in success in football – further reading and related articles spring from Sportingintelligence's annual global sports salaries reports, are linked here:
2014 Report             2013 Report            2012 Report         2011 Report          2010 Report
.
More on Liverpool / Man Utd / Arsenal (or search for anything else in box at top right)
Follow SPORTINGINTELLIGENCE on Twitter