By Brian Sears
24 April 2015
Chelsea lead the Premier League by 10 points and remain on course to finish the season with one of the biggest points margins over the second-placed team ever seen. Whether they get close to the record (18 points) may well depend on how they perform this weekend against Arsenal. Win at the Emirates and and they could go close, with a potential total tally of 94 points on offer. Draw or lose and it starts to look a big task.
This is the 34th season that a league win in English football has been awarded with three points. (It was two points before that). In the "three-point era" the biggest margin of victory between first and second place has been 18 points, in 1999-2000, when Manchester United won the title with 91 points and Arsenal in second managed only 73.
In only eight of the 33 completed "three-point" seasons have the leaders had a double-digit advantage at the end of the season. Only once has the gap been bigger than 13 points and that was United  at the turn of the century with Man Utd 18 points clear of Arsenal.  In six of the 33 seasons, the gap between first and second has been as narrow as a single point or zero points … an unlikely outcome this time.
Article continues below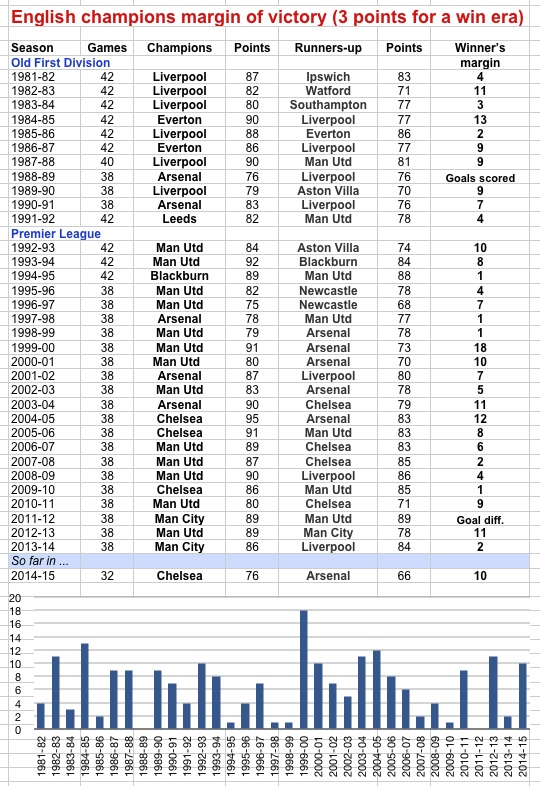 .
And another thing …
There are two London derbies this weekend in the Premier League: QPR at home to West Ham on Saturday before Arsenal v Chelsea on Sunday. Then only one London derby remains: Chelsea at home to Crystal Palace next week.
The gulf between the top London team (Chelsea) and the bottom one (QPR) is vast. QPR have won just one point from their nine London derbies. So their other 25 points have come from 24 games against non-capital clubs, at a rate of 1.04 points in those games on average. If they had maintained that rate in all games, they would have 34 points now and be six points clear of the relegation zone.
Chelsea visit Arsenal 10 points clear at the summit of the Premier League with Arsenal having climbed to second place. Chelsea's riches in the Abramovich era (since 2003) have changed the dynamic of that head-to-head. Chelsea did not gain their first Premier League victory away at Arsenal until their 14th attempt. There had been nine Arsenal wins and four draws up to then.  That first win for Chelsea came in December 2005 and since then they've had three further wins, three draws and only two defeats; 1-0 to Arsenal in 2007-08 and 3-1 to Arsenal in 2010-11.
Article continues below

.
…. And finally
The statistics in these pages will often be in relation to the Premier League era when they deal with English football. We know the game is a bit older than that. We know Preston won as Invincibles in the league's first season in 1888-89. But the Premier League is a distinct era if only because of the money that has transformed the picture. This is the 'monied era'.
To get some idea of how the financial situations of these clubs have changed over time – and finance is a big influence in success in football – further reading and related articles spring from Sportingintelligence's annual global sports salaries reports, are linked here:
2014 Report             2013 Report            2012 Report         2011 Report          2010 Report
.
More on Liverpool / Man Utd / Arsenal (or search for anything else in box at top right)
Follow SPORTINGINTELLIGENCE on Twitter