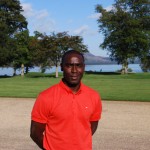 Andy Cole
23 April 2010
I'm delighted that Newcastle have secured promotion back to the Premier League, and the Championship title too – that on Monday at Plymouth – but I fear that unless they spend some serious cash they'll be going back down.
Why? Because their squad could not hack it the last time they were in the top division, which led to relegation last year. And that squad was weakened as players were sold off. So why on earth would anyone assume that the players they have now – a good squad by Championship standards – will be good enough to keep them up?
I look through their ranks and see just four players about whom I can honestly and unequivocally say "good enough for the Premier League": Kevin Nolan, Joey Barton, Alan "Smudger" Smith, and Nicky Butt. And Butt, who's a mate of mine, is 35 already and he won't be starting 38 games next season.
Before we consider some of the shortcomings elsewhere, I want to emphasise how chuffed I am for the people of Newcastle, for the fans, and for Chris Hughton that the Toon are back in the big time.
United have a special place in my heart; they gave me a massive break, I spent some wonderful time there, and Newcastle is as football-daft a city as you could ever wish to visit. So well done to all concerned, especially Hughton.
It was not so long ago that Alan Shearer, who seemed to have a sense of entitlement about him with regards to that job, was being hailed as "the Geordie Messiah" (and maybe one day he will be). But he had eight games in charge at the end of last season, and won just one, albeit during a very difficult period for the club, and Newcastle went down. Aren't Messiahs meant to walk on water, not drown?
So Hughton, understated and underrated, got the gig instead, and what a fine job he's done. I'd like to think that owner Mike Ashley would keep faith with him in the Premier League but there will, no doubt, be calls for a bigger name. Certainly there will be a need for new faces on the playing side.
Newcastle thrived in the Championship even after the departures of Obafemi Martins, Michael Owen, Mark Viduka, Sébastien Bassong, Damien Duff and Geremi. What was left behind was a pool of players who have demonstrably thrived at the second-tier level. But it is a big step up to the Premier League.
While Fitz Hall – on loan from QPR, incidentally – is a solid pro, he did not pull up trees when he was with Wigan in the Premier League. Wayne Routledge has had promise for years but again I'd ask: can he hack it?
Peter Lovenkrands is 30, which is the start of a downhill slide for a striker, and if he was that good when he was younger, why was he at Rangers for so long? Shola Ameobi has been at Newcastle forever. He is 28, but never made himself indispensable when they were in the Premier League. I would say the same about Jonas Gutierrez.
Elsewhere in the squad there are youngsters like Andy Carroll, the most prolific of the strikers and with oodles of potential as well as goals. But the kid is 21. By all means keep him and let him have his big chance, especially as he's a Gateshead lad, but nobody should be expecting him to deliver, or burden him with responsibility in his first full season in the Premier League. (He's spent large chunks of time before this season on loan elsewhere).
So where should Newcastle strengthen? I think in defence, in midfield and up front should cover it, but key to all of it will be whether Ashley stays in control and decides to invest a few quid, or whether he finds a buyer who will invest in the hope of re-establishing Newcastle in the upper reaches of the Premier League and playing in Europe, both places that a club of their size can realistically aspire to belong.
On the subject of Europe, Barcelona's 3-1 defeat to Internazionale was a slight surprise, but only slight. Inter's third goal looked offside from where I was sitting and Wesley Sneijder's foul on Dani Alves warranted a penalty to Barça. That would have been 3-2, or if Inter's offside goal had not stood, 2-2. But that's football, and yet more evidence of incompetent refereeing in Europe, which to my mind has been happening too frequently at elite level this season.
All is not lost for Barça; they're capable of turning it around at home but Jose Mourinho will not make it easy.
As for the other semi-final: like all Manchester United fans, I can only rue it wasn't us against Lyons. They were there for the taking.
.
United will pip Chelsea at the post
I wrote last week that the Premier League title was Chelsea's to lose, ("but lose it they can," I added), and I set out a scenario for a thrilling run-in.
But not even I expected such a dramatic weekend as manchester United beat City in the 93rd minute before Chelsea lost to Tottenham. This incredible season is going down to the wire.
So what next? I expect United to win at home to Tottenham this weekend and Chelsea to win at home to Stoke. I expect United to win at Sunderland the following Sunday, and it would not surprise me at all if Liverpool's haywire campaign meant they got something at home to Chelsea the same day. A draw?
I'd then expect United and Chelsea both to win their home games on the final day.
United will have 85 points, Chelsea will have 84. United will win the title by a point. Late on, on the final day, I hope.
.
The fee for Andy Cole's column is donated to Alder Hey hospital and sickle cell anaemia research. He works on charitable projects with the sport and media team at law firm Thomas Eggar.
.
This column also appears in The Independent.