By Nick Harris
1 February 2011
Chelsea's bullishness that they won't immediately fall foul of Uefa's imminent Financial Fair Play (FFP) rules is because they will be able to 'write off' a huge chunk of their wage bill in the scheme's early years, sportingintelligence can reveal.
[NB: to clarify 'early years', this means written-off wages can help a club reduce its reported losses in the first two monitoring periods of FFP, the two-year period 2011-12 and 2012-13; and the three-year period 2011-12 to 2013-14 inclusive].
This has been confirmed this afternoon to sportingintelligence directly by Andrea Traverso, the Head of Club Licensing and Financial Fair Play at Uefa, and as such the man in charge of implementing FFP.
The same 'write off' technique will be allowed to all clubs under certain conditions, for the first two monitoring periods of FFP, effectively meaning that most clubs won't actually need to start any real degree of belt-tightening before the 2012-13 season.
The FFP rules and terms have been widely misunderstood which is not surprising because they are immensely complex. But to try to summarise how they will work:
From next season, 2011-12, clubs must not spend more money than they earn. To be crassly simplistic, they mustn't spend more on wages and other expenses than they earn in ticket, media and commercial income in any one 'monitoring period' (MP). The first MP will last two years, the second will last three years, and so will MPs thereafter.
Uefa will monitor spending, and for the first few years, will allow certain losses as long as they're met unconditionally by benefactor funding.
The first MP is 2013-14, for seasons 2011-12 and 2012-13 combined, and the losses allowed will be €45m over that whole period, or roughly £39m, or £19.6m per year.
The second MP is 2014-15, for seasons, 2011-12, 2012-13 and 2013-14, and the losses allowed will be €45m over that whole period, or €45 a year, or £13m a year. And so on, like this: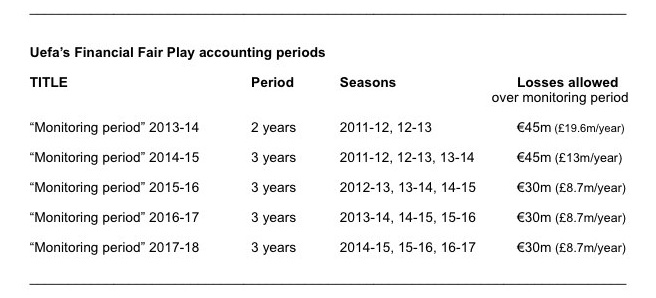 .
At first glance, on current trends, the losses at Chelsea (£70.9m in one year to June 2010) and some other clubs, notably Manchester City (£121m loss in one year to summer 2010) make it seem extremely unlikely that they will get anywhere close to meeting the FFP requirements.
And if a club fails to meet the FFP limits, then punishments including bans from European competition, including the Champions League, will be applied.
So why do Chelsea, despite the losses posted yesterday, seem so upbeat that they can spend £70m-plus in the transfer window and release a statement they're on course for FFP?
The statement said: 'The club is in a strong position to meet the challenges of UEFA 'financial fair play' initiatives which will be relevant to the financial statements to be released in early 2013.'
The reason is because they know that for the first and second MPs, namely the two-year period before 2013-14 and the three-year period before 2014-15, they will be able to deduct from any losses the amount of any players' wages agreed in deals signed before 1 June 2010.
In other words, if Chelsea's wage bill is currently in the vicinity of £160m per year (give or take £10m-ish), the majority of that is going to players who signed their most recent deals before 1 June 2010. Let's assume, for the purposes of this example, only half that sum, £80m, is on wages agreed before last summer.
Again, to be crassly simplistic, in the financial year just reported, Chelsea lost £70.9m but could actually write off the wages (£80m in our example) agreed before 1 June 2010. In other words, they didn't lose £70.9m for FFP purposes, they actually made money!
Contrary to some reports, no club can write off any transfer fees agreed before 1 June 2010. 'All clubs must amortise all transfer fees, even those spent before June 2010,' Traverso tells sportingintelligence.
He adds: 'However, should a club be in breach [of the FFP break-even requirements] and they are able to prove that the breach is exclusively due to salaries for players under contract before 1 June 2010, and they can also show an improvement trend in their accounts, they will not be sanctioned.'
In other words, and to be simplistic (because there is a lot of small print), for the first two MPs of the FFP, a lot of wages can be written off, if a club can argue they're heading in the right direction, which will be a semantic but surmountable tussle for anyone. Example here.
The full FFP rules document can be downloaded here.
On the very last page, you'll see the words that allow the wages write-off.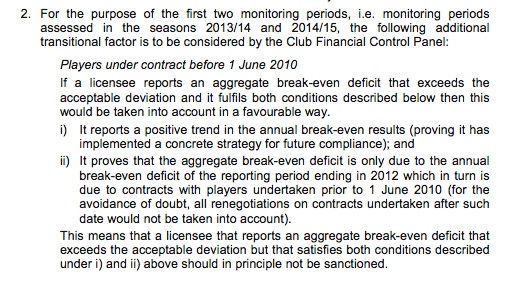 .
After the first two monitoring periods, all bets are off, and all wages will be counted.
So for example, for monitoring period 2015-16, which includes seasons 2012-13, 2013-14 and 2014-15, all wages will count and clubs who have continued to spend more than they earn will be in big trouble.
But it's a long way off, or seems it to the clubs still spending.
That may explain why Chelsea were happy to splash the cash yesterday on Torres and Luiz.
Actually getting serious about cutting your losses is a headache for a slightly more distant time.
.
More stories mentioning Chelsea (including this on persistent excuses about losing pots of dosh)