By Brian Sears 
Leicester's extraordinary Premier League season is a breath of fresh air especially to fans of 'smaller' clubs who dream it might be possible, one day, for their club to copy.
The scale of achievement, being widely discussed, can be put in further context by some figures that show a) the margin by which this is Leicester's best ever Premier League season; and b) how they are excelling despite being relatively poorer these days compared to the biggest clubs than they were earlier in the Premier League era.
This is perhaps counter-intuitive because of much discussion – largely justified – about how the enriching of the 'smaller' clubs is helping to close the gap.
First, we'll look at the margin of improvement by Leicester on any of their nine previous Premier League seasons, which were 1994-95, six seasons from 1996-97, then 2003-04 and last season.
Leicester's best ever points total in the Premier League was 55 in 1999-2000. With 53 points already, they need just one more win to beat that, and have 13 games remaining to get it.
Leicester's points per game (PPG) average from all their previous PL seasons has been 1.11. This season it is 2.12, or close to double.
Now consider their relative resources. Some younger readers may not remember that back in the mid- to late 1990s, under Martin O'Neill's management, Leicester were promoted to the Premier League and maintained a stability that was so admirable at that time that other clubs aspired to 'do a Leicester'.
'Doing a Leicester' was part of the contemporary parlance of the 'yo-yo' clubs, who then bobbed up and down between the top flight and the second tier, clubs like Crystal Palace, Nottingham Forest, Bolton, Middlesbrough, Sunderland and Charlton among others. And 'doing a Leicester' was an aspiration, to become stable and established in the elite. And that worked for Leicester for six straight years.
And as the numbers in the graphic below show, this period of stability came when Leicester were relatively richer compared to the biggest clubs than they are today.
In order to demonstrate this we've looked at Leicester's financial accounts for each of their years in the Premier League (from official accounts, with this season's numbers estimated), and also looked at those of the era's consistently richest club, Manchester United.
And while it is true that United's income has consistently dwarfed Leicester's, typically by a factor of four or five, the wage bills were relatively closer back in the late 1990s than they are now.
The numbers in the graphic speak for themselves but to highlight some examples, look at 1998-99 and the following three seasons. Leicester's total club wage bill of £15.8m in the first of those seasons was as high as 43 per cent of United's the same campaign (£37m). The next two seasons it rose to 44 per cent of United's, or £20m and £22m against £45m and £50m.
Fast forward to today and United's wage bill for this season will be something in the order of £220m (give or take the odd £10m) while Leicester's will be roughly £55m, though perhaps a bit higher with bonuses. But the bottom line is that it's gone from being 44 per cent of United's to just 25 per cent.
Which makes this campaign even more extraordinary still.
Article continues below (click on table to enlarge)

.
So can Leicester go on to become champions of England for the first time in their 132-year history? Their next match, against Arsenal on Sunday, certainly presents a challenge that has proved tough for them in previous Premier League seasons.
In fact Leicester have a worse head-to-head record against Arsenal than they have against any other team in Premier League matches. They have previously played 19 PL games against Arsenal home and away and won just once. That was in the first PL meeting, at Filbert Street, on 23 November 1994.  Leicester scored twice through a David Seaman own goal and a goal from David Lowe.  Arsenal's only reply was an Ian Wright penalty. 
Six of the 19 games have been drawn, with Arsenal bagging 11 wins, including 5-0, 6-1 and 4-0 home victories at the turn of the century and the most recent 5-2 win at the end of September win at the King Power Stadium. 
Arsenal are the only one of the 39 clubs that Leicester have faced in their Premier League life and not managed to register at least half a point per game against, as the graphic below shows.
So a win this weekend and … well … that would be a dream.
Article continues below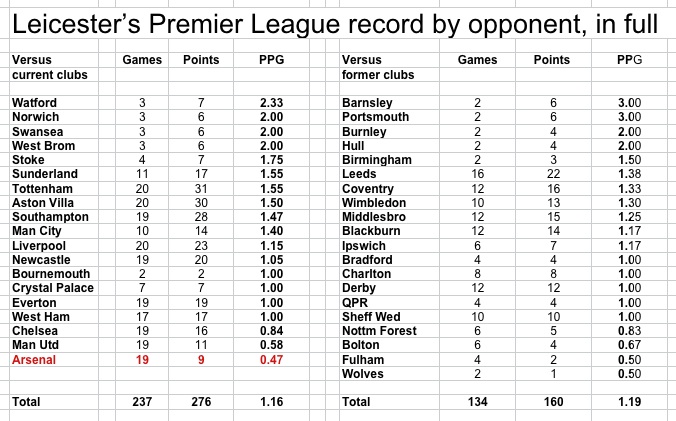 .
And another thing … Spurs at the double
It's that time of the season when clubs can start collecting campaign doubles over some of their opponents. Already 15 have been achieved with Tottenham collecting four, Manchester City three and Arsenal two.
Here's the list so far: Tottenham (4) have two PL wins this season over Sunderland, Crystal Palace, Norwich and Watford. Man City (3) over Watford, Crystal Palace and Sunderland. Arsenal (2) over Newcastle and Bournemouth. Chelsea have doubled Arsenal. Manchester United have doubled Liverpool. Watford have doubled Newcastle. West Brom have doubled Stoke. West Ham have doubled Liverpool. Everton have doubled Newcastle.        
Watford's double is their first in Premier League and it was achieved in their 99th Premier League fixture. Only Bolton and West Brom took more games than that. Like Watford, Bolton were in their third Premier League season (in 2001-02) when for a second time in that season they beat Ipswich. West Brom had to wait for their fourth Premier League season (2008-09) to beat Middlesbrough for a double that campaign having already won in the September at the Riverside Stadium. It was their 136th Premier League game.
All told, 47 clubs have appeared in Premier League football and 38 of them have achieved at least one double in their first season.  Even the four clubs to have only had a Premier League career of a single season all achieved one double: Burnley (over Palace), Blackpool (over Liverpool, famously),  Cardiff (over Fulham) and Swindon (over QPR).
Fulham, Leeds, Leicester and Wolves had to wait for their second Premier League season before collecting their first double (see table below). Bradford are the only club to have failed to collect a double at all. And they had two seasons to attempt it. Bournemouth, on their debut season are still awaiting their first double but they're half-way there having recorded wins already at Chelsea and West Brom and at home to Manchester United with the return fixtures still to come.
Games taken to get their first Premier League double win
West Brom 136; Bolton 110; Watford 99; Bradford 76 (no double yet achieved); Leicester 68; Fulham 67; Wolves 63; Leeds 61.
All the other 38 clubs to have completed a Premier League season achieved a double win in their first season.
.
…. And finally
The statistics in these pages will often be in relation to the Premier League era when they deal with English football. We know the game is a bit older than that. We know Preston won as Invincibles in the league's first season in 1888-89. But the Premier League is a distinct era if only because of the money that has transformed the picture. This is the 'monied era'.
To get some idea of how the financial situations of these clubs have changed over time – and finance is a big influence in success in football – further reading and related articles spring from Sportingintelligence's annual global sports salaries reports, are linked here. The 2015 edition of the report (right) was published in May.
You can download a free 120-page PDF here.
2014 Report             2013 Report            2012 Report         2011 Report          2010 Report
.
More on Arsenal / Liverpool / Man Utd  (or search for anything else in box at top right)