By Brian Sears
8 February 2013
Winning away from home in the Premier League is not easy. In the entire 21-year-history of revamped top division, only one club has won more than half of their away games, and that is Manchester United, the dominant force of the era.
United have played 399 Premier League games away from Old Trafford and won 220 of them, or 55.1 per cent.
Their closest challengers in away wins are Arsenal (43.5 per cent) and Chelsea (42.6 per cent).
And the only other club aside from those three winning even a third of their away games is Liverpool (36.8 per cent).
The full away record of all PL clubs, current and past, is here:
Article continues below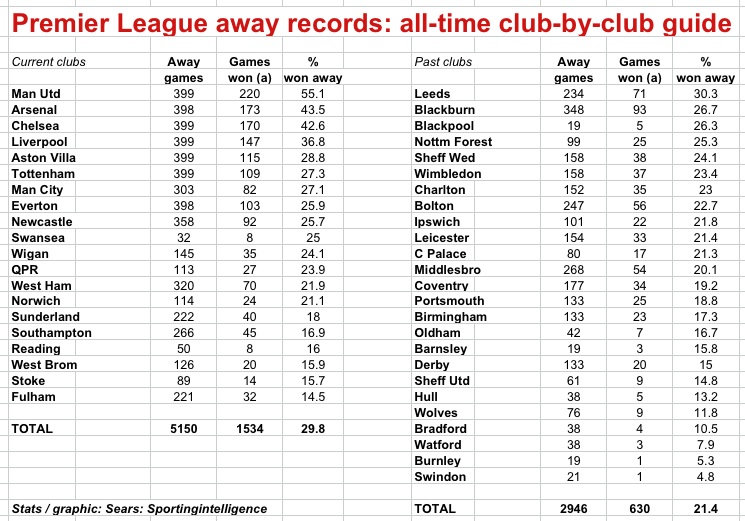 Ask fans of Swindon, Burnley and Watford to recall their brief Premier League careers and the rarity of away wins will be painful in their memories: just five between them from 78 games.
Wigan are arguably, historically, a "smaller" club than any of those three mentioned. This is not meant with any disrespect at all, merely it is an observation that they have relatively recently climbed from the non-league to the top division. And stayed there for a while.
Part of the reason they have retained their PL status in recent seasons is their fairly healthy 35 wins from 145 away games so far – almost a quarter.
Yet there are 10 clubs where Wigan have yet to win in the PL: seven of those are currently still in the Premier League, and one of those is Chelsea, where Wigan play this weekend.
Wigan's previous seven visits to Stamdford Bridge have produced one draw (back in April 2008 when Emile Heskey scored Wigan's last-minute equaliser) and six defeats.
Article continues below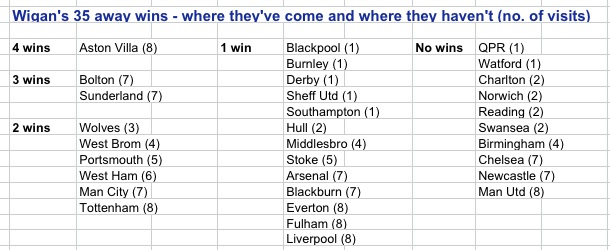 And another thing …
Norwich are enjoying their sixth season in the Premier League, over different spells, and who do you think, statistically, they have had the most difficulty gaining Premier League points against?  The Manchester clubs? Liverpool?  Or perish the thought, local rivals Ipswich?
Certainly not Ipswich. In six Premier League games with Ipswich, the points have been shared via three wins each.
The Manchester clubs have proved harder nuts: Norwich have won just seven points from the 11 games played against each of United and City. That means they've won a possible 21.2% of points against those clubs.
Yet Norwich's No1 Premier League bogey side so far, by far, have been Fulham, who they face this Saturday. As the graphic (bottom) shows, Norwich have taken just one point from five PL games with Fulham: one point from 15, or 6.7% of possible points.
In Norwich's five Premier League games with the Cottagers, they have managed to score a total of two goals while Fulham have scored 15.
Of other current PL teams, Norwich have won half or more of the available points against Swansea, Sunderland, Wigan and QPR.
The five meetings with Fulham:
4 Dec 2004 Nowich  0 Fulham  1
15 May 2005 Fulham  6 Norwich  0
31 Dec 2011 Norwich  1 Fulham  1
31 May 2012 Fulham  2 Norwich  1
18 Aug 2012 Fulham  5 Norwich  0
.
For stories on Kangaroos / Doping / Match-fixing / Pin-ups (or search for any club or subject else in box at top right)
Follow SPORTINGINTELLIGENCE on Twitter
.