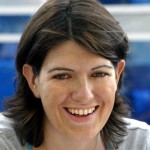 *
ELEANOR PRESTON spent 10 years travelling the world as a tennis journalist for national newspapers, notably the Guardian. She continues to work as a broadcaster and is also a media consultant and advisor to tennis players and organisations within tennis, as well as athletes and organisations across a range of sports …
.
.
.
.
.
By Eleanor Preston
11 August 2010
As I write, I can hear the occasional, perhaps involuntary chirp from my computer, bringing me news, comment and the occasion welcome diversionary burst of amusement. Hold on, I've got Michael Vaughan on the other screen – he's talking to Kevin Pieterson but, through the miracle of modern technology, I am privy to their conversation. "Kevin, I see Hampshire haven't picked you. Not surprising. Chewing gum feet."
Oh Vaughanie, you are a card.
The Twitterate* amongst you will know, of course, that I am talking about social media phenomenon Twitter. That beeping on my computer is a programme called Tweetdeck (http://www.tweetdeck.com/), which allows you to monitor multiple accounts at once and even to keep an eye on specific words and phrases that crop up in tweets from around the world. It is one of many ways we Twitter addicts keep abreast of the virtual chat.
I am pretty sure that there will be a proportion of you scoffing, harrumphing and possibly even quoting David Cameron's slightly risqué gag about two many tweets making a twat. I can understand that reaction because the concept of Twitter is unashamedly frivolous. How could it not be when you only have 140 characters to play with? You may also believe, as many observers do, that it is typical of the self-obsessed interactive modern generation to have come up with yet another way of talking about themselves, amongst themselves.
I am not arguing that point, but for sports fans and those, like me, whose job it is to help professional athletes connect with the wider world, Twitter is something to be celebrated. I am intermittently fond of cricket but have no particular interest in anyone who plays it. I do, however, find myself marginally more engaged in the sport since 'following' Vaughan. The fact that he is openly teasing Pietersen has made both cricketers go up in my estimation because the exchange suggests that Vaughan is rather less serious and dull than he appears and that KP probably doesn't take himself quite as seriously as I had assumed. If you follow the sport avidly or cover it professionally you probably know that but I, the very casual cricket fan, did not. Not bad work for 140 characters.
I am well away of how banal Twitter can be and I too tire of the endless "Good morning! How are you guys? J" messages that land throughout the day as athletes wake up in their various time-zones. Those tweets are right up there with those tweets blatantly written by an outside PR firm trying to find new ways of saying: "Please buy my book. It's called #allaboutme. Read it yet?"
There are, of course, professional sportspeople who have been a little too open via Twitter. Notable examples include the Australian cricketer who tweeted that he'd been dropped before the team had been announced and Sunderland's Darren Bent, who ranted via Twitter that he most certainly did not want to go to Stoke City when Spurs were trying to sell him. The occasion ill-judged tweet is why a lot of journalists love Twitter – and also why it has a lot agents and communications staff shuddering into their press releases.

Any media advisor who meddles too much in their athletes' Twitter interactions entirely misses the point of it. Its great strength is that is allows sportspeople to be far more accessible and encourages fans to interact with their sporting heroes in a way that has not been possible before. Take Vaughan for instance: Apart from ribbing his fellow cricketers, he also answers questions from people who, pre-Twitter, would never have had the chance to ask a former England captain directly whether their son is too young to start playing cricket or what he thinks of Pakistan's fielding.
Twitter should not feared by PR types, but embraced as something that helps us dark-side dwellers do our jobs. One of the common assumptions about women's tennis, for example, is that all it is a seething, sulking nest of bitchiness. Thus Viktoria Azarenka (@vika7) and Caroline Wozniacki (@carowozniacki) idly chatting via Twitter sends out a message that the WTA Tour Communications team has been trying to get out there for years, which is why the organisation now actively encourages its stars to engage in social media.
Every so often on Twitter there is also the occasional gem that proves that being a professional sportsperson does not mean that you have to present yourself in the public domain as a platitude-spouting android. Anne Keothavong (@annekeothavong) came up with a tweet for the ages earlier this week which I think illustrates my point: "I almost got hit by poo from a baby's nappy flung in my direction from an Estonian woman who then put her baby's dirty bottom in the sink."
That's well worth being beeped at for.
.
* I made that word up. It rhymes with 'literate'. I hope it catches on.
.
How to join the Twitterati
To sign up to Twitter, go to http://www.twitter.com/, open an account, search for people you are interested in and start following them. Remember to join in the conversation from time to time rather than just passively following – it's way more fun that way.
Here are some names and addresses for starters…
Sportspeople:
@annekeothavong – she of the baby poo fame.
@elenabaltacha – prodigious tweeter who regularly posts pictures of the weird and wonderful stops on the tennis tour.
@rioferdy5 – Rio Ferdinand is chatty and often interesting.
@DB11TT – Darren Bent, famous indiscreet via Twitter and therefore more amusing than most.
Journos:
@jon_wertheim – Sports Illustrated's greatest asset always knows what's occurring.
@charlie_wyett – The Sun's man in the know.
@carolinecheese – Football/Tennis/F1 guru formerly at the BBC, now at Associated Press.
@pkelso – Paul Kelso, the Telegraph's sports newshound.
@alexwillisACE – Deputy editor of Britain's foremost tennis magazine, social networking addict, columnist for this very website.
Randoms:
@stephenfry – perhaps the most famous British tweeter.
@lilyroseallen – Singer, sports fan; equally mouthy in both capacities.
@eleanorpres – Yes, it's all about me!
.
Sportingintelligence home page
.
Want to comment on this story?
The subscription and comments policies of sportingintelligence have recently changed. Any user can comment on any story, however, by emailing using this link and including the story topic in the subject box. Your comments will then be manually posted by an administrator.
.
To WIN a copy of sportingintelligence's global sports salaries report, worth £195, CLICK HERE; the report tells you the REAL average pay of the world's biggest sports team, AND we'
ll also give you a free subscription for a year to our unique sports salaries database