By Brian Sears
18 June 2010
Yesterday's release of the fixture list for the 2010-11 season prompted a quick examination of opening-day matches in the Premier League since the top division was revamped in 1992-93, and reveals an anti-Liverpool bias and a disproportionate number of home games for the other three "big four" sides.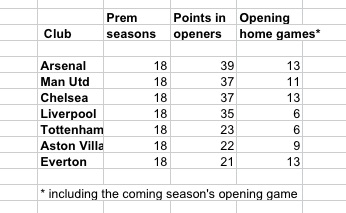 As our table shows, seven clubs have been ever-present for the 18 completed Premier League seasons to date. Including the first games of next season, Arsenal and Chelsea have each had 13 home games (of 19) to kick off, as have Everton, while Manchester United have had 11, and Liverpool a measly six. Those six for Liverpool include the game to come on the weekend of 14 August at home to Arsenal.
Tottenham can join Liverpool in feeling sorry for themselves. Including the 2010-11 opener against Manchester City at White Hart Lane, they will have started the season at home six times in 19 years.
How does all this effect results? To Liverpool's enormous credit they have managed to win 35 points from their 18 opening-day fixtures in the Premier League to date, even though 13 of those 18 games were away from home.
.
Arsenal have won 39 opening-day points in 18 years, Manchester United have won 37, and so have Chelsea.
Chelsea, incidentally and rather impressively, will be looking for a ninth consecutive winning start to the season when they host West Brom.
Arsenal's last opening-day defeat was also a long time ago, 10 seasons ago in fact, 1-0 at Sunderland. Since then they have begun with eight wins and a draw.
Wolves, in contrast, who begin at home to Stoke in 2010, have not won the first game of the season in any division in the last 10 years, enduring six draws and four defeats.
And what of Blackpool, newcomers and minnows? They have had a terrible record on the opening day in recent decades, even though all those opening days have been in lower divisions. In the past 18 years, they have won a combined total of 14 points on opening days, and have won only one opener in the past nine years. They start at home against Wigan in 2010.
.
Right, enough domestic football. Back to the World Cup
EXCLUSIVE: The details of USA's $20m World Cup bonus
World Cup final 'will vie for record of second most-watched event in human history'
Sportingintelligence home page