By Brian Sears
13 March 2015
So here's the thing: Tottenham Hotspur have been playing league football against Manchester United on and off since the 1909-10 season, when they first met in the old, old First Division. Spurs drew 2-2 at home that year and got thumped 5-0 away.
In more than a century since, the two clubs have been in the same division for 77 seasons, with only times apart being when one or other dropped briefly from the top flight.
And on Sunday, Spurs visit Old Trafford looking to complete a first-ever hat-trick of consecutive league wins at United.
Their all-time record at United in the league is 12 wins, 14 draws and 51 defeats. Only once before the modern era have Spurs gained consecutive victories there: 4-1 in 1972-73 followed by 1-0 in 1973-74.  In that 4-1 win, Martin Peters scored all four of Tottenham's goals and Bobby Charlton replied for United. And in the following season the only goal of the Old Trafford game was scored by Ralph Coates.
Tottenham must be visiting Old Trafford these days in a much more positive frame of mind than they used to do. For the first 20 Premier League seasons (from 1992-93), Spurs failed to record a single win at Old Trafford, losing 17 and drawing three; indeed they only managed three wins against United at White Hart Lane in that time.
But in the last three seasons Spurs have gone five games unbeaten against United, including three White Hart Lane draws and a brace of Old Trafford wins: 2-1 last season and 3-2 the season before that.
.
And another thing …
There are two London derbies this weekend in the Premier League, as Crystal Palace host QPR on Saturday lunchtime before Arsenal host West Ham. Derbies alone will not define a season but most people accept they are hugely important and in London it is often the case that there is a correlation between where you finish in the inter-London table and where you finish in the real table.
Here is the current inter-London PL table for this season (article continues below)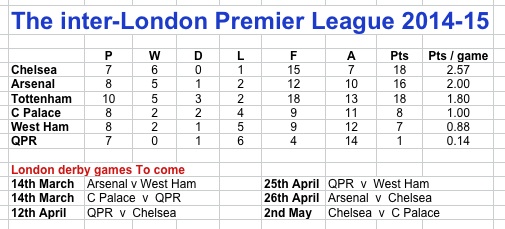 .
When the London clubs have played each other this season a gulf has emerged. From Chelsea who have lost just one of their seven derbies played (5-3 at Tottenham) down to QPR who have gained only the single point from their seven derbies played (0-0 at home to Palace).
QPR however, do, like Chelsea, have three derbies left to play starting with Saturday's visit to Palace.  After this weekend there will be only four London derby games left in the rest of the season. Tottenham have already completed their derby programme of matches.
Currently QPR occupy the relegation spots along with fellow promoted sides Burnley and Leicester. Only in one previous season have all three promoted clubs been relegated that same season. That was 17 seasons ago in 1997-98 when it happened to Bolton, Barnsley and Crystal Palace.
.
And yet another thing …
Stoke are enjoying their seventh consecutive Premier League season and are role models for Championship clubs with Premier League ambition. And West Brom have been up with Stoke for six of those seasons. Indeed three times the Baggies have finished higher in the final Premier League table than Stoke.
But on the 11 occasions the two clubs have played each other in the Premier League, Stoke have been the dominant force, winning seven, drawing three and only losing once. The results are below.
The upshot? Six points to West Brom and 24 points to Stoke. And more remarkably Stoke have been victorious on all five of their Premier League visits to the Hawthorns. They will be trying to make it six when they visit West Brom this Saturday.
The only crumb of comfort for West Brom is that at least they managed last May to score their first home goal in five tries against Stoke.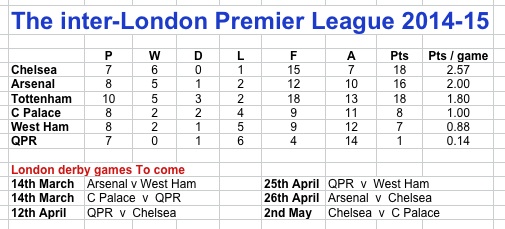 ..
…. And finally
The statistics in these pages will often be in relation to the Premier League era when they deal with English football. We know the game is a bit older than that. We know Preston won as Invincibles in the league's first season in 1888-89. But the Premier League is a distinct era if only because of the money that has transformed the picture. This is the 'monied era'.
To get some idea of how the financial situations of these clubs have changed over time – and finance is a big influence in success in football – further reading and related articles spring from Sportingintelligence's annual global sports salaries reports, are linked here:
2014 Report             2013 Report            2012 Report         2011 Report          2010 Report
More on Liverpool / Man Utd / Arsenal (or search for anything else in box at top right)