Part of Sportingintelligence's guide to the 2016 FIFA presidential election: HOME PAGE here
.
By Bonita Mersiades                   ANALYSIS
22 February 2016
In all the brouhaha surrounding the campaign for the FIFA Presidency, there has been little attention to the reforms that the FIFA Congress will be asked to sign-on to next Friday.
These are the reforms — in PDF format here with an official FIFA Q&A here, and listed in detail at the foot of this article — that were agreed unanimously by the Executive Committee (ExCo) in December last year, put together by the committee chaired by sporting insider, Francois Carrard, former Secretary General of the IOC and his band of other sporting and FIFA insiders known as the '2016 FIFA Reform Committee'.
This FIFA reform committee, the latest iteration in a line of many, is expected to succeed where others have failed because even most of FIFA Congress now accept that they have a problem. That's certainly the hope of FIFA insiders who are openly suggesting that, if FIFA fails to pass the changes to the statutes with the requisite 75 per cent agreement, then FIFA's current status afforded it by the Swiss and US authorities as a 'victim' of corruption, will be null and void. 
If that happens, FIFA faces being dissolved.
The ExCo and Congress may not have believed investigative journalists telling them they needed to reform, or believed former FIFA and other football staffers, telling them so, or even those around the game such as now-departed sponsors. But the attention of the authorities has worked to focus the mind of many.
Indeed, there are numerous examples of ExCo members and Congress delegates who have sat silently inside and outside FIFA House for years, now cheekily promoting themselves as champions of reform. No doubt they are emboldened by the legal attention, the media attention and the activism of groups such as #NewFIFANow (of which I am a co-founder), Transparency International and the ITUC – all of which started their campaigning well before the May 2015 arrests.
So what is in the reforms?
As much as FIFA is presenting them as "genuine reform" proposals, there is a gap between what appears to be a random-word reform package with some high-level proposals and what is actually being proposed in terms of detail, not to mention how it will be implemented.
What the recommendations show is that the reform proposals are typical of any document produced by any committee where the overriding objective has been to gain agreement. What you get – in my opinion as a reform advocate for a group that long ago laid out detailed proposals – is a combination of easy pickings, compromises, concessions to appease varied interests and missed opportunities.
.
Easy Pickings
While welcome, increasing the number of women on the newly-named FIFA Council is – to paraphrase the Canadian Prime Minister – nothing more than the bare minimum in 2016, and more so considering the number of women and girls who play and enjoy the sport. This is not a difficult 'reform'.
Compromises
The total number of committees is reducing but there are newly-styled Governance, Finance and Development committees. There is little information on the Governance Committee, other than it will have a Review sub-commitee.
The Finance Committee is to have a majority of independent members with a role of proposing budgets and approving the annual financial accounts, but both must be approved by the FIFA Council and are subject to submission to the Congress.
The all-important Development Committee is to include "not less than three independent members" but there is no indication of what the total membership is or where they will be drawn from – though there are repeated promises that representation from confederations will not be compromised (and there will be more women).
The requirement for confederations and member associations to change is one of the weakest aspects of the reform proposals – yet one of the most important. The provisions for political neutrality and anti-discrimination measures are no different from what is already a requirement and there is little transparency in terms of financial issues, decision-making or managing conflicts of interest.
For example, there is a statement of principle that there be independent audited financial statements, but no requirement to publish financial statements. Indeed, FIFA sent representatives to London last week to brief small groups of journalists on the fine detail of the proposed reforms. They lauded the annual independent auditing for all 209 associations, saying it would be mandatory for these to be made public.
Yet a follow-up email from FIFA said that 'due to an internal misunderstanding on a communications level', the independent reports will not, in fact, have to be made public. FIFA 'highly recommends and advocates' that they are made public … but there will be no requirement for them to be.
As a minimum, the committee could have been guided by Transparency International's Football Governance League Table published in November last year.
Concessions
While the word 'independent' is used readily as an adjective in relation to the Audit and Compliance, Finance, Development and Governance committees, the definition of independence is one that is not consistent with normal community standards, as Roger Pielke points out. It is possible to earn up to US$125,000 per year from FIFA and related entities, yet still be considered 'independent'. By way of comparison, the average salary within OECD nations in 2013 was just under US$45,000.
Increasing the FIFA Council to 37 from its current level of 25, including the one co-opted member and if all were present, sees all confederations winning other than UEFA. It's no surprise that the biggest winners proportionately are Oceania, Asia and Africa with CONCACAF and South America not far behind. Indeed, that last sentence is almost a leitmotif for FIFA and its operations over recent decades.
Increasing the World Cup from 32 to 40 teams is also seen as a way of getting 'greater participation' in FIFA. Again, it's no surprise that Asia, Africa and Oceania are the big winners.
Missed opportunities
Arguably, the stated commitments to improving the development of the game, improving women's participation and standing in the game and improving participation by more member associations, clubs and players in the FIFA world could have all been brought together by expanding the Women's World Cup rather than the men's edition.
As for fans: where are they? In the report prepared by Carrard's committee, the letters that consecutively form the word 'fan' appears three times: twice in a discussion around the need for "candour" in serving constituent groups, and once when the name 'Infantino' appears at the end of the document as a member of the committee formulating the reform proposals. Players get more of a mention, including representation on a new Football Stakeholders' Committee, but fans simply don't rate.
Hey: a big winner!
There is another big winner in the proposed reforms, besides Asia, Africa and Oceania.
Under these reforms, Domenico Scala (or his successor) will continue to chair an independent audit and compliance committee, as well as oversee all financial processes and money flows and have an overseeing role across the FIFA Congress, the FIFA Council, the secretariat, the Finance Committee and the Development Committee. His own committee will also have a sub-committee responsible for compensation that will annually review the salary packages of the FIFA President, the Council members, the CEO, the chairpersons of independent committees (presumably including his own) and chairpersons of judicial bodies.
It appears that Mr Scala's other current role, of Ad-Hoc Electoral Committee chairman, will be subsumed by another new committee: a Review Committee that is a sub-committee of a new Governance Committee. This committee will monitor electoral processes in FIFA's six Confederations for the election of the Council members and administer the 'integrity test' for the candidates.
According to some observers, Mr Scala is not averse to getting involved in the machinations of FIFA and is yet to respond to questions about how he applied the so-called integrity test for the FIFA Presidential candidates.
However, putting aside the current occupant of this role, the question is whether it is appropriate to vest so much control in one person? In one sense, it could be seen as a transfer of power from the elected President to the appointed Chairman of the Audit and Compliance Committee.
.
How does the Reform Committee score on the Pielke scorecard?
Using the nine categories devised by Professor Roger Pielke in An Evaluation of the FIFA Governance Reform Process of 2011-2013 in Managing the Football World Cup that we also used to assess the Presidential candidates' manifestos, here is the Sportingintelligence scorecard. Even if there is scant detail, as is the case with many of the proposals, we have generously given FIFA a 'tick' if there is mention of the issue in their reform proposals.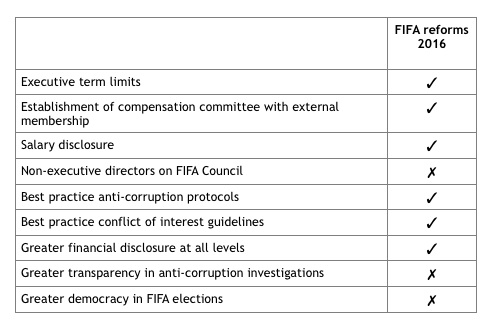 .
Conclusion
The reform proposals will not reform FIFA. They are a start but the fact that they are so obviously a package of easy pickings, compromises, concession and missed opportunities is further evidence – if any more was needed as experts have been repeating it ad nauseam – that FIFA is not capable of reforming itself.
Many FIFA insiders may interpret this comment as a reflection on their competence or even their integrity. In respect of the good, but mostly silent, people who do exist inside the 'FIFA tent', it is neither.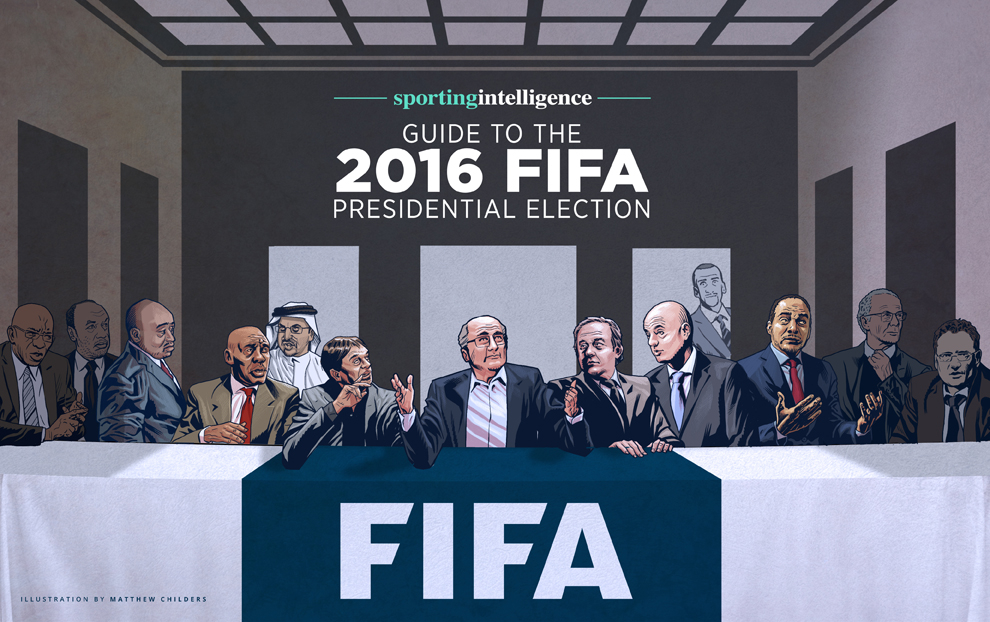 FIFA needs a time-limited independent, external Reform Commission led by an eminent person. There are so many vested interests within FIFA, and the 'FIFA way' of doing business has such a broad, deep reach outside of Zurich and into the confederations that real reform will only happen if rigorous governance requirements are developed and universally implemented. That also needs to be accompanied by significant cultural change and education.
To do this, FIFA requires a game-changer in the way it conducts its business. It also requires a game-changer by way of the person who leads – temporarily – FIFA through that change.
The question for FIFA Congress on 26 February is which of the five candidates will they support?
However, the more appropriate question for world football may be whether any of the candidates are the right man for the times.
.
Follow SPORTINGINTELLIGENCE on Twitter
.
Summary of FIFA Reform Committee Report
It is proposed that reform at FIFA should be guided by three overriding principles, each with a set of sub-principles. These are:
Leadership to effect cultural change
Take responsibility.
Show humility.
Tone at the top by ethical behaviour.
Show respect.
Be transparent.
Governance reform
Executive Committee changed to 'FIFA Council' with broader membership, chaired by the FIFA President.
The FIFA President is the public 'ambassador' of FIFA.
The General Secretary to be CEO who can only be fired (and presumably hired) by the FIFA Council.
Creation of a new role of Chief Compliance Officer reporting to the CEO and the ubiquitous Chair of the Audit and Compliance Committee (Domenico Scala) with improved compliance processes.
FIFA Council to have a greater strategic input on generation of revenue, to approve the annual budget but not to have any decision-making over generation or allocation of funds.
FIFA administration to be responsible to FIFA Council for revenue generation.
Creation of a Development Committee with not less than three independent members.
Creation of a Finance Committee with a majority of independent members to prepare budgets and financial account for approval by the FIFA Council and submission to FIFA Congress.
Creation of fully independent Audit and Compliance Committee.
Term limits of three terms of four years (12 years total) for FIFA President and FIFA Council members (other than ex-officio members).
FIFA Council members election by FIFA member associations at Confederation congresses to FIFA's electoral regulations, monitored by FIFA's new Governance Committee.
Disclosure of salary package of FIFA President, FIFA Council members, CEO and chairpersons of independent committees.
Salary to be reviewed and approved annually by an independent Compensation Committee that is a sub-committee of the Audit and Compliance Committee.
The Statutes of all FIFA member associations and confederations to have minimum provisions regarding political and religious neutrality, discrimination, respect for the laws of the game, independent judicial bodies, managing conflicts of interest, the principles of representative democracy and annual independent financial audits.
Each Confederation to have not less than one voting FIFA Council seat reserved for a woman.
Greater commitment to development of the women's game.
Participation of member associations and stakeholders.
FIFA Council to become larger and more representative with at least one woman from each Confederation and improved representation of clubs and players on FIFA committees.
Standing committees reduced from 26 to nine to improve efficiency, but still maintaining member association representation and improving gender balance.
Annual conference with member associations to promote issues of strategic importance.
Audit and Compliance committee and judicial bodies to remain fully independent.
Finance, Development and Governance committees to include minimum independent membership.
Revised definition of 'independent'.
Other committees to maintain member association representation with subject matter experts.
Creation of a new Stakeholders Committee to include players and clubs.
World Cup to be expanded from 32 to 40 teams.