By Brian Sears
11 December 2015
Fans of Southampton may be concerned after 15 games of this Premier League season to find their team in the bottom half of the table. But the Saints are still having their third best start out of their 17 seasons in the revamped top division.
Here is a list of how those seasons have looked, 15 games in. Indeed in the first 15 games, Southampton have only lost as few as few games once before, and that was two seasons ago.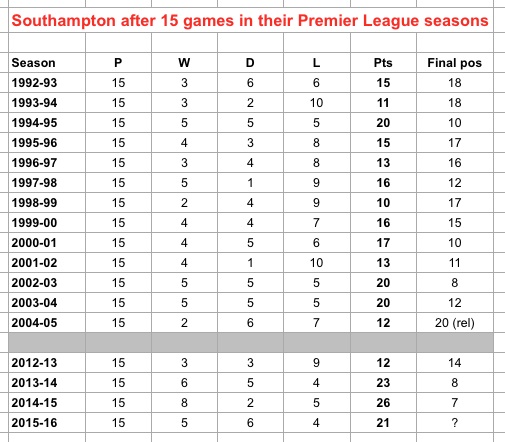 This weekend Southampton visit Crystal Palace, and after 12 Premier League meetings the London team
have yet to register a win. The Saints have won eight times and drawn four of 12. Palace have finally found Premier League stability as detailed recently however, and sit sixth in the league and purring. So this extended winless stretch is not a trend anyone should expect to be continue for long.
Statistically we should note for now, however, that Palace are the team Southampton have played most often in the Premier League while avoiding defeat (12 times). Saints have played 635 Premier League matches so far since the 1992-93 breakaway, winning 197, drawing 174 and losing 264. Here's a list of those 264 defeats, by opponent.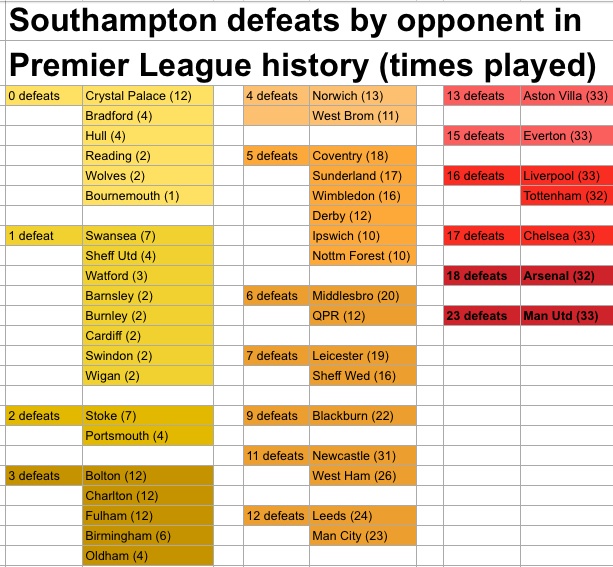 .
And another thing …
On Monday, Chelsea will visit Leicester with a gap of 12 places and 17 points between the two teams. It goes without saying that the gap is not the way round that most expected at the season's outset.
But if Leicester are to maintain it or even widen it, they will have to break a run of six consecutive Premier League defeats against these particular London opponents.
True, the early games of the Premier League era between the clubs had been much more even: of the first 12 games played, Leicester won three, Chelsea won five and four were drawn. This was before the plutocrat's petrodollars poured into the Bridge and when Leicester were a model of 'small club stability'.
True, too, that the six consecutive defeats stretch back over 15 seasons. Nevertheless here they are: 
Oct 2001 Chelsea 2 (Hasselbaink, Gudjohnsen) Leicester 0
Feb 2002 Leicester 2 (Scowcroft 2) Chelsea 3 (Hasselbaink 2, Zola)
Aug 2003 Chelsea 2 (Nalis og, Mutu) Leicester 1 (Scowcroft)
Jan 2004 Leicester 0 Chelsea 4 (Hasselbaink, Dabizas og, Mutu, Babayaro)
Aug 2014 Chelsea 2 (Costa, Hazard) Leicester 0
Apr 2015 Leicester 1 (Albrighton) Chelsea 3 (Drogba,Terry,Ramires)
.
…. And finally
The statistics in these pages will often be in relation to the Premier League era when they deal with English football. We know the game is a bit older than that. We know Preston won as Invincibles in the league's first season in 1888-89. But the Premier League is a distinct era if only because of the money that has transformed the picture. This is the 'monied era'.
To get some idea of how the financial situations of these clubs have changed over time – and finance is a big influence in success in football – further reading and related articles spring from Sportingintelligence's annual global sports salaries reports, are linked here. The 2015 edition of the report (right) was published in May.
You can download a free 120-page PDF here.
2014 Report             2013 Report            2012 Report         2011 Report          2010 Report
.
More on Arsenal / Liverpool / Man Utd  (or search for anything else in box at top right)