By Sportingintelligence
7 November 2011
As we report elsewhere today, an alternative top 10 English league table for the current season – compiled by points per game won across all four professional divisions – has Manchester City at the top, followed by Manchester United, Charlton, Newcastle, Southampton, Southend, Tottenham, Crawley, Huddersfield and Chelsea.
Using the same cross-division data, here are some other alternative tables, beginning with one calculated on the basis of goals scored per game.
City also top this, with an absolutely staggering 3.55 goals per game, which places them an entire goal per game ahead of the No2 team, Manchester United.
How amazing is City's strike rate? On course to be record-breaking, for any division in English history.
If the rate of 3.55 goals per game is maintained, City would score 135 league goals this season, which would beat the all-time record for any club in a league season in English history. (Peterborough United's record of 134 goals in the Fourth Division in 1960-61, in a lot more games).
The most goals in any top-flight season was 128 by Aston Villa in 1930-31, while the most goals in a Premier League season was 103 by Chelsea in 2009-10. City need 65 goals in 27 games (2.4 goals per game) to top that.
COMING SOON: The Premier League's 20,000th goal
Only another nine teams aside from City and United this season out of all 92 in the four main divisions have scored as many as two goals per game. They and the most goal-shy five teams are detailed here: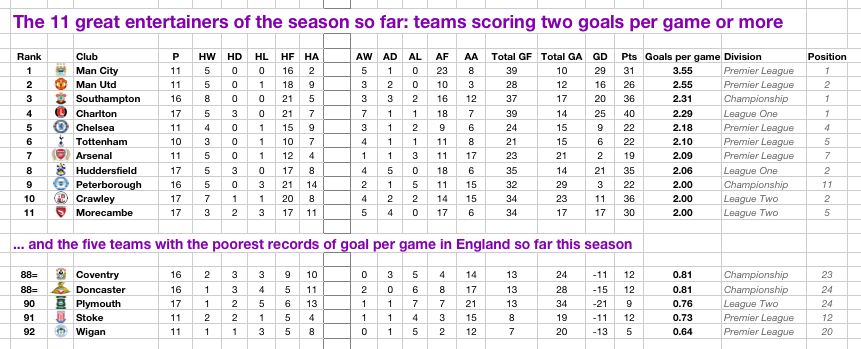 .
Best defence
The best defences in English football can be found in the north-east, with Newcastle United top of the table for fewest goals conceded per game (0.73), ahead of Middlesbrough in second place (0.75).
Only 13 teams of 92 have conceded fewer goals per game than one on average. Those 13, as well as the leakiest five clubs (the only five clubs conceding two goals on average per game or more) are as follows: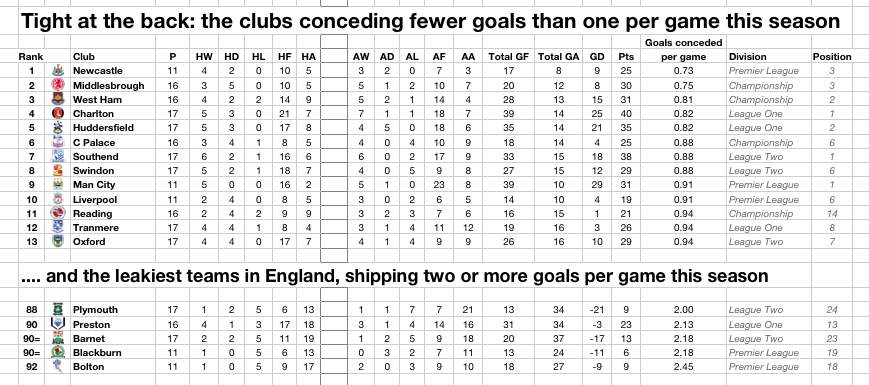 .
Best at home
The best home records across all divisions are the perfect starts of Southampton (eight wins from eight at St Mary's) and Manchester City (five wins from five at the Etihad Stadium). This gives both teams an average of three points per home game, the maximum.
They are followed by Sheffield Wednesday (seven wins and a draw, for 2.75 points per home game), then Manchester United, Arsenal and Shrewsbury, each with 2.5 points per home game. Only six teams of 92 have 2.5 points per home game or more so far.
At the other extreme, Blackburn and Bolton both have a measly 0.5 points per home game, making them the worst home teams in the country so far.
Best away
Manchester City are the best away team in the country so far (2.67 points per game), followed by Charlton (2.44) and Southend (2.25).
The worst away team is Wigan (0.17 away points per game, or one point in six matches) followed by Swansea (0.33), Coventry (0.38) and Portsmouth (0.38).
..
More on Man City / Man Utd / /Arsenal  / Liverpool (or search for anything else in box at top right)