By Brian Sears
7 August 2015
There are many ways to try to predict the winners of the Premier League title, as this site explored in great detail two years ago. The odds on getting even the top 10 in the correct order are 670,442,572,800 to 1. Yes, that's 670 billion to one. And then to complete the 20 teams you need to multiply the 670bn by 3,628,800 to get 2.432902e+18 to 1 for the full division.
So it's not easy. Among the ways we described you could pick a winner were all-time pedigree, in which case Arsenal would win (see old article for details). Manchester United would be in with a shout there too.
If it were cash we were using as a tool then there are only five teams who will fill the top five places in some order and they are the two Manchester clubs, Chelsea, Arsenal and Liverpool. And there are sound reasons for thinking cash is a significant factor and those five teams will almost inevitably finish in the top five, in some order.
Or you can use analytics, or squad strength as measured by various metrics, or you could take the bookies' view alone. Or you could look at last season's table and say the same thing will happen again. And as Roger Pielke has written on this site, that 'zero knowledge' approach is actually not a bad place to start.
Or you can take a mixture of all the above. Or you can layer on top your own 'expertise', or lack of it, with your own hunches and biases, and come up with something else. So to kick-off the season, and purely for fun, here is Sportingintelligence's season prediction. Note it is subjective, mostly, not modeled. It is a composite view of multiple SI contributors. We take joint responsibility for its flaws. And of course it will be wrong. Just as any prediction of 20 teams in order will be wrong. Odds of 2.432902e+18 to 1 tell us that!
Article, and more objective items, follow below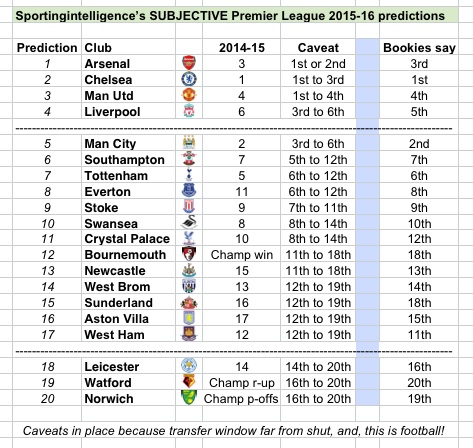 .
Toon face toughest August
The new Premier League season hands Newcastle the hardest start and Southampton the easiest. How so? Because each team faces four opponents in the month of August and Newcastle's quartet are collectively more difficult than those faced by anyone else, and Southampton's are easiest. By coincidence they open the season against each other this weekend.
Toughness and easiness are measured by the positions the opponent clubs finished last season. The 17 surviving clubs from the Premier League last season are ranked from winners Chelsea (hardest opponents) to Aston Villa (17th) while Championship winners Bournemouth are rated 18th best this season, then runners-up Watford 19th and play-off winners Norwich 20th.
Below is the table ranking the clubs based on the collective average of the four opponents they face in August. The smaller the average, the tougher the task on this particular basis. Why is this relevant? In the grand scheme of things all clubs play all the others twice but the tone of a season can certainly be influenced by how things start.
All of Newcastle's first four opponents finished in the top eight of last season's Premier League and still they don't include Chelsea and Manchester City.  West Brom with the second hardest set of fixtures meet both Chelsea and Man City in their first four games.
Of the three promoted clubs it's Watford with the toughest start by this measure. At the other end of things Southampton have apparently the easiest start: against Newcastle (15th last season), against Everton (11th) and then two promoted sides. Southampton are the only club playing two of the promoted clubs in August.
Article continues below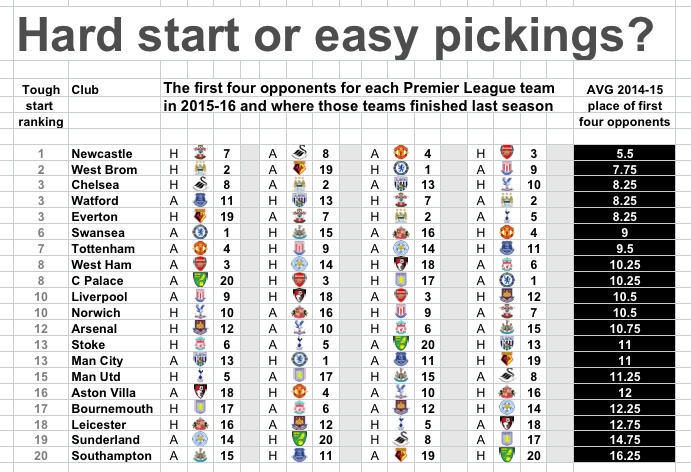 .
Swans on song? They'll need to be to beat first-day hoodoo
The Premier League era has comprised 23 completed seasons, meaning 22 seasons have started with a PL champion playing on the opening weekend. None of those champions have ever lost the opening game of their title-defending season.
Swansea travel to Stamford Bridge as the 23rd team to open up their season against the Premier League champions of the previous campaign. None of the previous 22 have won; three have drawn – Everton at home to Manchester United in 1999, then Reading and Newcastle at Old Trafford in 2007 and 2008.
Fourteen of the previous 22 have failed to score a  single goal. 
It will be Chelsea's fourth opening game as champions. They won 1-0 at Wigan in 2005, then 3-0 at Stamford Bridge against City in 2006 and 6-0 at home to West Brom five seasons ago.
Two years ago Swansea faced the previous season's champions, losing 1-4 at home to United. This will be Swansea's fifth successive season of Premier League football. Four years ago their debut game was a 0-4 reverse at City. Three years ago they won 5-0 at QPR. Last year the Swans gained sweet revenge for the previous year's defeat when they kicked their season off with a 2-1 win at Old Trafford.
The last time English champions were beaten in their first game of the next season was on 19th August 1989 when United beat Arsenal 4-1 at Old Trafford. Bruce, Hughes, Webb and McClair scored for United and Rocastle replied for then champions Arsenal.
Article continues below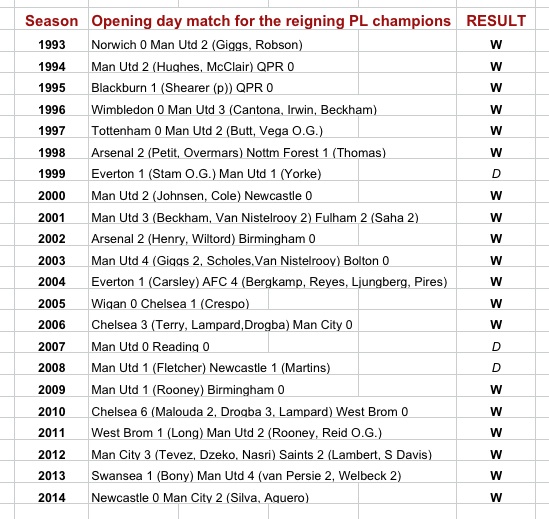 .
Newcomer wins are rare on the opening day
The elevations of Bournemouth, Watford and Norwich mean that 71 teams have gained promotion to the Premier League since it came into being in August 1992. (Various clubs have contributed multiple teams of those 71).
Bournemouth are making their debut in the League but Watford (two single seasons) and Norwich (three different spells totalling seven seasons) have both been there before. The 68 previously promoted sides have only known 13  opening-day wins between them. There have been 17 draws along with 38 defeats. The 13 wins are below.
Norwich will be pleased to know that clubs promoted by the play-off route do a bit better than those coming up as champions. But history is against Watford at Goodison Park as only two of their preceeding 22 runners-up have won their first Premier League game of the next season and none of them this century.
Norwich have twice before been promoted to the Premier League and in their first games of those seasons achieved creditable 1-1 draws. In 2004 at home to Crystal Palace and four years ago at Wigan. This time Norwich are again at home to Palace.
Watford have known opening defeats following both of their Premier League promotions. In 1999 they lost at home to Wimbledon 2-3 and nine years ago 1-2 away to Everton. That's the fixture that faces the Hornets again this time. 
Bournemouth have been given a home Premier League debut fixture with Aston Villa. From the list below note Villa have been the Premier League fall guys on two occasions including the most recent promoted club triumph when three years ago West Ham beat Villa 1-0.
Article continues below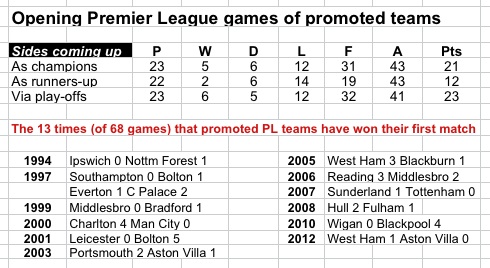 .
Goals ahoy?
Premier League goal scoring left much to be desired last season. In just five of the previous 22 seasons had the rate of goal scoring been lower. Only Manchester City scored more than an average of two goals a game while Hull, Aston Villa, Sunderland and Burnley could not even average a single goal per game. Hull and Burnley were relegated but Villa and Sunderland live to fight another day.
Six clubs had a smaller tally of goals than QPR but goals against (73) sealed their fate. The next highest "goals against" was Newcastle's 63.
City and QPR led the way in the total number of goals in their games (for and against) with more than three goals per game. At the other end of things Burnley (2.1 goals a game per game, for and against) were only just edged out of bottom place by Hull and Sunderland (2.2). Sunderland had nine 0-0 draws, by the way. NINE. What a yawn-fest they turned out to be. If you subtract their 8-0 drubbing to Southampton, there were only 76 goals in Sunderland's 37 other games, for and against.
That number of no-score draws has only been matched twice before in Premier League history: Leeds got as many as that in 1996-97 and Sheffield United in 1993-94, but then there were 42 games for the latter to contest, not the 38 of more recent times. 
This time round the Premier League might be in for a goal boost thanks to the newcomers. Bournemouth games has 143 goals in the Championship last season, with the Cherries scoring 98 times. Watford mustered 141 goals (91 themselves) and Norwich 136 goals (88 themselves). Only City in the Premier League bettered the rate of goal scoring and the rate of goal involvement of Bournemouth and Watford. 
Article continues below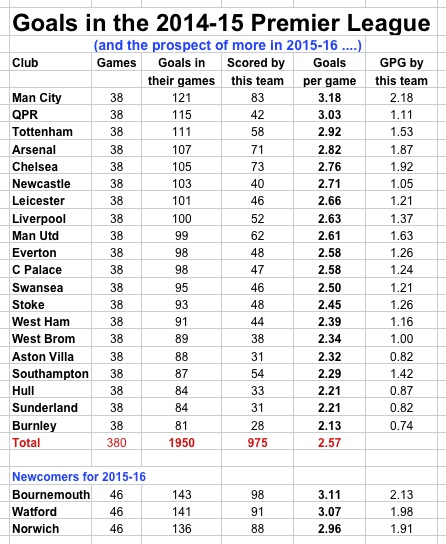 .
Doing a 'double' has value. Avoiding being a victim of a double has more
A Premier League 'double' is when a club beats another club both home and away. There were 61 last season. They are worth listing before we go on.
Chelsea did NINE: v QPR, Aston Villa, Crystal Palace, Everton, West Ham, Leicester, Stoke, Hull and Swansea.
City did EIGHT: v Southampton, Tottenham, Aston Villa, Newcastle, Leicester, Sunderland, West Brom and Swansea.
Arsenal did SEVEN: v West Ham, Aston Villa, Newcastle, Crystal Palace, West Brom, QPR and Burnley.
Liverpool did FIVE: v Southampton, Tottenham, QPR, Burnley and Swansea. Swansea did FIVE: v Arsenal, Man Utd, Aston Villa, Hull and Burnley. Tottenham did FIVE: v Everton, QPR, Leicester, Hull and Swansea.
Nobody else did more than four, and four clubs did no doubles : Aston Villa, Leicester, Newcastle and West Brom.
An immediate thought is that all these final four clubs retained their Premier League status. The relegated clubs all managed to "do a double" at least once, and Hull and QPR even managed it twice each.
What about avoiding having it done to you? 
Suffering a double: 8 times QPR; 6 times Burnley; 5 times Newcastle, Crystal Palace; 4 times Aston Villa, Leicester, Hull, Swansea.
QPR and Burnley were both relegated and Chelsea and City (no doubles against) finished first and second.
Next this statistician wondered how far back last season's wins over another club would stretch.
Here are the longest 11 sequences of consecutive wins currently in Premier League existence.
11 consecutive wins: Man City over Newcastle.
9 consecutive wins: Arsenal over West Ham. 
7 consecutive wins: Arsenal over Newcastle; Man City over West Brom; Tottenham over Swansea.
6 consecutive wins: Chelsea over Leicester; Everton over West Ham.
5 consecutive wins: Arsenal over Crystal Palace; Chelsea over Swansea; Liverpool over Tottenham; Sunderland over Newcastle.
And guess what? Three of those sequences are fixtures that occur on this opening weekend of the 2015-16 season.
Given history and everything else we've covered today, one would expect victories for Arsenal v West Ham; for Chelsea v Swansea; and for Manchester City at West Brom. For three sides who will finish in the top five this season in other words.
..
…. And finally
The statistics in these pages will often be in relation to the Premier League era when they deal with English football. We know the game is a bit older than that. We know Preston won as Invincibles in the league's first season in 1888-89. But the Premier League is a distinct era if only because of the money that has transformed the picture. This is the 'monied era'.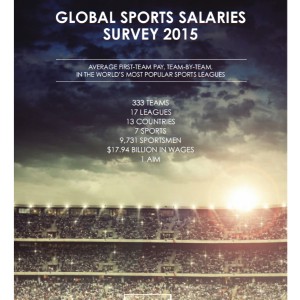 To get some idea of how the financial situations of these clubs have changed over time – and finance is a big influence in success in football – further reading and related articles spring from Sportingintelligence's annual global sports salaries reports, are linked here. The 2015 edition of the report (right) was published in May.
You can download a free 120-page PDF here.
2014 Report             2013 Report            2012 Report         2011 Report          2010 Report
.
More on Arsenal / Liverpool / Man Utd  (or search for anything else in box at top right)