By Brian Sears
18 November 2011
The Premier League's long-time elite quartet of Manchester United, Arsenal, Liverpool and Chelsea are under ongoing threat from Manchester City, Tottenham and even Newcastle (TBC), but 'Big Four' games still fascinate.
And on Sunday we have the  234th such contest in the Premier League's history when Chelsea meet Liverpool at Stamford Bridge, looking to leapfrog Liverpool in the all-time 'inter-Big Four' table. (See table below).
Overall in these games, United retain a comfortable 25-point lead over Arsenal in second place, but Arsenal, Liverpool and Chelsea are locked in a tight contest for that second place, with only six points separating the three, and Liverpool only two points ahead of Chelsea.
Liverpool's 2-0 early season success at the Emirates and a 1-1 draw at Anfield with United have taken them above Chelsea and within four points of Arsenal.
Chelsea host Liverpool having already lost 1-3 at Old Trafford this season and 3-5 to Arsenal in their last Premier League game at Stamford Bridge – and they may still be smarting from the double Liverpool inflicted on them last season.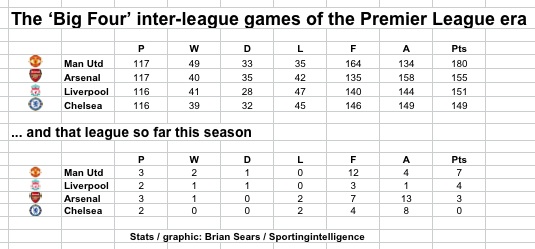 .
And another thing ….
Little did we think as the season started that by the middle of November, Manchester City and Newcastle would be meeting each other as the only unbeaten sides in the Premier League.
Both teams have gone through their opening 11 games without a single defeat, and arguably that's a bigger deal for City – who are in new territory – than for Newcastle, who have had an 11-game unbeaten start before.
City's previous best unbeaten start in the Premier League was six seasons ago and only lasted five games.
Newcastle's previous 11-game start was in 1994 when Kevin Keegan's side began with nine wins and 2 draws, before losing to a team in ……. Manchester. On that occasion Newcastle lost 0-2 to Manchester United at Old Trafford, with Pallister and Gillespie scoring the United goals.
The winners of Saturday's City-Newcastle game (or indeed both teams if it is a draw) will join four other sides who have managed an unbeaten dozen start to a Premier League season.
Complete list of sides with 11 or more unbeaten Premier League games from a season's start:
38 games 2003-04 Arsenal (26 wins and 12 draws).
24 games 2010-11 Man Utd (15w, 9d).
14 games 2007-08 Liverpool (8w 6d).
12 games 2002-03 Liverpool (9w 3d); 1998-99 Aston Villa (8w 4d); 1997-98 Arsenal (6w 6d); 1995-96 Nottm Forest (6w 6d).
11 games 2005-06 Chelsea (10w 1d); 2011-12 Man City (10w 1d so far); 1994-95 Newcastle (9w 2d); 1994-95 Nottm Forest (8w 3d); 2011-12 Newcastle (7w 4d) so far; 2001-02 Leeds (6w 5d)
..
More on Chelsea /  Liverpool / Man Utd / Man City / Arsenal  / (or search for anything else in box at top right)
Sportingintelligence home page