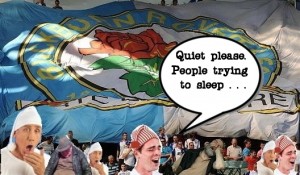 By Brian Sears
16 April 2010
Last Sunday, three of the four Premier League games ended 0-0, including Manchester United's trip to Blackburn.
When Rovers are judged on their tally of no-score bore draws (seven this season, yawn) they are officially the most boring team in the Premier League.
Liverpool-Fulham was also a snooze if you wanted goals, as was Wolves-Stoke. If it weren't for the stats, one could expire of boredom; instead we can marvel that 75 per cent of the games that day were 0-0. Terrific defending, lads!
But let's not joke. This is serious business. There were as many 0-0s last Sunday in the Premier League as there were in the whole of August, September and October combined, when just three of 105 games ended 0-0, or 1.3 per cent. Between November and January there were 11 draws in 124 games (8.9 per cent, still in single figures, thank the Lord), but between February and now, there have been 13 in 108, or 12 per cent of games ending 0-0.
Gadzooks! And don't pass the Mogadon (it's not needed).
Now the rising tide of 0-0s is a very real and present danger to the chances of a record goal-scoring season, which for much of this campaign has looked a nailed-on certainty. At the current rate of (not) scoring, the total will now fall an agonising eight goals shy of the record 1,060 goals scored 10 seasons ago.
Burnley are the only team to have avoided playing in a no-score bore draw, mainly as they've only managed three clean sheets in their 34 games – all achieved at home, to Manchester United, Everton and Hull, and all before November had dawned. It's 23 games since Burnley had a 0-0.
Having at least one team going an entire campaign without a 0-0 used to be fairly common. But in the last five seasons only Wigan in 2005-06 and Manchester City last season achieved the feat.
In contrast, Blackburn have played out as many as seven no-score bore draws this season already: at home to West Ham, Stoke, Liverpool and Manchester United, and away at Hull, West Ham and Portsmouth.
Leeds hold the record for most 0-0s in a 38-game season in the Premier League, with nine 1996-97. Only four clubs have reached as many as eight.
This season's total of goalless games – 27 so far – is already one ahead of the total for two seasons ago but well short of the 42 total for last season, and even further off the 49 record total for a 38-game season posted in 1998-99. Thank goodness. Now don't let's spoil it.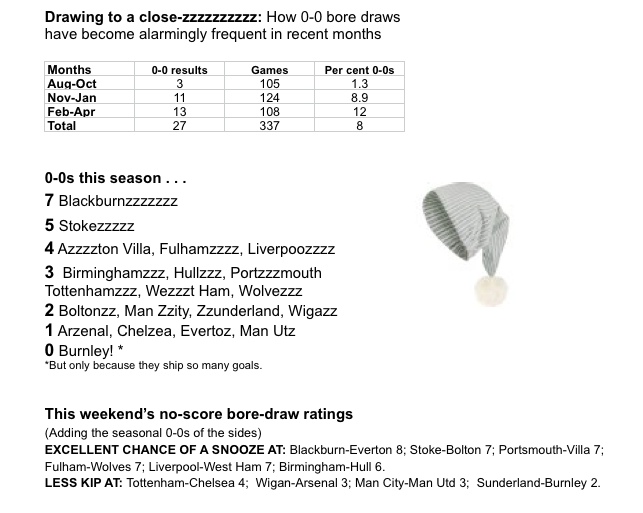 .