By Brian Sears 
Many fans in the Premier League this season have had to come to terms with their teams finding it harder to gain points on home soil. The statistics show home wins are running at an all-time low, or 39 per cent of matches to be precise. The lowest home win percentage in any completed Premier League season so far was 41.6 per cent in 1993-94. The highest home win rate has been above 50 per cent and the average home win rate has been above 46 per cent.
This first table tells the story.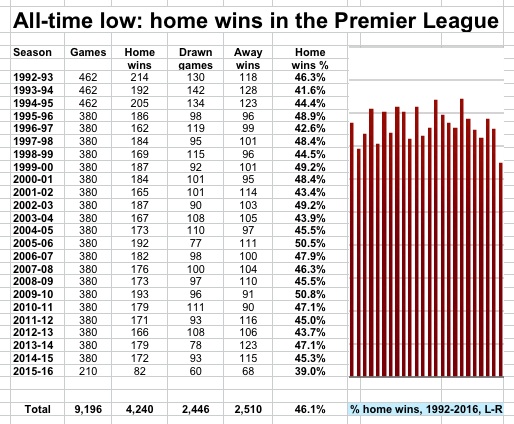 . 
Looked at another way, in the 23 seasons up to the start of 2015-16, of all 24,572 points gained in the competition, 14,860 had gone to the home teams, at a rate of 60.5 per cent.  Last season it was 60.7 per cent. But so far this season of 570 points, some 306 have gone to the home side.  That's 53.7 per cent. In any whole season to date, that percentage has never gone below 57 per cent. 
So which clubs are suffering most?
Our second table compares this season's home performances (points per game, or PPG) firstly against each club's all-time PPG rate in the premier League, and compares the difference; and then compares this season's home PPG with last season's home PPG.
Only four clubs are currently ahead on last season's home PPG and unsurprisingly it is Leicester that are head and shoulders above the rest. Crystal Palace, Arsenal and Sunderland are also doing slightly better at home than last season, and the rest of the teams are doing worse.
Chelsea at the moment are well over a point per game down on their home haul last season, at 1.36 versus 2.58.
When we consider this season against all-time home PL performances, Aston Villa are relatively worst, at 0.6 PPG this season against 1.56 PPG historically for a deficit of 0.96 PPG. Newcastle, Chelsea, Everton, Liverpool and Manchester United are also among those punching well below their all-time home averages.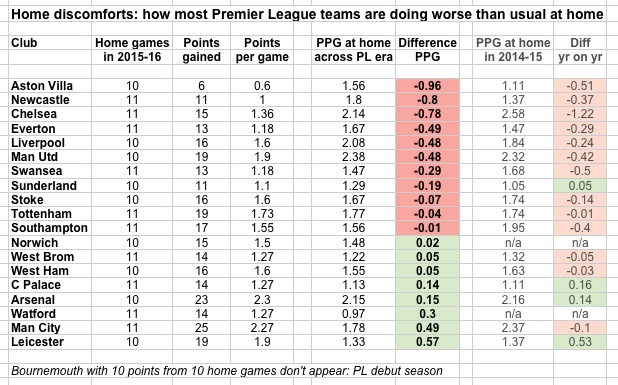 .
But there may be some relief ahead for home sides in the coming round of fixtures if history has anything to do with it.  Tottenham, Chelsea, Man City, Newcastle, Southampton and Stoke are hosting games this weekend (respectively against Sunderland, Everton, Crystal Palace, West Ham, West Brom and Arsenal) when out of a total of 72 previous Premier League home games there have only been seven away wins.
Sunderland have won once in 14 PL visits to White Hart Lane, Everton once in 23 visits to Stamford  Bridge, Palace have not won in five visits to Man City, West Ham have won three times in 18 trips to Newcastle, West Brom have won once in five visits to Southampton and Arsenal only once in seven Premier League games at Stoke.
Premier League history cannot help us as Bournemouth v Norwich and Swansea v Watford are appearing for the first time on the fixture list.  That leaves Aston Villa v Leicester with Villa winning three, drawing four and losing two of the nine Midlands games at Villa Park, and the Liverpool v Man Utd game at Anfield. History proclaims this much more even as well with Liverpool winning eight, United 11 and four games drawn.
.
…. And finally
The statistics in these pages will often be in relation to the Premier League era when they deal with English football. We know the game is a bit older than that. We know Preston won as Invincibles in the league's first season in 1888-89. But the Premier League is a distinct era if only because of the money that has transformed the picture. This is the 'monied era'.
To get some idea of how the financial situations of these clubs have changed over time – and finance is a big influence in success in football – further reading and related articles spring from Sportingintelligence's annual global sports salaries reports, are linked here. The 2015 edition of the report (right) was published in May.
You can download a free 120-page PDF here.
2014 Report             2013 Report            2012 Report         2011 Report          2010 Report
.
More on Arsenal / Liverpool / Man Utd  (or search for anything else in box at top right)