*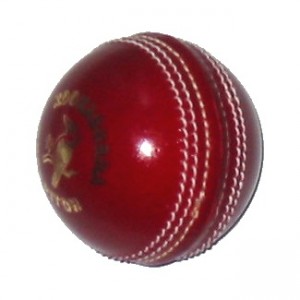 England haven't won a series in India for 27 years. The last time they won one was thanks to double centuries scored by Graeme Fowler and Mike Gatting in the midst of a series marred by political turmoil following the assassination of Indira Ghandi and then the British Deputy High Commissioner. England have only managed to win one Test out of the 11 they've played in India since, losing three of the four series since – and drawing the other. On the face of it that sounds ominous and yes, this series will be an enormous challenge. But according to Lizzy Ammon, there are a few reasons to be cautiously optimistic.
.
By Lizzy Ammon
14 November 2012
When England's tour of India begins on Thursday at 4am UK time with the first Test at the Sardar Patel Stadium in Ahmedabad, they'll be facing a once-great Indian side who have been on the decline for a few years and with probably the weakest India batting line-up for more than a decade.
The hosts have two huge holes left by Rahul Dravid and VVS Laxman, while the previously prolific batsmen Gautam Ghambhir, Virender Sehwag and Sachin Tendulkar are all averaging below 28 in 2012. Sehwag has not passed 70 in a Test match for more than two years and the other opener, Ghambhir, has only passed 70 once in this time and has not scored a century since January 2010 – and that was against Bangladesh.
Tendulkar has not scored a century since January 2011 (video here) and in his last 10 Test innings has only reached 50 once.
In recent matches the team has been carried by the two relative newcomers Cheteshwar Pujara and Virat Kohli. Both have shown signs of real talent but they're young and inexperienced and show some signs of vulnerability against real pace.
This is India's weakest Test side for years and it isn't just the decline of some of their best batsmen where they have issues. They lack fitness and this is apparent in their fielding, not just through lack of athleticism but on occasion a lack of effort.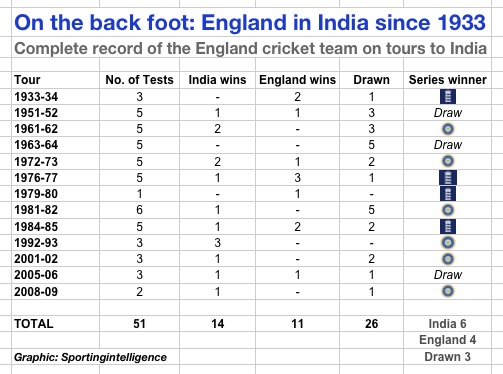 During last year's tour of England, it wasn't just that they were outplayed: they seemed dispassionate, uninterested and at times downright bored.
They aren't a completely harmonious unit, something England pride themselves on – even with KP in the side – and in Duncan Fletcher, India have a coach who has minimal influence over the side.
It's clear when watching India in training that it is captain MS Dhoni who runs the camp – not Fletcher and not a partnership between the two.
Contrast this to the leadership of Andy Flower and the already good working partnership between Flower and Alastair Cook.
These may not sound like enormous things but they all constitute vulnerabilities which England will have identified and will be attempting to exploit.  It's also entirely possible that with almost everyone writing off England's chances, India will succumb to complacency.
That's not to say everything is rosy in the England garden: it's not. There are four major concerns: 1) the injury to Steven Finn; 2) the untested opening batsman; 3) problems in balancing the side to best effect; 4) how the heck the batsmen will fare against the spin – particularly Ravi Ashwin spinning it both ways.
The injuries to Finn and Stuart Broad and the return home of Graeme Swann for personal reasons gave rise to real concern about England's potential to take wickets and Stuart Meaker was flown out as cover for Finn. Meaker is a pacey, skiddy bowler but lacks the height to be able to get carry and bounce on slow, low pitches.
Finn's recovery is going well but he is unlikely to be fully fit in time for the first Test.  This is a real blow for England. His height gives him a better chance to get some bounce and carry on this slow track and he was by far the pick of the bowlers in England's limited-overs tour of India this time last year.
It's likely he will be replaced by Tim Bresnan. His wicket-to-wicket bowling will be important in the absence of any real swing so straight with a good line and length is important.  Graham Onions has grounds to feel unlucky if he misses out; he's a fine bowler who had a tremendously successful summer but the England management are big fans of Bresnan – he adds something with the bat and there's no doubting his commitment and work rate.
Broad's bruised heel doesn't seem to be an issue and he is likely to take the new ball with James Anderson – the only worry will be his lack of match practice.  History dictates that Broad needs overs under his belt before he starts to really fire.
Swann will be relishing the prospect of taking his 200th Test wicket given the left handers he will be bowling at.  His wicket-taking record in Asia against left-handers is impressive.
In terms of balance of the side, Samit Patel has had success in the three warm-up matches and seems to have played himself into the number six slot. This means England can stick with their trusted "three seamers and a spinner" option.  But he isn't a bowler who strikes fear into the opposition and he's been taken apart on occasions.
It's hard to read too much into the warm-up matches given the deliberate plan on India's part to bombard England with moderate quality seam bowling and little spin, but it's encouraging that the batsmen have all made runs and had time in the middle. They will, at least, feel a little more prepared than they did prior to the Pakistan series.
There's also the little but not insignificant matter of the slip cordon. Cook will take his place in the slips but it is Swann who will take the role when only one slip is required. England's fielding in 2012 hasn't been up to the impeccable standards of the 2010-11 Ashes.
Key to success will be exploiting the fragility and lack of form of India's top order by hitting them hard with the pace and movement of Anderson, Broad and Bresnan.
Yet India have made no secret of the fact they will be preparing "raging turners" as some sort of revenge for the green pitches they believe they played on when they toured here last year.
Despite their protestations otherwise, England do have a problem against spin – and England's batsmen have deliberately been delivered little in the warm-ups so that when it arrives, it will be most uncomfortable.
Watching England play Pakistan's Saeed Ajmal in the UAE at the beginning of the year was nothing short of painful but these pitches will be different, far less skiddy and India do not have a bowler like Ajmal.
In Ashwin, Ohja, Harbhajan and Yuvraj they have quality spinners but not the quality or mystery of Ajmal that so flummoxed England at the dawn of 2012.
The Sardar Patel Stadium in Ahmedabad has hosted 11 Test matches, six of which have ended in draws.
The only time England have played here before was in 2001 – in a draw.
Whilst once it was a pitch that favoured bowlers it has recently become slow and low – resulting in draws.
The risk is England's pacemen will not be able to get any penetration and Swann will be overbowled before the batsmen face hours and hours of spin with Ashwin turning it both ways.
Make no mistake, this will an enormously tough series for England and both sides have weaknesses but India's decline presents England with an opportunity they haven't had in years, and the fans with prospect of a mouth-watering series.
.
Player stats
ENGLAND  probable XI
Alastair Cook 83 Tests – averaging 47.84; Nick Compton Debut – First-class average 44.49; Jonathan Trott 34 Tests – average 50.49; Kevin Pietersen 88 Tests – average 49.48  (9 wickets @ 93.77); Ian Bell 80 Tests – average 46.83; Samit Patel 2 Tests – average 13.33; 3 wickets @ 40.66; Matt Prior 58 Tests – average 42.61 (167 catches, 12 stumpings); Tim Bresnan 16 Tests 57 Wickets @ 30.05; 399 runs @36.27; Stuart Broad   50 Tests  172 Wickets @ 31.02  1578 runs @26.74; Graeme Swann 46 Tests  192 Wickets @29.58   1078 runs @ 22.93; James Anderson 73 Tests  276 wickets @30.40.
Total number of Tests played:  530.
INDIA possible XI 
Gautam Gambhir 50 Tests  averaging 44.35; Virender Sehwag 98 Tests  averaging 50.64; Virat Kohli 10 Tests  averaging 41.35; Sachin Tendulkar 190 Tests averaging 55.08; Yuvraj Singh 37 Tests  averaging 34.80; 9 wickets @55.66; Cheteshwar Pujara 5  Tests averaging 40.37; MS Dhoni 69 Tests averaging 38.45 (194 catches and 30 stumpings); Ravi Ashwin 8 Tests 49 wickets @26.63; 353 runs @39.22; Pragyan Ojha 16 Tests 75 wickets @31.82; Umesh Yadav 8 Tests 28 wickets @34.14; Zaheer Khan 85 Tests 291 wickets @32.06.
Total number of Tests:  576.
.
Lizzy Ammon writes for SPIN cricket magazine  (here and on Twitter @spincricket), and for Mirror Sport (columns here and on Twitter @mirrorsport) and you can follow Lizzy on Twitter at @legsidelizzy
.
Follow SPORTINGINTELLIGENCE on Twitter