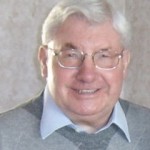 JOHN ROBERTS wrote for the Daily Express, The Guardian, the Daily Mail and The Independent, where he was the tennis correspondent for 20 years. He collaborated with Bill Shankly on the Liverpool manager's autobiography, ghosted Kevin Keegan's first book, and has written books on George Best, Manchester United's Busby Babes (The Team That Wouldn't Die) and Everton (The Official Centenary History).
As Matthew Engel once wrote in the British Journalism Review: "I suspect posh-paper sports writing changed forever the day John Roberts left the Daily Express to join The Guardian in the late 1970s, was handed a piece of routine agency copy and picked up a telephone to start asking questions."
.
.
By John Roberts
9 April 2010
This year's Grand National takes place tomorrow, 10 April, and whenever this great race comes around, my mind recalls the emotional triumphs of Bob Champion and Aldaniti, of Jenny Pitman and Corbiere … and the demise of Dark Ivy.
Shortly before the cavalry charge in 1987, Pitman gave voice to words that must run through the mind of every caring trainer and owner each year at Aintree: "I just hope they come back safe and sound, that's the most important thing."
Jenny's Corbiere and Smith's Man did return, defeated but none the worse for their four and a half miles over the world's most terrifying fences. Twenty other horses in a field of 40 also finished the course, to make it the second highest number to complete since World War Two, while 17 survived mishaps of one kind or another without too much physical damage.
But Dark Ivy, the pride of Greystoke Castle, the most handsome horse in the parade ring, and heavily backed to become the first grey to win the Grand National for 26 years, was dead. A mistake at the sixth fence, the dreaded Becher's Brooke, 4ft 10in high with a drop into a ditch on the landing side, proved fatal. Dark Ivy came down perpendicular and broke his neck.
The incredible steeplechase is not only about romantic winners, but also a history of tragic losers, and while the overjoyed 92-year-old Jim Joel was flying home from South Africa to embrace his hero Maori Venture, other journeys were being made with heavy hearts.
Dark Ivy's owner, Adare Catherwood, and her husband, Stewart, turned back towards Doagh, County Antrim. It was Stewart, at the height of the backing on his horse, who had asked how any runner could be fancied in a lottery like the National. Disappointment in the first race on Saturday, with their Little Bay a faller, was merely a prelude to catastrophe in the main event.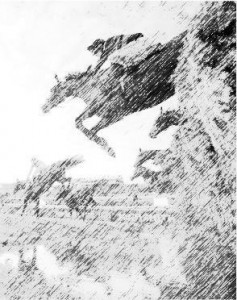 Gordon Richards, who had twice experienced triumph in the National as a trainer, with Lucius in 1978 and Hallo Dandy in 1984, dried his eyes and made his way back to Greystoke Castle, Cumbria. It was there, the previous week, he had expressed both optimism and concern.
His faith in the horse had been strong. He unhesitatingly described Dark Ivy, who had been in his care for a year, as a classier athlete than his previous National winners by virtue of possessing "an extra gear". And yet at the same time he was uneasy and spoke about the nervousness he invariably feels, whether presenting an 11-year-old like Dark Ivy for the National or a young horse for a novice trial.
There was no mistaking the man's sincerity, and there is no doubt that the majority of people that inhabit the world of National Hunt racing have a genuine love of horses. Even so, the death of Dark Ivy was certain to prompt renewed protests about the Grand National from the anti-blood sports lobby.
Phil Tuck, who rode Dark Ivy, arrived at his home near Penrith, bruised in body and spirit and anticipating complaints: "Of course people will say it's too dangerous. They're bound to say it's cruel and we shouldn't bed doing it. Everybody connected with Dark Ivy is upset. He was a lovely horse, and what happened top him broke my heart. But I still believe in what we do."
He added: "Did you notice Brown Trix? It unseated its rider at the third fence, but carried on round the two circuits on its own and led the winner past the post. A horse would not do that unless it was enjoying itself. It doesn't have to carry on after losing its rider. There are plenty of ways out. When Aldaniti made his gallop before the start it was obvious that he senses where he was and loved being back. Red Rum is the same whenever he makes an appearance. He carries on like a two-year-old."
Approaching Becher's, Tuck had every reason to believe that Dark Ivy was settling into the pace of the race: "He made a little bit of a mistake at the first, but jumped the ditch well and I thought I was in for a great ride. Then at Becher's he popped in a short one." Tuck paused to reflect upon the split-second of disaster, then added: "The lad's in no pain now."
Tuck, whose facial scars are testimony to the rigours of his trade, endeavoured to put the bad experience behind him. "I've just got to get myself together and carry on," he said. "I still have a job to do."
.
This is the third in a three-part series in the run-up to this year's National. Part one here and Part two here.
.