By Brian Sears
26 October 2012
It's been a sorry season for Southampton fans so far, with just one win and a draw from eight matches since their return to the Premier League.
They'e squandered leads against Manchester City, Manchester United, Everton and Fulham. Yes, they've scored in every league game, but then they've also shipped two dozen goals, or three per game on average.
When times are tough, you'll grasp at anything to renew belief and statistical history gives a glimmer of hope ahead of this weekend's match with Tottenham.
Southampton have gained 591 Premier League points over 13-and-a-bit seasons in England's revamped top division since 1992. And the club against they have won more points than any other in that time is … Spurs.
The Saints have won 35 points from 26 Premier League meetings with Tottenham, and have bagged as many as 10 wins – eight of them at home and two at White Hart Lane. They face Tottenham at St Mary's this weekend.
Southampton's PL record, club-by-club by opponent, is in the graphic below.
Saints have played 38 different clubs in the Premier League over the seasons and have beaten them all at least once with the exception of Wigan, against whom they have played just once, this season.
Southampton have taken most PL points, after Tottenham, from Newcastle, Aston Villa, Everton, Middlesbrough and Liverpool.
They are  undefeated in the PL against Crystal Palace (in eight games), Bradford (four) and Wolves (two). They have won five times against Manchester United and scored 33 times against them, the same number as against Liverpool.
But but back to Spurs.  Southampton have won their last five home league games against them:  2-0, 1-0, 1-0, 1-0 and 1-0.
The only trouble is that the last 1-0 result took place on 5 March 2005 and a lot of water has gone down the Thames and through the Solent since then.
Still, there is always hope. Isn't there?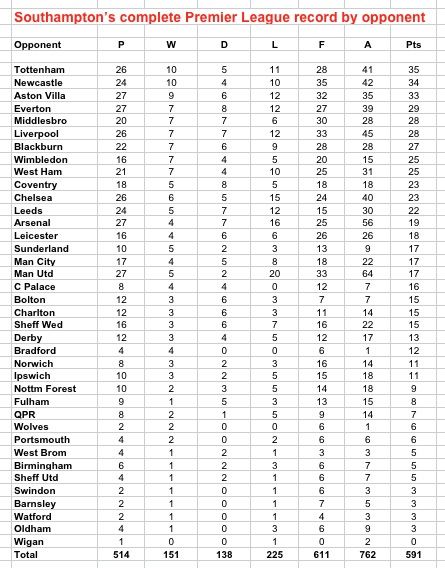 .
And another thing …..
Five Premier League clubs have drawn blanks this season in different ways, good and bad.
Two have yet to lose as October draws to a close: Chelsea and Man City. Two have yet to win: Reading and QPR. And one has no draws to their name: Manchester United.
That means those five clubs have already set – or remain on course to set – records for themselves in those areas in the PL era.
City's best Premier League season by far was last season when they went 14 games (12 wins and two draws) before losing. They are eight games unbeaten this season (five wins and three draws.)
Chelsea are also unbeaten in eight league games this season and only once (2005-06) have they had a longer opening run unbeaten (11 games).
Already this season, albeit in a history of limited PL seasons, Reading and QPR are waiting longer than ever before for that elusive first win. Reading are seven games with no win and QPR eight.
Perhaps the most unheralded stat is that Manchester United have never gone as long as this season's eight games at the start of a season without a draw.
Every other club has been already involved in at least one drawn game – with Stoke and Sunderland having five draws each already.
.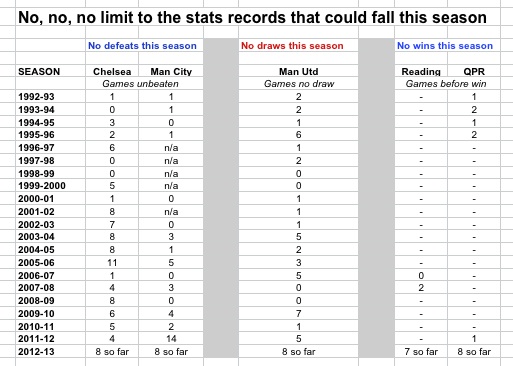 .
Follow SPORTINGINTELLIGENCE on Twitter