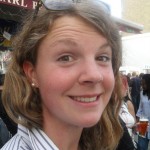 ALEXANDRA WILLIS is the Deputy Editor of ACE Tennis Magazine, and alongside mag work and an affair with social media, has the dubious honour of following British players to Grand Slam qualifying from time to time as part of her professional duties. If you happen to bump into her court-side, she'll probably tell you that she went to Oxford (and not just shopping).
.
.
.
.
.
They ply their trades in vastly different arenas, but Faye White (the Arsenal captain), Charlotte Edwards (England's cricket captain), and Anne Keothavong (one of Britain's best tennis players) have one thing in common — they're the first of a new breed of professional sportswomen. ACE Tennis magazine listened in as they compared notes on their sporting lives for a feature in the current issue. Sportingintelligence is happy to share this extract, exclusively online, from the finished article.
.
By Alexandra Willis
16 April 2010
"I loved Steffi Graf when I was growing up … I watched her all the time."
There's nothing unusual about that sentiment, except, perhaps, that this time it's not being expressed by a tennis player. Steffi Graf, it turns out, was the childhood hero of Charlotte Edwards, captain of the England women's cricket team. "Me too!" says Faye White, Arsenal captain (and former captain of England).
"Uh oh," says Anne Keothavong, the former British No.1 who has recently returned to tennis after six months off with injury. "Surely it's Monica Seles every time?"
They may disagree over one of tennis' greatest rivalries, but these three have more in common than you might expect from people involved in such different sports.
When Charlotte, Faye, and Anne embarked on their respective careers, most women's sport (with the exception of tennis) was amateur and considered insignificant. Now, however, while women's sports still lag behind their male equivalents (particularly in the crucial areas of finance and media coverage) there's a definite feeling that these three, and their contemporaries, are among the vanguard of a new breed of sportswomen.
"Most girls are put off playing sport straight away," says Faye. "Why? Because it's easier. Particularly something like football….it's either 'oh well you're a boy then,' or it's that you can come and play, but because you're a girl you can't play in a match."
When you combine this less than positive image with a total absence of any support structure for girls to get into sport, it makes the trio's achievements – top 50 in the world, a double World Cup winner and a European Cup finalist – seem all the greater.
Although poor coverage in the media has been a long-standing problem for women's sport, it was brief glimpses of TV footage that first encouraged all three to take their respective sports seriously.
"It was 1995, and I'd literally just started to play regularly, and at about one in the morning I saw a five-minute clip on the BBC of the Women's World Cup in Sweden," explains Faye. "I didn't even know there was an England women's team, and I remember I sat there thinking, 'wow you can play for your country, that's what I want to do.' I could hardly find a local team, let along think I was going to play for England one day! But that for me was the moment when I knew what I wanted to do."
Charlotte's story is similar, as a brief glimpse of the 1993 Cricket World Cup at Lord's piqued her interest in the sport she was trying to take seriously. "I knew I was good at the time, but I didn't know how good, because I couldn't compare myself to anyone because there were no girls to compare myself to!" she says.
For Anne, whose father was captivated by Wimbledon when he first moved to London from war-torn Laos in the 1970s, it wasn't until she turned 16 that tennis went from being a pastime to a career. "You dream about being a professional tennis player, playing at Wimbledon and doing all these things," she ponders. "I was always very active when I was younger, whether it was tennis, taekwondo, netball, I was always doing something sporty.
"But tennis? I was kind of almost questioning it. I wanted to be a tennis player, but I wanted to be a good tennis player. I didn't want to be someone just floating about playing tournaments. It's about having the right support to be that disciplined at a young age, and today, that system is there."
But while getting girls interested in sport is hard enough, keeping them in their sport past the age of 16 is a serious problem, one that Edwards, White and Keothavong are keen to help solve.
"You don't want to mislead anyone, it is tough playing sport at a high level. It is pretty cut throat and like anything, if you're going to succeed in anything it's going to take a lot of hard work," says Anne. "But the other side of it can be amazing, the success you get, the coverage, it can be glamorous, you do get to dress up, you do get to be a superstar."
"If you have a bad experience, that's it," says Faye, who like Charlotte is contracted to promote her sport when she is not training. "To get through the stereotypes it takes girls who are focused and determined and steer away from following the norm. But it's the encouragement and opportunity from a parent, teacher, an initiative or scheme that keeps those girls playing sport."
One thing that hasn't helped is the lack of female coaches in all three sports. "I've always had a male coach," says Charlotte, "but a lot of men don't quite get women's sport, they try and compare it to the men, and you can't, you've got to take it for what it is."
Likewise, Anne has only ever worked with one female coach, her former doubles partner, Claire Curran. "One of the reasons you don't see many female coaches at a high level is because of the travelling – it's a lot to ask. It's a shame because women coaches would probably understand younger girls better – and you have to have the right support at a young age."
As any parent with a sports-mad child will know, it is they who tend to bear the brunt in providing that support. "I know some girls whose parents have never watched them, who didn't think they should be playing football, but mine were always quite encouraging," reveals Faye. "But my dad would travel everywhere, driving behind the team coach!"
Charlotte agrees. "It's funny now how the opportunities have changed," she muses. "I wouldn't be where I am today if it wasn't for my parents. They're the ones who took me to training, paid everything for me to go and play cricket for England, whereas now, the girls coming in, they get all their expenses paid, everything."
"Mine did the same," chips in Anne. "They gave up a lot of time for me and for my dreams, driving me all around England. I'd like to think I wouldn't be too selfish not to do the same!"
But as with any career that requires a lot of hard graft, there are those precious moments that make all the slogging and sacrifice worthwhile. "I am making my living from football, whether it be playing, or promoting it," says Faye. "But I certainly never thought 'Oh, I'm going to be a professional footballer', because you just don't. For me it was just about playing, enjoying it, and having fun. But when it really hits you is playing in the big events. Then it's like wow!"
.
To read the full version of this interview, published in the new issue of ACE Tennis Magazine, pick up a copy today, on sale at WH Smiths and local newsagents, or subscribe by calling 020 8487 7000. If you subscribe now, you could win a grand day out on Wimbledon Centre Court on the middle Saturday this year in an exclusive competition in ACE's next issue. Visit www.acetennismagazine.com for more details.
.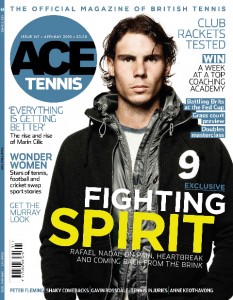 .
.
.
.
.
.
.
.
.
Sportingintelligence's front page
For more columnists click here
.
.
.
.