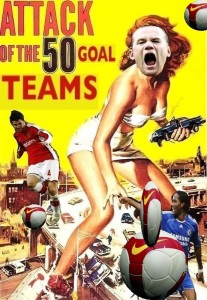 By Brian Sears
19 March 2010
Liverpool, beware. Premier League goal scoring this season remains on course to hit record heights, and Liverpool's opponents this weekend, Manchester United, remain one of three clubs still in the hunt for the Holy Grail-esque "50 goals at home in a Premier League season".
Now some people might argue that whether a football team scores 50 goals in a league season at home, or not, is not quite up there with locating either the physical Grail item from the Last Supper (the chalice or whatever), or finding scientific poof of the metaphorical Holy Grail, be it Jesus's contemporary blood relatives via his marriage to Mary Magdalene, or whatever. But let me tell you this, friends. Those people are not statisticians.
Scoring 50 goals at home in one Premier League season has been done just five times. Just five. Since 1992. And only three times since the top flight was reduced to 20 teams. United did it in 1999-2000, with 59 home goals, while Arsenal and Newcastle respectively scored 54 home goals in 2004-05 and 1996-97. And that's it. So far.
United would appear to have a realistic shot at replicating their glory of passing 50 this term. They have 42 home goals in the League with four home games left, against Liverpool, Chelsea, Tottenham and Stoke.
Chelsea perhaps have an even better shot. They have 45 goals at The Bridge this season in the league already with games to come against Villa, Bolton, Stoke and Wigan.
Arsenal, who can be rampant when they're in the mood, also have a shot. They've got 41 home goals so far and still have to host West Ham, Wolves, Manchester City and Fulham at The Emirates.
United. Chelsea. Arsenal. Fill. Your. Boots.
If they do so, then this season could see record levels of Premier League goals, to follow last season's trifling 942 goals (or 2.48 per game, the second lowest ever).
Already 815 goals have been netted this season, or 2.79 per game, on a par with the record season to date, 1999-2000, when 1,060 went flying in in 380 games.
Up to the end of November in this season, record goals for the campaign were almost a foregone conclusion, and the unbelievable tally of three per game had hardened from mirage to possibility. But the winter freeze set in, in more ways than one, and February's levels of 2.27 goals per game were poor. (Sob).
But in March, rebirth. A spring is back in the strikers' steps. The goals are flowing again, at a rate of 3.16 per game. (Hoorah).
Home fans, as you may have guessed, are reaping most of the season's rewards, nowhere more so than Old Trafford, Stamford Bridge and the Emirates.
The attack of the 50-goal teams is reaching its climax. And woe betide anyone who stands in their way.
.