*
By Sportingintelligence
1 February 2012
The document scanned below are part of a huge secret dossier of evidence amassed by UK Anti-Doping (UKAD) during an investigation into the biggest drugs cover-up in British sporting history.
UKAD is the agency that polices anti-doping in the UK.
The investigation related to drug use by players at Hull FC rugby league club last year, and the subsequent cover-up.
Martin Gleeson is the only player who faced charges, after failing a test for a drug him and multiple team-mates were using.
AND READ MORE REVELATIONS HERE (More material to come as well).
The scan below is part of a written submission by former England star Ewan Dowes, explaining how he came to take OxyElite Pro, a supplement containing a 'controlled' stimulant, MHA, which is banned in competition and which has often led to lengthy bans. He took it in error, after being advised it had been 'cleared' when in fact a coach had made a mistake.
Several players in the case admitted drug use to UKAD, and faced no action, which might prompt serious questions from other athletes about why.
The full cover-up, and suppression of what really happened, went much wider than Long, Gleeson and Hull … there is much more to follow.
.
Ewan Dowes statement about his drug use to UKAD
.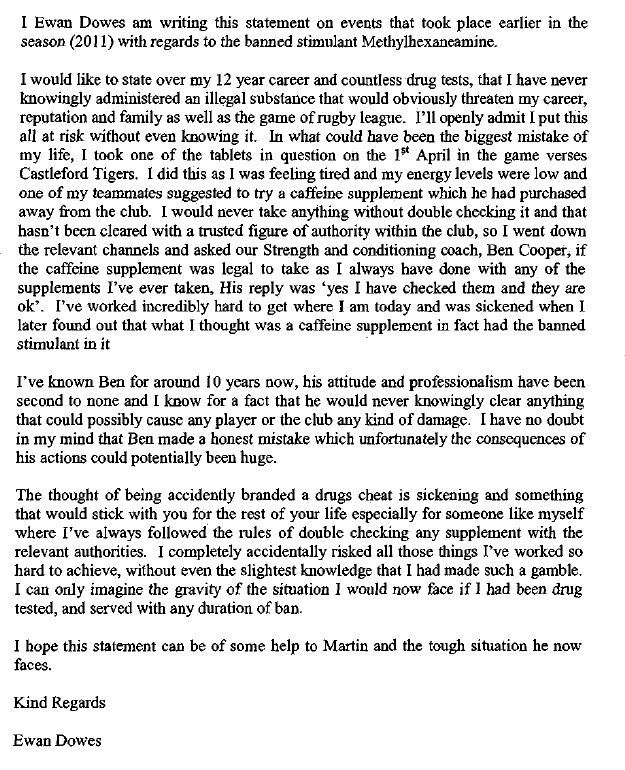 .
More on the rugby drugs cover-up 
Follow SPORTINGINTELLIGENCE on Twitter