By Brian Sears
20 November 2015
The 20 Premier League clubs have all played their first 12 games of the 2015-16 season and Leicester are the team who have had the highest number of players – nine – who've featuring in every one of their club's games so far, for at least a part of each game.
Altogether only 85 players have appeared in all their clubs' 12 games and of those just 64 have started each game; six of Claudio 'Former Tinkerman' Ranieri's Foxes have started every league game. That sextet: Schmeichel, Huth, Morgan, Vardy (all of whom have played every minute of every match), Schlupp and Drinkwater. Albrighton (once as sub) plus Okazaki and Kante (four times each as sub) have in addition appeared in every game. 
Swansea, too, have as many as four players who have played every minute of the 12 games: Fabianski, Fernandez, Williams and Taylor. Gomis, Ayew and Shelvey have also started every game for the Swans and Sigurdsson started 11 of 12 and came on once as substitute.  
At the other end of things, three clubs have had only one starter who has begun all the 12 opening games: Azpilicueta for Chelsea, Fernandinho for Manchester City and goalkeeper Guzan for Aston Villa. Villa, at the foot of our 'consistency table' below have no other player to have appeared in every game. 
City have had just Navas, who has started eight games and come on as substitute in the other four.  Chelsea have had two other ever-presents: Hazard (a sub in one game) and Fabregas (a sub in two).
Sixteen of the 20 Premier League clubs have at least one player who has played every minute of every game. The four clubs without such a player are Chelsea, Crystal Palace, City and Southampton. Altogether there are 34 Premier League players who have played every minute of the season so far.
Article continues below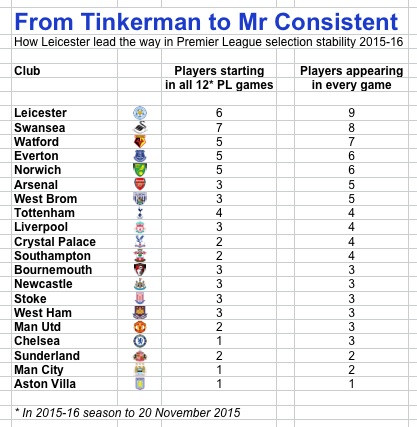 .
And another thing …
Norwich are not alone in finding Chelsea progressively more difficult opponents as the Premier League era has progressed, recently weeks excepted.
It's easy to forget for younger observers that Chelsea were a second-tier team as recently as 1989 and routinely finished in the bottom half of the Premier League table well into the 1990s.
The Canaries can boast of four Premier League victories over this weekend's London opponents but they all came more than 20 years ago in the first six PL matches of the revamped era. (Details below).
In the eight games played this century, Chelsea have won six and there have been two goalless draws.  Norwich may be encouraged by the most recent 0-0 result and the knowledge that Chelsea have already lost seven of their 12 league games played this season. Newly promoted Norwich have lost six.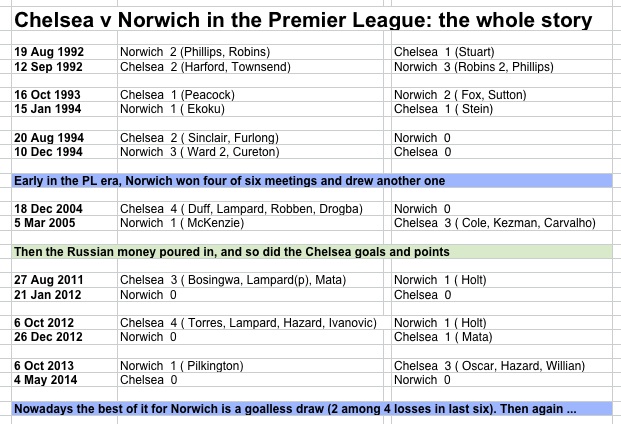 .
…. And finally
The statistics in these pages will often be in relation to the Premier League era when they deal with English football. We know the game is a bit older than that. We know Preston won as Invincibles in the league's first season in 1888-89. But the Premier League is a distinct era if only because of the money that has transformed the picture. This is the 'monied era'.
To get some idea of how the financial situations of these clubs have changed over time – and finance is a big influence in success in football – further reading and related articles spring from Sportingintelligence's annual global sports salaries reports, are linked here. The 2015 edition of the report (right) was published in May.
You can download a free 120-page PDF here.
2014 Report             2013 Report            2012 Report         2011 Report          2010 Report
.
More on Arsenal / Liverpool / Man Utd  (or search for anything else in box at top right)