Part of Sportingintelligence's guide to the 2016 FIFA presidential election: HOME PAGE here
.
PROFILE: Sheikh Salman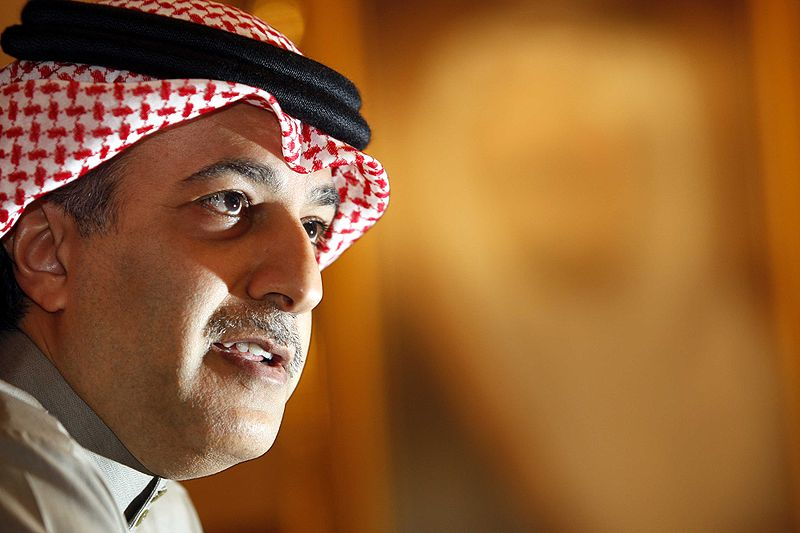 Age: 50. Born: 2 November 1965, in Riffa, Bahrain.
Twitter: None.          Website: Sheikh Salman website      
Manifesto: PDF here.
Football background: Worked in various executive roles at the Bahrain Football Association (BFA) after graduating from university in 1992, ascending to the presidency of the BFA in 2002, a post he held until 2013, when he became president of the regional confederation, the AFC. Has also served on FIFA and AFC disciplinary committees.
Non-football background: Member of the Bahrain royal family. Cousin of the king. Hobbies include hunting wild boar. Supports Manchester United.
Any corruption? It has been alleged, including by human rights groups, that Sheikh Salman was involved in a brutal clampdown on pro-democracy athletes in Bahrain in 2011. Sheikh Salman has denied this, but not refuted all elements of it, as outlined below. Nor has he explained why, as head of the BFA, he apparently did not actively assist sportsmen detained by the regime, which continues to face allegations of human rights abuses. It has also been alleged that Sheikh Salman effectively buried a 2012 audit of the AFC by PricewaterhouseCooper (PwC) that purportedly concluded the AFC could have been used to launder money and was involved in sanctions-busting transactions.
Allies: Sheikh Ahmad of Kuwait, one of the most influential power brokers in global sport. Some key elements within UEFA. Enemies: Prince Ali.
A man of his word? On 2 October 2015, Sheikh Salman noted that he had been mentioned as possible presidential candidate and on the AFC website, effectively said he was not interested in standing. "I have noted recent media speculation that my name has been suggested by others but, while I would like to thank them for their trust and confidence in my leadership, the thought of being a candidate in 2016 had not crossed my mind," he said. "My obligations today are primarily to Asia." He subsequently entered the race.
Latest news: Sheikh Salman said he will "assess the situation" of his candidacy if Michel Platini's ban is lifted, allowing him to run. In other words, he confirmed he might step aside to give Platini a better run.
.
PORTRAIT
By James M. Dorsey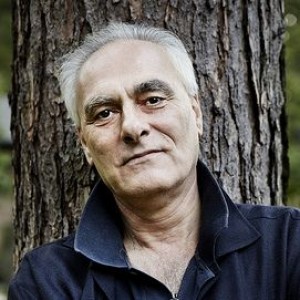 Asian Football Confederation (AFC) president Sheikh Salman Bin Ebrahim Al Khalifa's candidacy for the presidency of FIFA was likely to serve as a litmus test for newly introduced integrity checks on the group's executives. Accused of human rights violations in the brutal quashing of a popular uprising in Bahrain in 2011, which he denies, he was green-lighted by FIFA's election committee as a suitable candidate.
Bahraini footballers have sought in recent statements to absolve Sheikh Salman of any moral or direct responsibility for the arrest, dismissal and abuse of hundreds of sports executives and athletes accused of having protested against repressive and discriminatory rule.
The statements, including one by Ala'a Hubail, Bahrain's top player, who was publicly humiliated on national television in what amounted to a kangaroo court with the acquiescence of the Gulf state's top sports executive and has alleged that he was tortured while under arrest in 2011, came as human rights activists unsuccessfully demanded that FIFA disqualify Sheikh Salman, who at the time of the arrests was head of the Bahrain Football Association (BFA).
The statements, made in a series of interviews, including with Inside World Football (IWF), raise more questions than that they provide answers to the long-standing allegations against Sheikh Salman. Sheikh Salman has consistently denied personal involvement but repeatedly stopped short of refuting underlying facts. Sheikh Salman's statements appeared to be carefully crafted to ensure that FIFA's ethics committee would have no grounds to disqualify his candidacy.
The usually tight-lipped Bahraini national, in his most detailed response, recently acknowledged government plans in 2011 to establish a committee that would identify sports executives and athletes opposed to the government and single them out for punishment. Asserting that the committee was never constituted, Sheikh Salman stopped short of denying reports by the Bahrain News Agency (BNA), the government's official mouthpiece, that he would have been head of committee.
Sheikh Salman also never denied BNA reports quoting heads of sports associations, including his own BFA secretary general at the time, Abdulrahman Al Sayar, that they were taking actions against executives and athletes who in the words of Mr. Al Sayer had violated the law "through participation in marches or gatherings illegal, or anything else (that) was intended to 'attempt to overthrow the regime or offending national codes."
Mr. Hubail as well as his brother Mohammed, who also played for Bahrain's national team, were only released from prison after FIFA pressured the government on their behalf. Four other national team players were detained at the same time.
Article continues below (documentary extract about events in 2011)
.

In his endorsement of Sheikh Salman's FIFA candidacy, Mr. Hubail did not retract his earlier assertions that he had been arrested and tortured in 2011. Mr. Hubail has charged that the media had portrayed him as a traitor. It was not clear whether this was a reference to a talk show broadcast on state-run television in April 2011 in which Mr. Hubail participated and was accused by the show's host of treason for participating in an anti-government protest during a popular revolt.
Sheikh Salman's then superior, Prince Nasser bin Hamad al-Khalifa,  son of King Hamad bin Isa bin Salman Al Khalifa, commander of Bahrain's Royal Guard, head of its National Olympic Committee, and the official who decreed establishment of the committee the AFC president was supposed to head, phoned in to the show at the time (YouTube link) to congratulate the hosts and reinforce their message.
"Well done, guys. And on your efforts, all of you. And to everyone who stood and proved his loyalty to the Kingdom of Bahrain, leadership and people. And anyone who called for the fall of the regime, may a wall fall on his head," Prince Nasser said.
"People have involved themselves in matters and have lost the love of their fans. People have entered labyrinths in which they will be lost… Anyone who involved himself in these matters and was part of it will be held accountable. Whether he is an athlete, socialite or politician, whatever he is — he will now be held accountable. Today is judgment day. May God grant patience and strength to all. Bahrain is an island and there is nowhere to escape… It is known who stood against us. The days will judge."
Neither Mr. Hubail, who has largely remained silent since speaking out about his ordeal  four and a half years ago, nor IWF, explained what had persuaded the player to break his silence and endorse Sheikh Salman.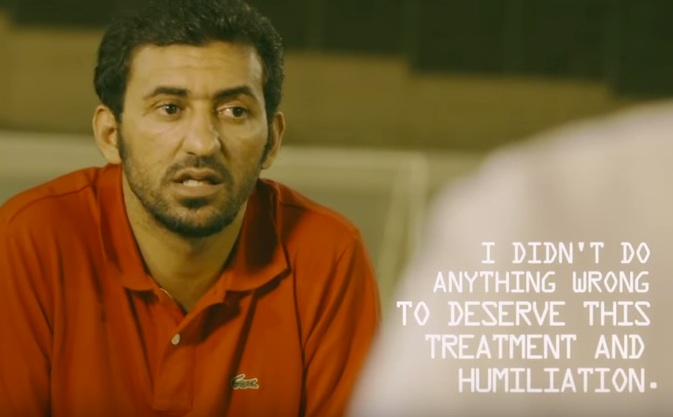 Mr. Hubail (right, speaking previously, in the documentary, above) told the publication that he hoped "Shaikh Salman becomes [FIFA] president because he would be the first Arab president and that makes me very proud." He denied the allegations against Sheikh Salman.
"I know Salman and have travelled several times with him. I have known him a long time. It is not in his character to do anything like this. It is unfair to say that… Sheikh Salman was not involved in the political decisions. They (media and human rights organisations) are using 2011 because he is part of the (Bahraini) Royal family. I want to be completely honest. I have not encountered anything to believe these allegations are true," Mr. Hubail said.
His remarks were echoed by two other players, Sayed Adnan and the squad's goalkeeper, Ali Saeed, who were also detained in 2011 and who like Mr. Hubail have remained silent in recent years. Like in the case of Mr. Hubail, it was not clear why Messrs. Saeed and Adnan, who briefly fled to Australia, had decided to break their silence.
Mr. Adnan told IWF that he was "absolutely" sure that the allegations against Sheikh Salman were false and that torture had not occurred. Mr. Adnan's remarks contradicted an independent government-endorsed inquiry in 2011 that concluded that torture of some of those arrested in the wake of the 2011 revolt had occurred. The report's conclusions made no specific reference to athletes or sports executives. "I have been in Australia but did not hear one person that said he (Salman) did all these things," Mr. Adnan said.
Mr. Adnan's remarks also contrasted starkly with statements he made in Australia four years ago when he asserted that "my colleagues were tortured to say that I organized the march just like what happened with Ali Saeed. A high-level officer sent me a message by way of the released detainees to return to Bahrain. He said that I could return and they would not touch me," he said. Distrustful of Bahraini authorities, Mr. Adnan added: "If they have nothing to do with me, then why were my colleagues tortured and why were the authorities asking them about me?"
Mr. Saaed, ignoring the fact that controversy over Sheikh Salman's human rights record has repeatedly surfaced since 2011, asked, "Why is it coming now?"
"He (Sheikh Salman) will be number one in the world if he comes to FIFA so nobody will be over him – they will not let him take it easy. They will look to find others (for the presidency) but tell me, who is really the good man? I am happy that Prince Ali of Lebanon is a candidate. But I wish the best for Sheikh Salman because he is from my country. I will be proud if he cuts it. It is an honour for us if he is the one (president) of FIFA," Mr. Saeed said, getting his facts wrong. Prince Ali is a brother of King Abdullah of Jordan.
Former Bahrain national team and Al Shabab SC player Hakeem al Oraibi and his family repeatedly asked the BFA during Sheikh Salman's reign to intervene in the two instances in which the player was arrested. Mr. Al Oraibi, speaking from Australia where he plays for Green Gully SC, said the BFA promised to help but never did.
Mr. Al Oraibi was held in 2010 for six months during which he says he was repeatedly beaten on his legs because he was a player before being released without being charged. Two years later he was again detained for three months and regularly beaten after which he was released on bail but charged with setting a police station on fire. Mr. Al Oraibi was ultimately sentenced to ten years in prison despite his ability to prove that he could be seen at the moment of the attack on television playing a televised soccer match.
"My family talked to the BFA. They gave them documentation. The documentation was given to Salman but he didn't do anything," Mr. Al Oraibi said. He said the BFA told his family they "would see what they could do…. They mentioned Sheikh Salman by name. They never came back to them… The BFA knew I was playing live on television. The BFA should have advised the police of this. Especially since I have been playing for the national team since I was a kid…. They should have cared," Mr. Al Oraibi said.
The police officers who beat Mr. Al Oraibi probably cared little about Bahraini soccer. Mr. Al Oraibi said they were Pakistani, Yemeni and Jordanian nationals.
That, however, should have been a concern for Sheikh Salman even if had no direct leverage over Bahrain's security forces and judiciary. Mr. Al Oraibi was playing a match in Qatar when he was sentenced. He never returned to Bahrain.
The FIFA presidential candidate never spoke out about what was an apparent miscarriage of justice in the case of Mr. Al Oraibi as he never did about the ordeal of Mr. Hubail and other players. All of which begs the question why players are suddenly rallying around a man who at the very least never truly stood up for them.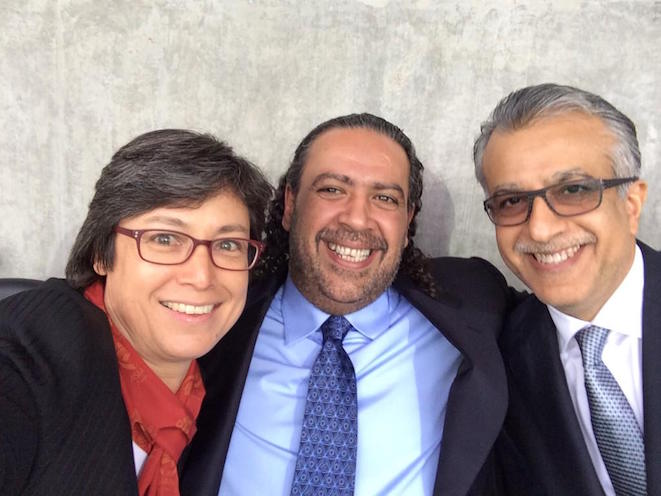 As well as being in a position of authority during the 2011 clampdown, Sheikh Salman (picture left, with major sports power broker Sheikh Ahmad of Kuwait in the middle, and Moya Dodd, of Australia, in January this year) also played a key role in squashing a 2012 independent audit of AFC finances. That audit raised serious questions about possible bribery, non-transparency, tax evasion, and sanctions busting in the awarding to Singapore-based World Sport Group (WSG) of a $1 billion master rights agreement.
The audit by PricewaterhouseCooper (PwC) that constituted the basis for FIFA's banning for life of former AFC president and FIFA executive committee member Mohammed Bin Hammam counselled the AFC to seek legal advice on potential civil and criminal charges and review its contract with Singapore-based World Sport Group.
AFC officials deny that Sheikh Salman or the group buried the audit. In a new twist, the officials recently disclosed that in addition to the audit, PwC had also delivered a report on proposed restructuring of the AFC. The officials said those recommendations had largely been implemented.
In a reflection of the group's lack of transparency and Sheikh Salman's management style, the disclosure was the first time in three years since the audit that the AFC referred to a second PwC report. The report was never made public nor was it clear what PwC recommendations were implemented. Disclosure of the existence of the report moreover did not explain why the recommendations of the audit have been ignored.
The AFC has denied reports that the group was negotiating an extension of its controversial WSG contract. The officials said the AFC was talking to various companies and had yet to take a decision.
The PwC audit criticized the AFC for failing to put the contract to tender, a suggestion Sheikh Salman appears to be studiously ignoring. The audit further raised questions about the valuation of the contract and unexplained payments of $14 million to Mr. Bin Hammam through an AFC account by a WSG shareholder in advance of the signing of the original contract.
The only known time that the AFC took action with regard to the audit besides honouring FIFA's banning of Mr. Bin Hammam was earlier this year when it effectively fired its general secretary, Dato' Alex Soosay, for seeking to destroy documents relevant to the audit.
Even then, the AFC portrayed Mr. Soosay's dismissal as a voluntary resignation even if his departure followed disclosure by this blog and The Malay Mail of a tape in which financial director Bryan Kuan Wee Hoong testified that Mr. Soosay had asked him to destroy documents. Mr. Kuan has since disclosure of the tape left the AFC.
The fact that it took media pressure for Sheikh Salman and the AFC to act three years after delivery of the audit says much about the Bahraini's management style.
The PwC audit suggested that Mr. Soosay had authorized many of the payments on which it cast legal doubt. "Our transaction review revealed that items sampled were, in most cases, authorised by the General Secretary or Deputy General Secretary and the Director of Finance. As signatories these parties hold accountability for the authorisation of these transactions.  We also note the Internal Audit and Finance Committees were aware of this practice," the PwC report said.
The AFC and Sheikh Salman's lack of transparency with regard to the allegations of his involvement in the arrest and torture of sports officials and athletes in 2011 as well as in his management of the Asian sports group contrasts starkly with efforts to clean up soccer governance that have led to the arrest in Switzerland at the request of the US Justice Department of seven soccer officials and the suspension of FIFA President Sepp Blatter and UEFA President Michel Platini.
The lack of transparency is also notable given suggestions that the AFC may be on the radar of the investigation because of Mr. Bin Hammam, who is believed to have been named as an unidentified co-conspirator in US indictments, and the AFC's contract with WSG.
WSG has been linked to Traffic, a sports marketing company is among those indicted in the US. WSG acquired in 2005 the international broadcasting rights of the Gold Cup and CONCACAF Champions League operated by the soccer confederation for North, Central America and the Caribbean together with Traffic.
Traffic's owner, Brazilian businessman Jose Hawilla, is cooperating with the FBI in its FIFA investigation, a lawyer for Mr. Hawilla told The Wall Street Journal. Under the agreement, Mr. Hawilla has admitted to crimes including money laundering, fraud, extortion, and has agreed to return $151 million in funds.
.
This profile is an amalgamation of work produced by James M. Dorsey, who is a senior fellow at the S. Rajaratnam School of International Studies, co-director of the University of Würzburg's Institute for Fan Culture, and the author of The Turbulent World of Middle East Soccer blog and a forthcoming book with the same title.