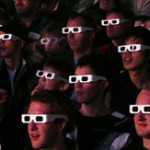 By Nick Harris
7 February 2010
Over two consecutive weekends, a major sports event in Britain has been central to a landmark 3D broadcast. A week ago it was Arsenal's Premier League match against Manchester United, which became the world's first sports event to be shown live on television in 3D to the general public.
Sky Sports screened the game in nine selected pubs in London, Manchester, Cardiff, Edinburgh and Dublin. Fans were provided with special glasses to watch the action. That broadcast was a precursor to the launch in April of Sky's dedicated 3D channel. The experiment got decent reviews, including in the Daily Mail, The Irish Times, and in the (somewhat less thrilled) Guardian.
Sky's experiment at short notice had the effect of being a "spoiler" for yesterday's Six Nations rugby international between England and Wales, shown in 3D in cinemas. The football stole some of the rugby's thunder, but England-Wales from Twickenham was still Europe's first live 3D broadcast of a sports event in cinemas. It was shown in 40 movie theatres up and down the land, and The Guardian was a bit more impressed by this. England's match against Ireland on 27 February will also be shown in 3D in cinemas.
Contrary to some reports, live 3D sport, per se, is not new. And while Arsenal-Man Utd and England-Wales mark the start of 3D technology becoming mainstream – 3D TVs will come onto the market this year – it is only one stage in an ongoing broadcasting evolution. Within a generation, holographic and "immersive" experiences could be routine.
The first major 3D broadcast of a sports event was an NFL match in December 2008 between the San Diego Chargers and the Oakland Raiders. That was shown in cinemas in LA, New York and Boston to rave reviews. Then in December 2009, at the Dallas Cowboys against the Chargers game in the NFL in Dallas, there was the first "in-stadium" 3D broadcast of a sports event. Replays of some incidents were shown in 3D on a giant screen, and fans wore 3D goggles to watch them.
Still, live 3D sport events have been few and far between. The technology is explained in basic detail in the graphic (courtesy of Sky) at the bottom of this piece; but in the simplest terms, 3D relies on the "stereoscopic" capture of images (two lenses per camera). Advances in digital and HD technology now mean that at cinemas, and soon on home TVs, you get good 3D effects, albeit wearing special glasses.
Sky have done extensive testing, if not for public consumption, on sports events including ATP tennis at the O2 in November, Usain Bolt's 150m street race in Manchester in May last year and at the England v New Zealand rugby match in November.
Fifa, football's world governing body, in partnership with Sony, is committed to showing 25 games from this summer's World Cup in 3D, although details are yet to be confirmed. The game will probably be shown in selected cinemas in selected markets.
To watch in 3D TV at home, you will need a special 3D TV set. These are not generally available yet, not in Britain at least, but are likely to be available in the second half of 2010, with a big sales push expected from manufacturers in the run-up to Christmas.
There are two main kinds of 3D TV, using different systems. One system relies on an expensive screen and cheap glasses. Manufacturers currently following this model include JVC and Hyundai. A trade model set now costs £5,000, and the glasses about £1, but that headline set price will fall massively with mass production, to about £1,800. The 3D effect comes from polarised light, and is, to boil down a complex explanation, essentially a function of the screen.
The other system relies on a cheap screen and expensive "active" glasses, where in simple terms the 3D is more a function of the work the glasses do. Screens should be available under £1,000, and glasses for around £25 a pair. This system is being produced by Sony, Panasonic and Samsung.
The upshot is that 3D programming – and therefore 3D sport – will become more common, initially in cinemas, but as the hardware becomes common and cheaper, at home too. Within a few years, it will be normal to watch live sport in 3D at home, if you want to. It will not replace 2D programming, but be an extra consumer choice.
As for the future, work is already underway by various companies on "holographic" and "immersive" technologies. Holographic viewing – to simplify matters significantly – will allow a viewer to watch a scaled-down hologram of a film, play, sports match, whatever, for example on a piece of apparatus like a coffee table. Immersive technology goes one step further, taking the viewer "inside" the action via a head-mounted display unit, much like those virtual reality rooms that were popular some few years ago, except good.
These technologies will take many years, perhaps decades, to become mainstream, but progress is already being made in these and other linked technological areas.
For example, it is already theoretically possible to create what would effectively be holographic viewing by using "augmented reality" tools via head-mounted screens that project images into the eye.   For now at least the action would have to be a virtually created reproduction of a real event – like the HawkEye system, only in real time and with more lifelike images – than actual action. In time, there should be systems that can place real images over 3D models in real time, so you have the effect of holographic action.
As for virtual immersion into the action, again it's theoretically possible already, but the kit required (head-mounted units) is currently only used for military and medical purposes and costs £30,000 to £40,000 per unit, and nobody is working on a sport utility for it, yet.
One of the companies leading the way in all these areas, certainly in Britain, is a firm called Inition; their leading personnel worked on this weekend's 3D rugby. They are also involved in some mind-bogglingly clever stuff to do with the projection of 3D images and other kinds of augmented reality we can't pretend to understand; more details can be found at their Magic Symbol site. Another British company working on holographics is Musion, while if you have an appetite to find out more about head-mounted display technology, it's worth taking a look at what Microvision do.
How 3D works: a basic guide