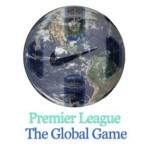 By Nick Harris
SJA Internet Sports Writer of the Year
7 November 2011
England's Premier League is, by far, the nation's most successful sporting export, watched live each week in more than 200 countries, and earning from foreign TV rights alone £1.437bn for the current three-year overseas deals (or £479m a year) as reported by sportingintelligence last year here and here.
But who exactly watches? And where? At home? In pubs or bars?
What channels carry the games? How much does it cost to subscribe? Why do foreign fans tune in?
Is is just popular in a few key markets, or can you really find PL fanatics in Tonga and Papua New Guinea and Gambia and Peru and all points in between? Find out what we've discovered so far (A-Z of nations, and listed by continent).
Over the coming months, we aim to find out, inviting PL viewers from around world (from as many of the 200+ different countries as possible), to share details of a single game watched.
Elsewhere in this series, find out how the League is viewed in:
KENYA and AZERBAIJAN and INDIA and SWEDEN and the CZECH REPUBLIC and SERBIA and AUSTRALIA and MONTENEGRO and ISRAEL and MALTA and the U.S.A and CANADA AND PAKISTAN.
Without further ado, here 's a view of what it's like to watch the Premier League in . . . . .
.China
.
*

Name: Yan Qiang.
Age: 39.
Occupation: Senior vice-president of Titan Media, China's leading sports publishers.
Game watched: Man Utd 1 Sunderland 0. Date: Saturday 5 November 2011. Time: 10pm local time. (3pm UK).
Where: At home, in Beijing.
Who else was watching: Alone. My family has no interest in football, and as a sports commentator for years, I've got used to watching live games alone.
TV Channel carrying the game: BTV6, the sports channel of Beijing TV station, one of the regional TV broadcasters that shows at least two live EPL matches per weekend. The sports channel of Shanghai would cover five live EPL matches per weekend.
CCTV, the national state broadcaster, has no coverage of EPL, though they show live matches from Italy's Serie A, Spain's La Liga and Germany's Bundesliga. EPL TV rights might be too expensive for CCTV5, the sports channel.
While watching Alex Ferguson's 25th anniversary match on TV, I was also watching the Arsenal v West Brom match live on sina.com using a laptop.
Portal websites, like sina.com, qq.com and other video websites like pplive.com all show live EPL matches every weekend, at least two matches per weekend. Most of these websites hire pundits to commentate in Chinese, and I am one of those commentators sometimes.
While watching the live matches, I use a microblog (or weibo, in Chinese, which is something of a cross between Twitter and Facebook in China), to communicate with my 'followers'. On my sina.com account, I have half a million followers, but currently I use my qq.com microblog more often, and I have 800,000 followers there.
How much does it cost to watch Premier League games: on TV, online, wherever: all free.
The EPL used to have an exclusive deal with a pay TV operator in China, called WinTV, but it didn't go down well, as the Chinese audience have no interest in paying for the content.
What's the local tipple and how much does it cost: All kinds of local beers in different cities, normally a bottle costs you 2-3 yuan RMB, about 20-30p, or US$0.30.
What's the popularity of the English Premier League in the country where you live: Very popular, the most popular European football league without a doubt, but it would never attract higher TV ratings than the local league, the China Super League (official site here), even though football in China is a total failure, a laughing stock of society – and ripe with all kinds of fixed games, bribery and corrupt officials and players.
The most popular EPL club in China is definitely Manchester United. But you can't say that they are the top European club in China, because Real Madrid, Barcelona, AC Milan and Inter Milan all have a huge audience here. And I would label them 'audience' rather than 'real' football supporters, because TV live games are the only way for them to connect to the club. Liverpool, Arsenal and nowadays, Chelsea, are reasonably popular.
Most social venues, ie, pubs and restaurants, do not have live EPL games. In Beijing, maybe you can only find them games in some exotic clubs or pubs which would show you live feeds from ESPN Asia.
Any other observations: Having any Chinese players in EPL would definitely help promote the league more over here, but it's a tough ask, considering the low level of participation here and therefore the standard of player available for export. Sun Jihai, who played five full seasons for Manchester City, was a good example of a Chinese player in England, if only to let people in China know there was another club in Manchester. However, this standard of player alone is not going to account in the long term for the EPL's prosperity here.
The EPL had a tournament here two years ago in Beijing, the Asia trophy, and as a professional in the sports industry I'd say it wasn't a big success, because it featured teams like the Spurs and Hull City – and they don't attract too much attention.
Commercial tours by Manchester United, Chelsea and Arsenal have also not been as popular as the clubs themselves perhaps estimated beforehand that they would be.
I would argue that the lack of any serious links – personal links, emotional links, cultural links – between the football audience here in China and the clubs there in England is the biggest hindrance to exploiting the market potential for the EPL here in China. And selling sponsorship deals would never be easy, due to the lack of real emotional links.
———————————
This feature will be updated on a regular basis. Sportingintelligence invites readers who watch the Premier League overseas to send your own experiences to submissions@sportingintelligence.com, answering the questions posed above, and including a JPEG of yourself. We cannot guarantee to use all submissions (although if we've not had one from your country it's almost certain we will) and we'll be appealing via Twitter from time to time for viewers from specific nations.
.
Sportingintelligence's home page today