By Nick Harris
SJA Internet Sports Writer of the Year
13 March 2011
.
Manchester City's Patrick Vieira has today voiced his strong support for France's bid to stage the 2018 Ryder Cup, saying it represents the legacy option for golf in Europe.
Vieira, 34, who won the football World Cup with France in an event staged in France in 1998, is selective in the causes he backs; he has worked as a Goodwill Ambassador for the United Nations, and helps fund and run the expanding Diambers schools project in Africa.
But he is endorsing France's Ryder Cup bid because key parts of the bid focus on making golf in France more accessible, especially in poorer urban areas. He has also played the game himself since he first arrived in England, with Arsenal, in 1996.
'The first time I played was with Ashley Cole, Dennis Bergkamp and the cook at Arsenal, who was English and a really good player,' he tells me as part of a long interview, linked in full here. 'I really enjoyed it, it was different from how I thought it was going to be.'
He continues to play at City, where he nominates one of his team-mates, Vincent Kompany, as the worst footballing golfer he's ever seen.
'Vincent Kompany is an atrocity, terrible!' Vieira says. 'He's terrible because he's just hit a ball for the first time a few days ago, so it's difficult for him and he needs more practice.
'And the best I've played with was Dennis Bergkamp, a perfectionist. His handicap was around 10, but I've heard James Milner's handicap is seven, but I haven't had the chance to play with him. They say he's one of the best players at City.'
Five countries are bidding to stage the 2018 Ryder Cup: France, Portugal, Spain, Germany and The Netherlands are in the running as the event organisers looks to expand the traditional hosting territories.
The nominated French course is Golf National, just south-west of Paris, adjacent to Chateau de Versailles.
The French golf federation plans 100 urban course to 'widen the demographic' of the game, and all registered golfers in France will contribute to the bid funding. President Sarkozy is another prominent supporter.
The winning bidder will be announced on 17 May by the Ryder Cup Europe Committee.
'I support [France's bid] as a Frenchman, and I support it also because I play golf and I really love the game and golf's getting bigger and bigger in France, and what is really exciting is that it's open to everybody now,' Vieira says.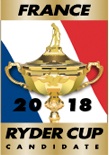 'And after hosting the rugby [World Cup in 2007] and hosting the World Cup in 1998, I think if France win the Ryder Cup it would be really good. It's really important because like the football, like the rugby, golf can leave something for the society.
'After [France] winning the World Cup, the percentage of kids wanting to play football was higher, and I'm sure organising the Ryder Cup in France will make more people want to play golf. And I think that's really important. This is one of the important messages of the legacy – that golf will have a legacy in France after the Ryder Cup.'
Vieira sees the urban courses as a key element, 'really exciting because golf can be really open to everybody in different areas. It's important as well to show that everyone can have access to enjoy the game.'
.