By Nick Harris
SJA Internet Sports Writer of the Year
13 March 2011
.
On Friday, I interviewed Patrick Vieira at Manchester City's training ground at Carrington for a piece in today's Mail on Sunday (from where Sky lifted this) and to talk about his endorsement of France's 2018 Ryder Cup bid.
As is often the case, there was far too much material (almost 4,000 words) to squeeze into one feature, and as sportingintelligence provides a long-form platform, here's the whole interview, presented as straight Q&A, edited only to tidy up some grammar and to re-arrange the content into thematic sections.
.
PATRICK VIEIRA on . . .
.
… Manchester City
NH: How was Manchester City sold to you?
Vieira: 'The manager [Mancini], I know him from Inter, was looking for a player in my position and I was interested in hearing about it, and I was happy to come back to England, and it was a good move.'
.
NH: Improvement is a mantra around the club, under the new owners, who are very ambitious. They've put money into the squad, facilities. Is it the ambition that attracted you ?
Vieira: 'Ambition is the basis of success. If you want to be successful, you have to be ambitious, and this football club wants to be successful and I wanted to be part of it. It's a strong team with good players, and I strongly believe that we can be successful.'
.
NH: With the amount of investment spent on players and wages, there must be enormous pressure?
Vieira: 'Big clubs always have pressure, whether Manchester United, Arsenal, Chelsea, Liverpool. It used to be the four, now City and Spurs [are involved too] and these six teams will want to play in the Champions League every year, and there's going to be pressure on everybody. Pressure is part of the game.'
.
NH: But do you think because of the enormous amounts of money in a short space of time, which has only happened before on such a scale, so quickly, with Abramovich at Chelsea, do you think there is extra pressure on City? Some fans might say that with the money spent and the players you've got, you should win the title this season.
Vieira: 'We know that we can win the title with the team we've got. And on the pitch we have to show that, week after week. That is the difficulty that we will find, and that is the difficultly that all the other teams will find as well. You've got quality players in the team, players who can win games, and of course you have to perform to win it. It's not because you've got the biggest squad that you're guaranteed to win.'
.
NH: You think the squad, as it is, is good enough to win the title?
Vieira: 'I do think this squad are good enough to win the title. But compared to the other [title-chasing] teams it's different because this football club is just starting to build. People sometimes forget that three or four years ago City were aiming not to go down, now City are playing to win the league. The big difference between City and Arsenal or Manchester United is that the players at those other clubs have been there years and years, the managers have been there years. So people need to understand that stability is a really big part of success as well.'
..
NH: Do you think the fact City haven't won more even points and aren't higher than third in the Premier League table, as of today, is because it's still a young set-up, ie: in the early stages of having this group together?
Vieira: 'It's a really young team. Joe Hart has just turned 23, Micah Richards is 22, then there's Boateng [age 22], Kompany [24], Kolarov [25] and even Nigel de Jong is still only 26. It's a really young team, and up front Dzeko [24] is young, Balotelli [20] is young, Silva [25] is young. It's still a really young team so it's really exciting for the future, if the club keep the players for years and years it will be really exciting.'
.
NH: Fans want trophies. You've got the FA Cup against Reading on Sunday and you're still in Europe. Do you feel confident that City can deliver a first trophy for 35 years, since the League Cup of 1976?
Vieira: 'We want to do well in the Cup. We play at home [against Reading] and we want to go through, go to Wembley and win it. It's always difficult but we hope we win something because the team is good enough and it would be a shame going through the season not winning something.'
.
NH: You tasted the rivalry of Arsenal versus Manchester United when that rivalry really was THE rivalry in English football. You were at the heart of that. Now in Manchester, part of another great rivalry, how does it compare, City v United?
Vieira: 'I strongly believe that City next year will be challenging United for the championship because I think the heart of the team is still going to be here and the football club has learned a lot from this year. We've achieved nothing yet, because our objective [this season] is to finish in the top four and try to win a cup, and there's still a few games to go [to achieve that]. But it has been an up and down season, and the team has learned a lot from that.'
.
NH: Is it right to say you think ingredients are all here, but you think it will take time for these same ingredients to produce results?
Vieira: 'The ingredients are there but in football you need time. But people don't give you time. So that is the pressure, but we deal with it because it's part of our job. If you don't want pressure, do something else. Even at the bottom of the league, there is pressure. A different kind of pressure, but pressure, because they don't want to go down. It's better to have the pressure to win the league than pressure not to go down.'
.
NH: Sir Alex Ferguson was a big admirer of yours when you were at Arsenal. What do you think of the current Manchester United team?
Vieira: 'An example of success, year after year winning and at the top, and they're a good example.'
.
NH: But next season, you think City can give them a run for their money?
Vieira: 'For City, like for Tottenham and for Chelsea, winning the Premier League is becoming more and more difficult. All the teams are getting better and better.'
.
NH: Tevez is a wonderful player who's scored a huge amount of goals. What's good about Tevez from your point of view?
Vieira: 'If you want a chance to win the league you need a striker who can score 20 to 25 goals in a season and City have got that player. Tevez works really hard for the team, chasing the back four for 90 minutes and he's someone who can win games. He can take the ball, shoot, 1-0, game over.
.
NH: When it seemed, earlier this season, that he wanted to leave, what did you think? What was the atmosphere like at the club?
Vieira: 'I don't walk to talk about it. I think it was really personal and I'm glad the club kept him. The players were the glad, the fans were glad Carlos stayed, because if you want to win the league, if you want to play in the Champions League, you need someone who can score 20 to 25 goals a season.'
.
NH: Balotelli. He looks like a genius on the pitch, but there's that associated temperamental element to him. You've had some of the same experiences, including the trials of being black players in Italy. Can you identify with him and help him?
Vieira: 'He coped really well with it [Italy]. He concentrated on his game and it made him grow up as a person and as a player as well. I think he's an important player here because he's somebody who can score goals and he's really important to the football club.'
.
… on Arsenal
NH: Mancini – what's he like to work with, and how does he compare to Arsene Wenger?
Vieira: 'He's a really demanding manager, demanding in the amount of concentration he expects from his team in training and in games. He is always behind the players, trying to get the best of his players. His vision of the game is quite the same [as Wenger]. He asks his team to play football. The similarity is Arsene like Mancini would want the team to put the ball on the floor and be really organised tactically, and the vision they've got for the game is quite the same.'
.
NH: Arsenal haven't won a trophy since you left in 2005, the FA Cup. I don't know if that's a coincidence…
Vieira: [interjects] It's a coincidence.
.
NH: What's wrong with Arsenal, if anything? 2005 was the last time they won silverware. Can you pinpoint something? A rebuilding phase?
Vieira: 'Since I left, the only players left who I played with are Robin [Van Persie] and Cesc Fabregas, if I remember rightly. So many others have changed. It's normal to rebuild but what's important is the philosophy hasn't changed, and of course it's still a really young side and the important thing for Arsenal is to keep their players for the next few years. I hope for them they can do that.'
.
NH: Being part of two Double teams with Arsenal, in 1998 and 2002, did you envisage when you left in 2005 they would not have a won another trophy by now?
Vieira: 'No. But they played the Champions League final [against Barcelona] and they came really close to winning it. And against Barcelona this time [last week] they were close to going through. So every time Arsenal have lost a really important game it has been really close. This week [in Spain], at 11 players against 11, Arsenal had a good chance to go through because they played better in the second half. And of course the sending off of Robin changed the game.'
.
NH: Can you identify anything that would have made a difference in some of these near misses?
Vieira: 'I don't know. It's really difficult to say something.'
.
NH: This season, Arsenal or Manchester United for the title? Or Chelsea, or City or Tottenham?
Vieira: 'It's still really open.'
.
NH: 'But who would you pick?'
Vieira: [smiling] 'It's still really open, because anybody can drop points, anybody can beat anybody, anybody can be a surprise. It's still really open, really exciting.'
.
… on being a role model
NH: You're an ambassador for the Ryder Cup, and you've always been a good role model, off the field. I can't recall you falling out of nightclubs. How important is it for young players to have a good image away from the pitch as well as on it?
Vieira: 'I think it's really important to behave but I don't want to be the one who gives lessons because people sometimes forget that football players are human beings and they can make a mistake. Of course when you're young footballers, and making a mistake, you're in the spotlight more than anybody else. And that is the problem. But if you look in wider society, young people make mistakes and that's part of life. What is important is that your learn from your mistakes. We all make mistakes.'
.
NH: And you see sport as a force for good?
Vieira: 'I believe that in sport you can learn the same messages you need for life. Respect, togetherness, helping each other, all these kind of things, the rules you find in sport are like the rules you find in society.'
.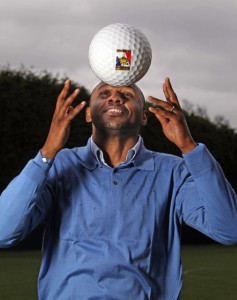 … on France's 2018 Ryder Cup bid
NH: France is bidding to host the Ryder Cup in 2018. Tell me about your involvement.
Vieira: 'I support it as a Frenchman, and I support it also because I play golf and I really love the game and golf's getting bigger and bigger in France, and what is really exciting is that it's open to everybody now. And after hosting the rugby [World Cup in 2007] and hosting the World Cup in 1998, I think if France win the Ryder Cup it would be really good.'
.
NH: France's 2018 bid is big on 'legacy' for sport – how significant is that?
Vieira: 'It's really important because like the football, like the rugby, golf can leave something for the society. After [France] winning the World Cup, the percentage of kids wanting to play football was higher, and I'm sure organising the Ryder Cup in France will make more people want to play golf. And I think that's really important. This is one of the important messages of the legacy – that golf will have a legacy in France after the Ryder Cup.'
.
NH: When did you start playing golf?
Vieira: 'I really started when I joined Arsenal [in 1996] because a few of the lads were going to play and they invited me to go. And the first time I played was with Ashley Cole, Dennis Bergkamp and the cook at Arsenal, who was English and a really good player. The atmosphere between the players, the chef, the kit man, [and everyone at Arsenal] was really good. And I really enjoyed [the golf], it was really different from how I thought it was going to be. And since then I've played, except when I went back to Italy I didn't play. Since I came back to City I've been to play a few times with the lads. I like the game.'
.
NH: Who are the good and bad golfers among footballers? Who's terrible?
Vieira: 'Vincent Kompany is an atrocity, terrible! He's terrible because he's just hit a ball for the first time a few days ago, so it's difficult for him and he needs more practice. And the best I've played with was Dennis Bergkamp, a perfectionist. His handicap was around 10, but I've heard James Milner's handicap is seven, but I haven't had the chance to play with him. They say he's one of the best players at City.'
.
NH: The construction of urban golf courses is part of this French bidding legacy, isn't it?
Vieira: 'Around 100 [courses], which is really exciting because golf can be really open to everybody in different areas. It's important as well to show that everyone can have access to enjoy the game.'
.
NH: You said France 98 made a difference, but did it help particular areas of society? The big thing was perhaps the raised public of the so-called 'rainbow nation'?
Vieira: 'In '98 staging the World Cup did two things. For the French federation it was important because more kids got in love with the game because of the winning team, being successful. And then there was this big competition, bringing everybody together, and helped people to forget about their problems. It was really successful. As a player, you saw Paris like you'd never seen Paris before. And what was really important was the infrastructure of the clubs improved a lot because to organise a World Cup you need stadium, facilities to get there, improvements of the pitches, so everything gets improved on the football side. And that's what can happen with the Ryder Cup as well, for golf.
.
… on changes in the Premier League between 2005 and 2010
NH: You said players are in the spotlight – is that becoming more so? What are the big changes you noticed between leaving the Premier League in 2005 and coming back last summer? More intensity?
Vieira: 'The game is faster than it used to be – people are running quicker and jumping higher. And we find fewer good football players like Paul Scholes, Ryan Giggs, Dennis Bergkamp, Thierry Henry. There are fewer good players and more athletes.
'Can you tell me where the next Paul Scholes is? At Arsenal, Jack Wilshere is a brainy football player with good ability and a really exciting future. But there is more emphasis on fitness and less on technical ability. There are fewer players with flair like Bergkamp or Giggs. Across the division there are fewer. That's my opinion.'
.
… on the England team
NH: In terms of English players, Manchester City stand out at the moment for having a lot of England players, seven in one recent squad, albeit not all developed at the club. What do you think of the England team at the moment?
Vieira: 'It's been struggling a little bit to get the results they want, but its' still a really good, exciting side, and I just feel like they just need to do something to be make more of themselves as a team. I don't know what. It's difficult to say what because when you watch them on TV, it's different than when you're among them.'
.
NH: You play with a lot of them, and against them…
Vieira: 'Yes. It's a good team, a good squad, but they don't reach [their potential] together, don't perform as a team in a big tournament. I don't know why. I really enjoy working with these players every day. They're happy, enjoyable people to be around. Shaun [Wright-Phillips], Micah [Richards], all of them, Harty, Gareth Barry, lovely people.'
.
… on career highs and lows
NH: What have been the proudest moments of your club and international careers?
Vieira: 'Club career, I'd say the first Double with Arsenal. In international football, the World Cup in France.'
.
NH: Can golf really galvanise a country like a football World Cup?
Vieira: 'I hope so. Golf's getting bigger and bigger in France, and more people are going to play, and having the Ryder Cup there can be a good success, and people will get into it.'
.
NH: What about the low points of your career? The worst times?
Vieira: 'I don't have any low points in my career. No regrets. No low points. Of course some of the seasons have been really difficult with injuries, but that is a part of the job. No low points.'
.
… on his favourite players from his time in England
NH: In 2003, an illustrious panel of 20 football men, including Sir Bobby Robson, Sir Tom Finney, Claudio Ranieri when he was the manager of a rival team – collectively picked you as the best foreign player in English football history to that point. Were you aware in what high regard you were held?
Vieira: 'You're never aware of it at the time. You find it out afterwards. I'm proud now to know that.'
.
NH: If you were picking a team of some of the best players, of any nationality, from all your time in England, who would you pick, either team-mates or opponents?
Vieira: 'I would pick out Giggs, Scholes and Keane from United. Bergkamp, Henry. It would be hard to restrict it to only 11 players. Steven Gerrard would be in my team.'
.
NH: You've already got four midfielders there…
Vieira: 'I'd be on the bench!'
.
NH: What about strikers?
Vieira: 'I would go with Thierry for sure, Henry. And I like Andy Cole. I like Dwight Yorke. Bergkamp. Alan Shearer.'
.
NH: What's your formation going to be, 0-4-6? [Joke]. What about a goalkeeper?
Vieira: 'David Seaman.'
.
NH: Defenders?
Vieira: 'I'd say [Jaap] Stam. And Martin Keown.'
.
NH: You had some tremendous battles with Roy Keane. Do you stay in touch?
Vieira: 'No. I've never seen him since [I left in 2005]. I've followed what he's done though, managing.'
.
… on the future
NH: Do you want to be a manager?
Vieira: 'No. I may change my mind later. I still want to play another year or two, because I was injured a lot in the last three years so now I'm fit and I feel really good and I feel like playing the next year or two.
'And after that, I want to work more Diambars, the football school in Senegal. We've opened a second one in South Africa, and what we really want one is one in every country in Africa, because we're using football to develop education.
'You can go to the website at diambars.com and see what we do. What we want to do is make is a good human being who can take charge of his family, who can find a job. We hope that some of them can be teachers, doctors. A school in every country is a big ambition but we will try.
'We just want to give them a second chance. They all want to play football but we know how difficult that is, to achieve that dream. The youngest children are 13, the oldest 18, 19. In Senegal we have 140 kids. In South Africa we've got 40 now.'
.
NH: Do you mainly fund Diambars yourself?
Vieira: 'I work with some other guys – Bernard Lama, who used to be the goalkeeper of the French international team. Jimmy Adjovi-Bocco used to be a football player as well [with Lens and Hibernian]. Another guy, called Saër Seck, from Senegal, is a businessman. We want to make it as big as we can, give the kids a chance to achieve their dreams.
'A lot of kids in Africa dream to play football but don't have the facilities the kids have in Europe. So we try to raise the money to provide it in Africa.'
.
NH: It might sound cliched, but do you think your background and upbringing make you want to give more back than someone who didn't have that past?
Vieira: 'It's normal as an African. I feel really lucky because I achieved my dream, and some of these African boys want to achieve their dream. I had the chance because I moved to France to achieve that dream. Some of them don't have that chance, so we decided to create the facilities, the pitches, to achieve that dream.'
.
NH: How long do you want to stay at City? How long can you stay?
Vieira: 'My contract finishes at the end of the season so we're just going to see what's going to happen.'
.
NH: How much do trophies and medals still mean to a player who has won as much as you? [A major medal every single year, with either club or country, between 1998 and now, aside from 1999].
Vieira: 'When you finish your career the only thing you remember is what you won, and for the football club [City] it is really important to win something because the investment has been really important. And we have the chance to be close in the FA Cup, and why not?'
.
NH: What are great sporting moments you remember away from football, in any sport?
Vieira: 'The most recent big event I followed was the French handball team winning the World Cup, in Sweden in January, beating Denmark in the final [37-35 in extra time]. I follow a little bit of everything. I like sport in general. When the Grand Slams in tennis are on, I watch some of the matches, and basketball, athletics. I'm a sport man.'
.