By Nick Harris
SJA Internet Sports Writer of the Year
13 March 2011
.
While I was researching and writing my first book, 'England, Their England', a history of foreign players in the English game since 1888 (published in 2003), I'd amuse myself in times of writer's block by toying with the idea of an across-all-eras Dream XI of foreign signings. The criteria was they had to be born outside of Britain and Ireland, and had to have played at least once in England's Football League, anywhere, any time.
The criteria was outside Britain and Ireland because British and Irish players, ie: English, Scottish, Welsh and many from the whole island of Ireland have been integral to English football since the start. Whereas foreign players (those from everywhere else) haven't. The book is the story of England's isolationism, in football terms, for many decades, and then how the barriers came down and how foreign players changed the English game. You could write separate books about how Scotland or Wales or Ireland contributed / changed English football.
Should Peter Schmeichel make way in goal for Bert Trautmann, the innovating German goalkeeper whose astonishing life story surely has all the ingredients for a movie?
And what of the claims of two Charlton stars of the 1950s – the South African-born Eddie Firmani, later capped by Italy after being sold for a record fee by the Addicks, and Sweden's Hans Jeppson, who had one of the shortest but most glorious stints on these shores before becoming the world's highest-paid player elsewhere?
How would Ardiles fit in, that diminutive string-pulling Latin who inspired me, aged 8, to ask for the only football shirt I've ever wanted to own aside from those of Southampton: that of Argentina's World Cup team of 1978?
And what about Cantona, a catalyst who changed a team that in turn changed a club? And Golac, the swashbuckler with the killer record collection? Claus Lundekvam? Antti Niemi? And, err, Marian Pahars?
Then I wondered whether it might be worth a shot to ask some people who'd lived and worked at the heart of English football's transformation by foreign players: managers, players, commentators, each of whom had had some connection to the story. Quite a few didn't respond, or replied with a polite 'no'. (Merci, Mssrs Fergie and Wenger, at least for writing to say 'non'.)
But others did respond, and generously, not just with their all-time XIs but with hours of their time to talk about their own foreign heroes in the English game. Sir Bobby Robson invited me to Newcastle, where he was still the manager (this was 2002-03) and set aside an hour for me. Then he answered my questions and talked for three.
Sir Bobby told me all about Newcastle's Chilean-born inside forward of the immediate post-war years, George Robledo, and about how he'd played against and admired Charlton's rock-hard South African import of the 1950s, John Hewie, and how he'd signed Muhren and Thijssen for Ipswich in what I remember as that glorious, exotic era when the foreign stars started arriving. (As I only discovered in full when I did the book, foreign professionals were banned in England from 1931 to 1978).
I left Sir Bobby with a team sheet and a stamped envelope and said that if he had the time, I'd really appreciate him picking an all-time foreign XI. Within days it came through the letter box. Then a few days after that, Sir Bobby called to ask if he could tweak his defence. I said I thought that would be fine. He had just been knighted, after all.
I was amazed and privileged to get not just one Knight on board. Sir Tom Finney also filled in his sheet, and picked players exclusively from the 'modern era', unlike Sir Bobby. There was no restraint on who they could pick – no short list, no restriction, as long as the players had been born abroad and / or come to England for footballing reasons.
By the end of the exercise, I had the contributions of five former England managers, including caretaker-managers – Sir Bobby, Ron Greenwood, Graham Taylor, Howard Wilkinson and Peter Taylor – and an eminent former captain, Jimmy Armfield. In their own ways, they'd all had a role in the story, watching and signing and playing alongside the foreign stars.
Lawrie McMenemy and Keith Burkinshaw represented great club managerial talent of yore, and Ranieri didn't let his job as Chelsea manager stop him picking players from other clubs, while Barry Davies, John Motson and Martin Tyler gave me the seasoned commentators' perspective. (Both Motty and Tyler had Roland Nilsson as their right-backs, incidentally, while Davies's defence include tennis player Elena Baltacha's dad, Sergei).
Each of my 'panel' picked a team of XI players in a formation of their choosing. Those 20 teams were published at the back of 'England, Their England', and I reproduce a selection of them below. This is from 2003, remember, before Cristiano Ronaldo or Tevez or Drogba or Essien or Torres or so many others.
I also asked each selector to nominate a captain, because I wanted to discover which player was picked most, and in the event of a tie, the captaincy issue would define the 'best' player as selected by the panel.
In the end, three players appeared in 17 of the 20 teams, and Patrick Vieira 'won' the honour of best by dint of captaincy nominations ahead of Thierry Henry and Marcel Desailly. Ossie Ardiles and Peter Schmeichel were the next most selected players (14 times each), then Mikael Silvestre (picked 12 times, and I personally think this highlighted relative few left-back options up to 2003), Arnold Murhen (11 times), Robert Pires (10 times), Eric Cantona and Gianfranco Zola (9 each) and Ruud Gullit (in 8 of the 20 teams).
I'm sure the same exercise now would produce greater variety all over the pitch, but many of those names would still feature strongly. In the book, I listed a 25-man squad based on the 20 selectors choices, and that found room for, amongst others, Trautmann, Golac, Nilsson, Hewie, Lucas Radebe, Juninho, Ruud van Nistelrooy, Jurgen Klinsmann and Dennis Bergkamp.
Anyone who wants to Tweet their own all-time foreign XI to @sportingintel, use the hash-tag #AllTimeForeignXI, and I'll compile the responses and write a story on the 2011 findings at some point in the not too distance future.
Now if only I could make up my own mind in this 4-2-3-1 between Schmeichel or Niemi or Trautmann; Golac (sentimental), Desailly, Vidic, Evra; Ardiles, Vieira; Ronaldo, Zola, Henry; Cantona. But where does that leave Tevez, Fabregas, Alonso and Bergkamp?
For now, here are a selection of those all-time XIs from 2003.
.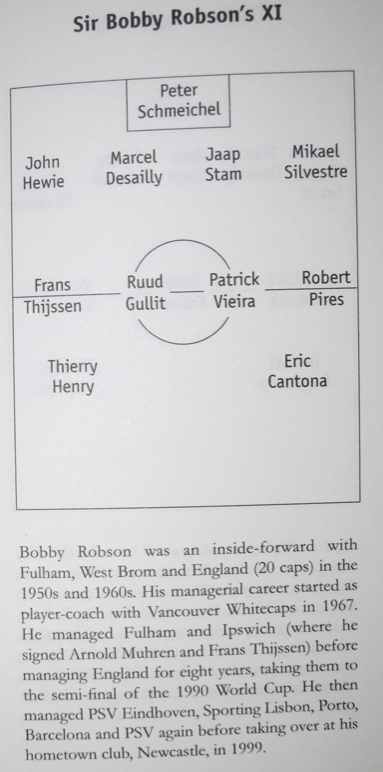 .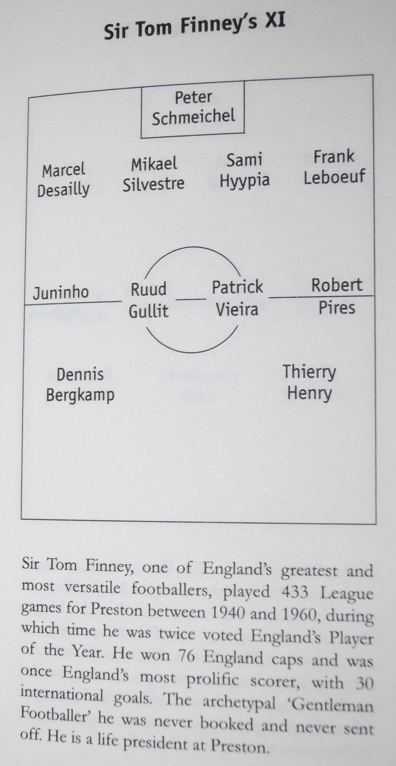 .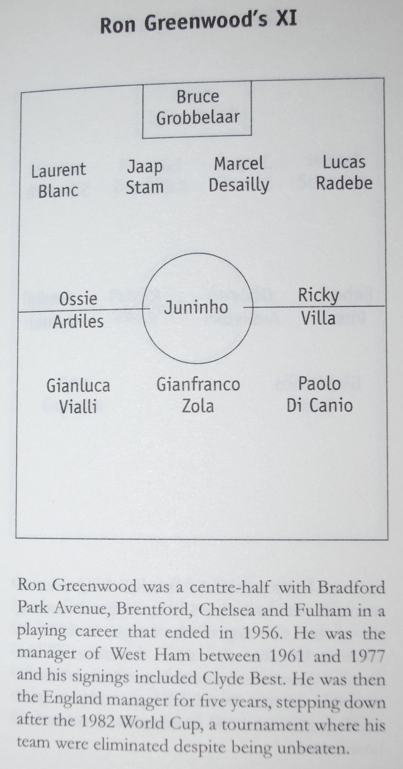 .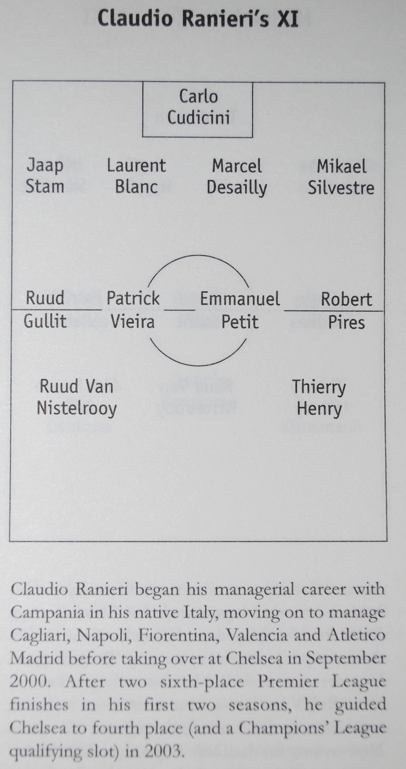 .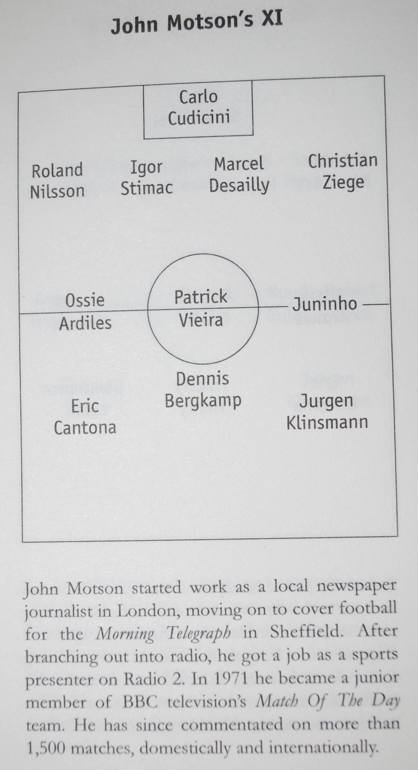 .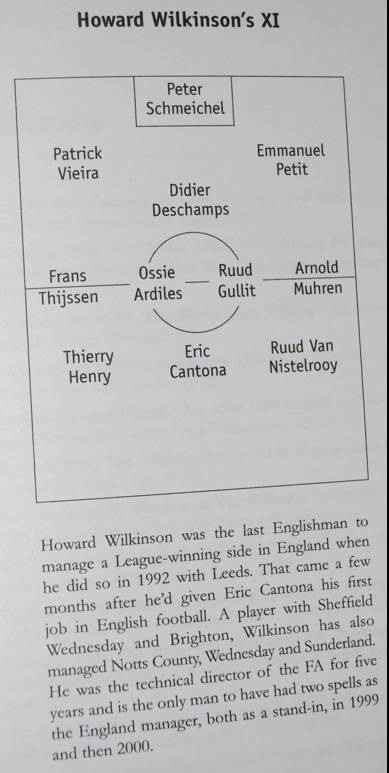 .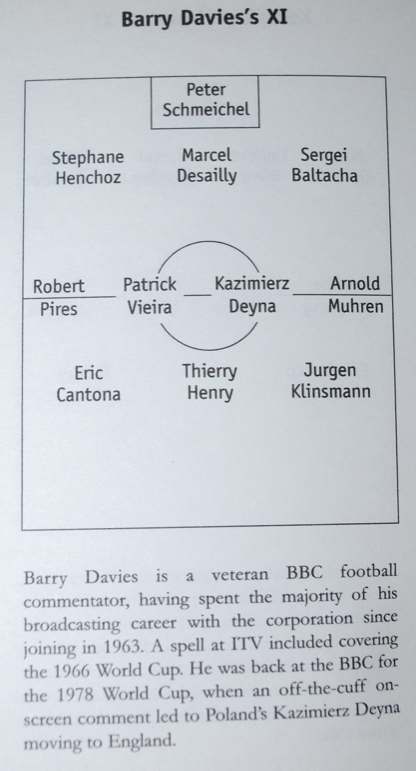 .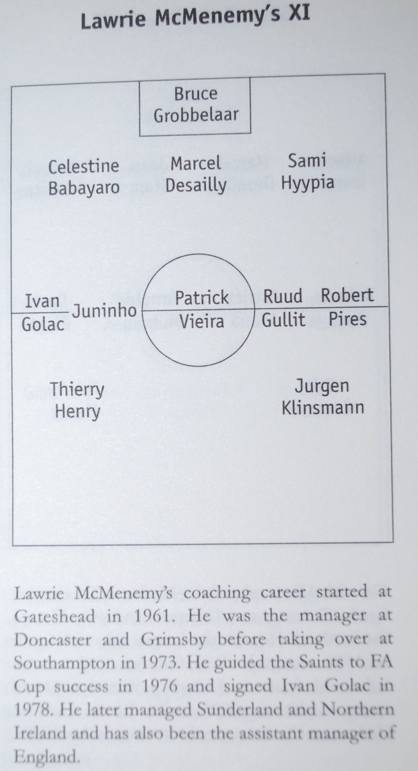 .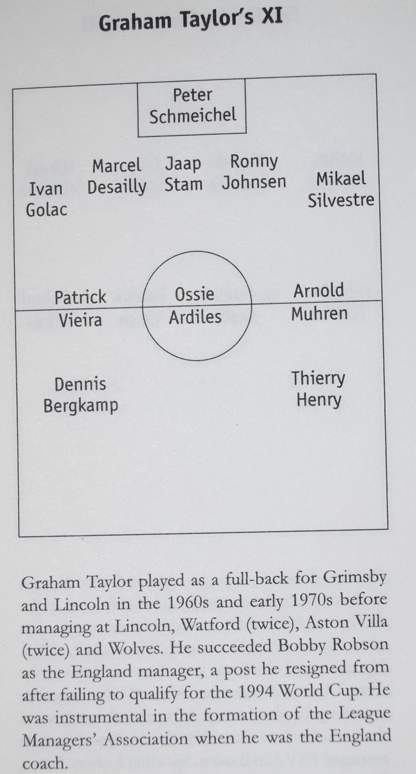 .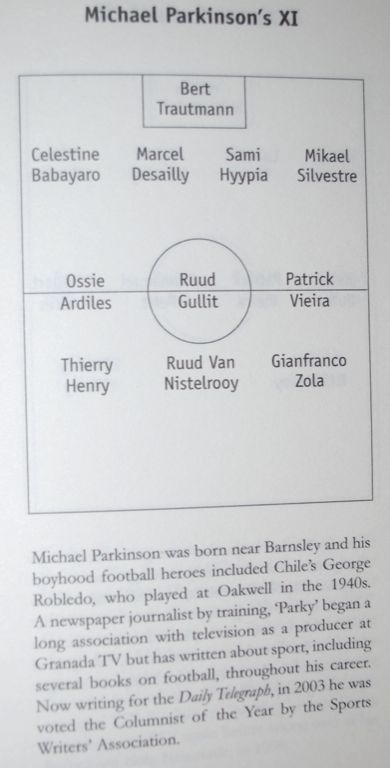 .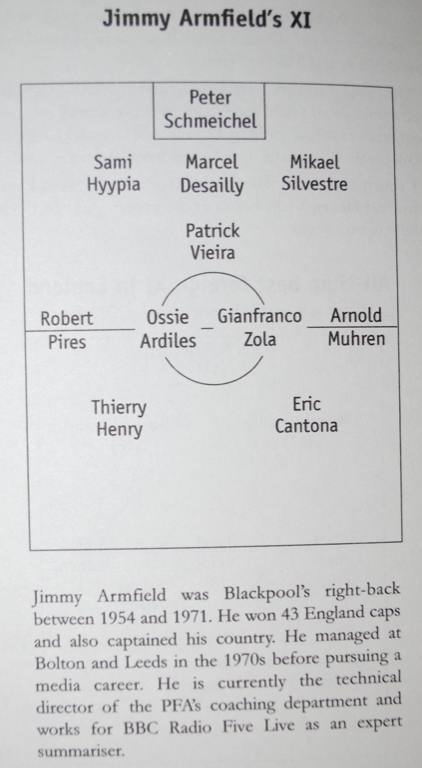 .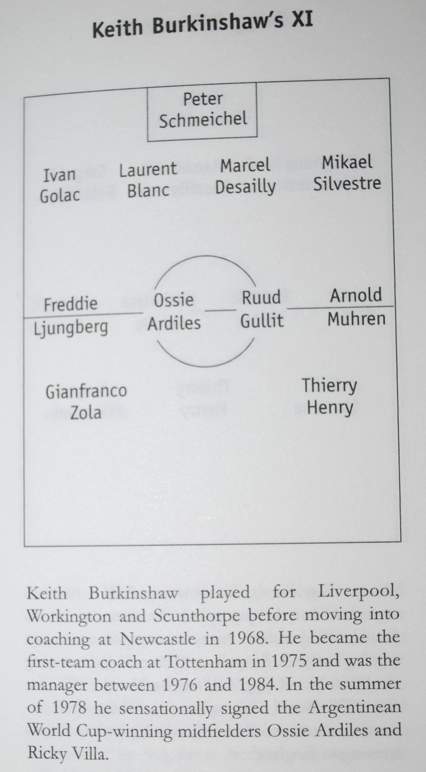 .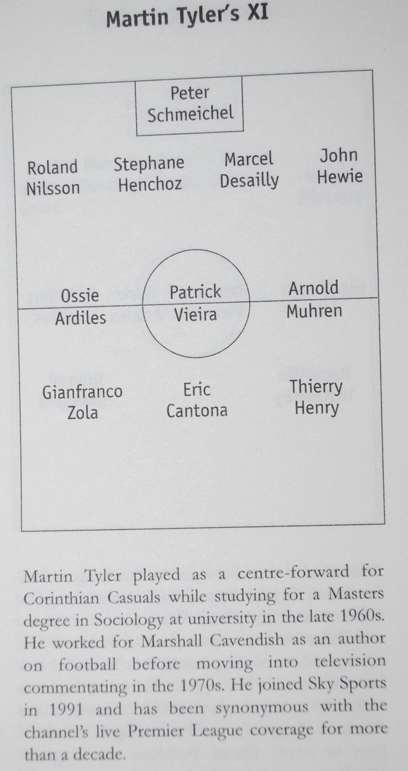 .
England, Their England (Pitch, 2003), was updated and republished as The Foreign Revolution (Aurum, 2006)
These all-time teams only appear in the first book.