By Nick Harris
24 August 2010
The following scans include testimony given under oath by Kenny Huang, putative bidder for Liverpool, in a civil trial in a federal court in Miami in January this year. Huang won the case, tried in front of a jury.
The first part of our full investigation into Huang is linked here.
Huang's testimony includes untrue claims about his education and business activities, opening up the possibility of action against him on multiple counts of perjury, if pursued.
.
THE CASE
The case centered on what happened to $2.9m sent by a Florida-based import company, AutoChina Limited, to the Nathan Road branch of the Standard Chartered bank in Hong Kong, in relation to deals involving AutoChina Limited and car manufacturers in China. Kenny Huang worked with AutoChina on the deals and helped to open the account in Hong Kong. What happened to the money has never been established. Huang maintained he never had any control over the money, let alone misappropriated it. The jury found in his favour..
.
HUANG'S BASIC BACKGROUND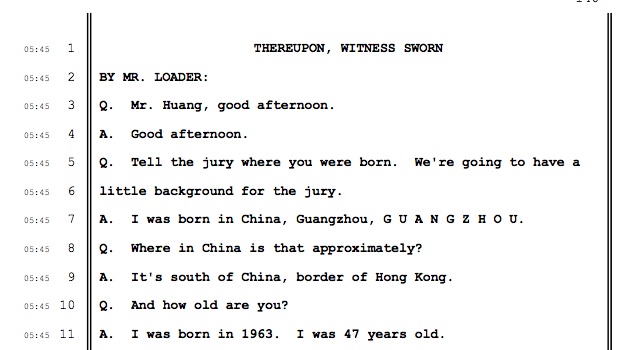 .
.
KEY CLAIMS ON EDUCATION AND BUSINESS HISTORY
DISPUTED EDUCATION CLAIM: Huang says (P141 below) he got a Master's degree at Saint John's University, majoring in Japanese, having been to Columbia University before that. He says that after St John's, he started work on the New York Stock Exchange, who sent him to a third university, NYU, where he says he attended the MBA program. As our main story explains, official records show he attended Columbia for three months from September to December 1987; he didn't graduate. If, as claimed, he started work at the New York Stock Exchange at the end of 1987, he could not have obtained a Master's at St John's before that but after Columbia.
DISPUTED EDUCATION CLAIM: NYU say they have no record of Huang attending or graduating from any of their MBA courses.
UNVERIFIED NYSE CLAIM: Despite repeated requests for simple clarification from Huang or his representatives in Hong Kong, London and the USA over the past two weeks, nobody has been able or willing to clarify where he worked within the New York Stock Exchange, or doing what. (Or that he was the first person educated in mainland China to work on the NYSE as claimed in a CV).
DISPUTED BANKING CLAIM: Huang says (P142, lines 7,8,9) that he's on the asset managements board of the Bank of Communications, China's fourth largest bank. The bank says he does not hold any position at the bank, and never has held any position at the bank or on the board.
DISPUTED NBA OWNERSHIP CLAIM: Huang says (P143) he is the leader of a group that has a 15 per cent ownership stake in the NBA's Cleveland Cavaliers. [If true, that stake would be worth c.$70m]. But it wasn't true. The NBA has confirmed Huang has never had any ownership interest in the Cavaliers or any NBA team. Huang himself confirmed on 12 April 2010 (in the statement linked here, 6th paragraph) that he didn't own any share of the Cavaliers.
.
.
.
FAMOUS IN CHINA THROUGH ASSOCIATION WITH BEIJING'S OLYMPIC COMMITTEE AND YAO MING?
There is no evidence to support Huang's claim he was "well known" in China in 2002, the year that Huang "went to see the company" referenced in the extract below. Neither, despite requests, has Huang or his representatives been able to demonstrate that he was well known in China at that time, or represented the Olympic Committee in Beijing then or ever, or was associated, in any way, with Yao Ming's move from China to the USA, which happened in 2002.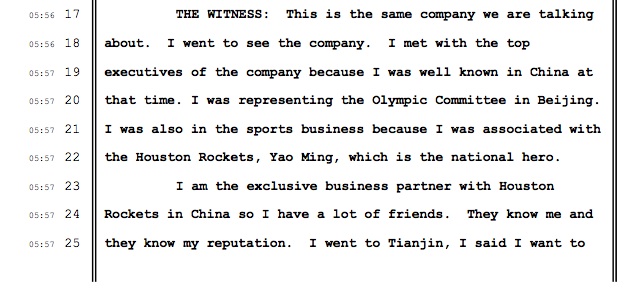 .
SEPARATE CLAIM ON ABOUT N.Y.U at www.aspeninfrastructure.com
DISPUTED EDUCATION CLAIM: The website of one of Huang's companies, Aspen Infrastructure, remains up and running even though his business relationship with one of his listed co-directors, David Herzig, ended in acrimony and court cases, and despite the fact that Huang's own lawyer says the only reason the site remains open is an oversight. Herzig was involved in the action against Huang in the case above, and separately in an action against Huang in relation to Aspen. Huang prevailed in each. Phone numbers listed for Aspen do not work. However, as this scan of the website shows, the claim about Huang attending NYU is repeated. NYU say they have no record of his attendance or completion of any MBA courses.