By Nick Harris
21 May 2013
Manchester United earned £60.8m in Premier League TV and prize money for winning the title in the 2012-13 season, official figures just released by the League show.
A summary of what each club made in total is in the graphic immediately below while a precise breakdown of 'equal share', overseas TV cash, merit cash (for finishing position) and facility fees (dependent on TV appearances) is in the official Premier League document published at the foot of this article.
The massive sums on offer for simply being a member of the Premier League are highlighted yet again, with United making £60,813,999, and the lowest-earning club, QPR, making £39,752,462.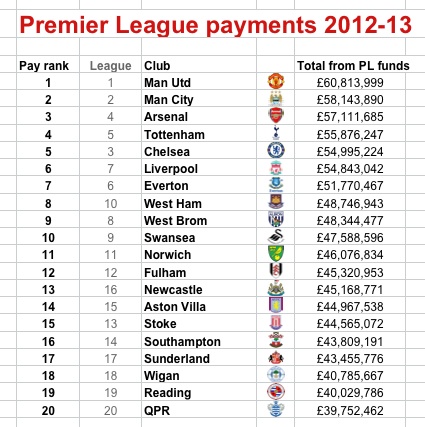 Clubs have three main revenue streams: match day income (from tickets, corporate dining etcetera), media  income (of which the payments listed are the largest but not the only part) and commercial income (from kit deals, sponsorship, merchandise, tours and so on).
United are the only club breaking the £60m barrier from central PL funds, with Manchester City second (£58.1m), Arsenal third (£57.1m) and Tottenham fourth (£55.9m).
When the new three-year £5.5bn TV deals kick in next season, the top club in the Premier League can expect closer to £100m for winning the title, while the bottom club will get closer to £60m.
Chelsea, who finished third in the league this season, are a suprisingly low fifth in the payments table.
This is due to getting less 'facility' cash from being featured in live TV games 'only' 16 times, compared to United's 25 times, Arsenal and Liverpool's 22 times each, and Manchester City and Tottenham's 21 times each.
RELATED STORY: It's the economy, stupid! How money fuels glory in the Premier League
Every club got £13,803,038 as an equal share of domestic TV income, plus £18,931,726 as an equal share of foreign TV income. The Premier League's income from overseas TV rights alone in 2010-13 inclusive was £1.437bn (£439m a year).
The overseas rights for 2013-16 have been sold for more than £2bn.
Each place in the table was worth £755,881 in prize money, with that amount going to the bottom club (QPR) and 20 times that amount (£15,117,620) going to United.
Payments from previous seasons can be seen on this website:
Payments for 2011-12 / Payments for 2010-11 / Payments for 2009-10
'Parachute' payments were made to eight former Premier League clubs, varying from £5.7m to £15.7m depending how long each of them have been out of the Premier League. See table below for details.
The ratio in central earnings between United at the top and QPR at the bottom is 1.53 to 1.
This is a much lower ratio – and therefore 'fairer' split of TV money – than occurs in Europe's other major leagues.
In Spain's top division, where Barcelona and Real Madrid take the lion's share of the TV cash because they do their own deals and don't sell rights collectively, the equivalent ratio is around 14 to 1.
In Italy's Serie A, the ratio is about 10 to 1, in France's Ligue 1 it is about 3.5 to 1, and in the German Bundesliga it is 2 to 1.
More articles mentioning salaries in sport
Follow SPORTINGINTELLIGENCE on Twitter
Sportingintelligence home page
.
DISTRIBUTION of Premier League central funds 2012-13 (All amounts £ sterling)
Place = finishing position in the table. Live = live games on Sky/ESPN combined.
BBC = games on Match of the Day. N.Live = games shown 'near live'.
Note: Facility fees increase with more live TV games; merit payments grow in increments of £755,881 per place from 20th to 1st.