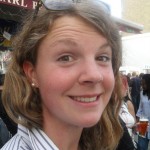 ALEXANDRA WILLIS is the Deputy Editor of ACE Tennis Magazine, and alongside mag work and an affair with social media, has the dubious honour of following British players to Grand Slam qualifying from time to time as part of her professional duties. If you happen to bump into her court-side, she'll probably tell you that she went to Oxford (and not just shopping).
.
.
.
By Alexandra Willis
24 August 2010
The announcement that Serena Williams will not be competing at this year's US Open was greeted with a mixture of bafflement, befuzzlement, and in some areas, surprise, although not much of it. Cutting her foot in a restaurant was a very Serena-like thing to do. But there was also a collective sigh of relief.
The 2010 US Open will be a tournament without yet another Serena Slam, it will be one without an all-Williams final, and it will be one without Serena's own particular brand of drama, be it because of her outfit, her press conference statements, or whatever else she chooses to throw into the mix. It will, hopefully, allow some other players to write the stories and show us that women's tennis is more than just the Serena Williams show.
Serena is one of the most Marmite-like figures in tennis. You either love or hate her. Which is a shame, because it makes us forget how unique she is.
We're so used to her imposing physique, her nothing-to-something story, her celebrity antics, her dramatic absences and reappearances, and her less-than-sensible statements, that it's almost become old hat. But there's no escaping the fact that she is an extraordinary anomaly: A decade-long winner in a sport where longevity has gone the way of wooden rackets and white balls.
When she gets that banshee wail going, double-fisting left, right and centre from all corners of the court, hooped earrings flying all over the place, most of today's opponents simply stop and stare. And you can't blame them. But reputation alone does not make you a world-beater. Nor does talent. No matter how well Serena wallops the ball, she has beaten far more talented ball-strikers than herself. And for that, she has to thank her approach to the sport.
Half the battle in tennis is staying healthy, but staying interested is most of the rest. The Williams sisters, first Venus, and then Serena, have always played sparingly, which lent them a certain mystique long before they were champions. Everyone knew about the Williams sisters, they just didn't know what made them tick. Since then Serena and (to a lesser extent) Venus, have picked and chosen when to be immersed and when to step back. Few athletes have the self-assurance to do that and to handle the inevitable fallout. But Serena has it in spades. No matter how much you may dislike her, there's no denying that Serena has a passion for life, and a passion for tennis. That unusual ability to combine the two seems to be her secret.
However, is missing a Grand Slam for a cut foot a step too far? On the day her withdrawal was announced, Serena tweeted: "I'm devastated to not be participating in US Open. Grand slams are my life. My soul…. I will miss it more than u can ever imagine.XxxS."  Very Williams-esque sentiment. But forgive me for spotting the proverbial bull in the china shop.
It is no secret that Serena was less than pleased about the way she exited last year's tournament, and the subsequent fine for her behaviour, a furious rant at the line judge who foot faulted her. Whether it was or wasn't a foot fault, and whether or not it should have been called at that stage in the game, there was no need to give the diminutive official both barrels of Williams fury. True, the promised punishment of missing the next Grand Slam did not come to fruition, but it was threatened. Add to that the precedent of the Williams family's ongoing boycott of the Indian Wells tournament, and Serena's absence begins to look less and less like coincidence.
All of which means that even by her absence, Serena has already stolen the show. Every win will be greeted with the "would she have beaten Serena?" question, the world No.1's presence somehow needed to justify the level of competition. Was that the case when Rafael Nadal missed Wimbledon in 2009? Probably.
Or perhaps I am completely wrong. Perhaps the 2010 US Open will produce a story so great that we'll forget all about Serena, and she'll be left nursing her injured foot alone on the sofa. Here's hoping.
.
.Read more from Alex in the latest issue of ACE Magazine, on sale now at WH Smith and all good newsagents.
.
Sportingintelligence home page for all our latest exclusives
.
Want to comment on this story?
The subscription and comments policies of sportingintelligence have recently changed. Any user can comment on any story, however, by emailing using this link and including the story topic in the subject box. Your comments will then be manually posted by an administrator.