.
At the end of the 2010-11 Turkish football season, Fenerbahçe were crowned champions after finishing with the same number of points (82) as title rivals Trabzonspor, but with a better head-to-head record. But Turkish football was soon rocked as it emerged Fenerbahçe's success was a result of one of the most devastating match-fixing scandals the game has seen. A long police investigation uncovered a sophisticated crime syndicate that had been involved in fixing games, with dozens of high-profile officials and players implicated. Yet despite legal rulings and sporting rulings that should have seen Fenerbahçe relegated and multiple offenders jailed or otherwise punished, many of those involved remain active across Turkish football, on and off the pitch. With Fenerbahce again topping the table and favourites to lift another title, ENDER KUYUMCU argues what is happening in his country is football's greatest shame; and that if Turkey's football authorities continue to fail to clean up their game, then all Turkey's clubs, and the national team, should be banned from all international competitions.
.
.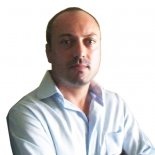 By Ender Kuyumcu 
18 March 2014
It has been an open secret within Turkey for many years that football in my country has been corrupt, riddled with fixing and not to be trusted. This has been happening for 25 years or more. Even the kids in Turkey know this. It is part and parcel of Turkish football – corruption, criminality, cheating. And it is wrong.
The difference in recent years, since 2011, is that the corruption has been proved, with hard evidence, beyond any shadow of doubt. People have been arrested from the board rooms to the dressing rooms. There have been wire taps and photographic evidence, confessions and criminal charges and trials and guilty verdicts. This is not hearsay any more, it is irrefutable fact – and still the Turkish system tries to cover it up.
Can you imagine a situation where, for example, it had been proven in court that leading officials and players from Manchester United, Arsenal, Chelsea, Liverpool and other clubs had fixed games – and that they were allowed to play on as if nothing had happened? Would that be a scandal? I suggest it would be portrayed across the world as one of the greatest scandals any sport had seen, ever. And rightly so.
And yet that is what continues to happen in Turkish football. At heart of the corruption is Fenerbahce, but they are not the only club involved. It has been shown beyond doubt that in the 2010-11 season alone, corruption went from pitch to presidency level not only at Fenerbahce but also at Besiktas, Sivasspor and Manisaspor, and that many other clubs and players were involved in one or more corrupt matches.
And they still are. In a moment I will tell you the names and details of senior officials and match-fixing players who continue to be a central part of Turkish football as if nothing has happened.
As campaigners for clean football, our message is clear. If the Turkish football federation does not clean up the game in Turkey, as the courts and football bodies like Uefa have indicated they should, then those football bodies – Uefa and Fifa – should stop all Turkish clubs playing in international competitions until they do.
So no Turkey in World Cup or Euro qualifying. No Galatasaray in the Champions League, as they will be today at Chelsea. No Turkish football in any international competition – because frankly it is rotten.
What we want is clear: for Uefa to enforce their own regulations in regard to match fixing and ensure that the Turkish FA relegates the clubs proven to be involved in fixing. There are precedents: Uefa made sure that Pobeda of Macedonia and Valou of Greece were relegated after proven fixing. Why do they not act in Turkey?
We only want Uefa to follow their rules and regulations, nothing more. Uefa, after all, are the ones put Fenerbahce and Besiktas on trial (in football terms) and found them guilty of match-fixing and punished them with European expulsion, albeit for a limited time. But according to the disciplinary procedures of the Turkish Football Federation (TFF), Uefa and Fifa, the punishment for match-fixing must be relegation. So why has it not happened? Who is protecting who? Why?
UEFA has to order the TFF to relegate match-fixing teams and if the TFF refuses to do this, then ban all Turkish teams, including the national teams, from all European competition until justice is served.
Why? Because until that happens you cannot believe a thing you see in Turkish football.
.
The 2010-11 scandal
Fenerbahce were at the centre of it, charged with fixing 12 matches in spring 2011 which helped them to 16 wins in their last 17 games to be crowned champions ahead of Trabzonspor. Dozens of officials including Aziz Yildirim (still chairman of Fenerbahce), were arrested and several players, managers and agents were also charged in the match-fixing investigation. After a year, the criminal court gave its verdicts and sentenced 21 officials and players for manipulating the results of matches in the 2010-2011 season.
Some of the others involved in match-fixing, bribe-giving or bribe taking who were charged and then given prison terms and / or fines and bans included Fenerbahce vice-presidents Şekip Mosturoğlu and İlhan Ekşioğlu, director Aleaddin Yıldırım, Sivasspor board member Ahmet Çelebi, Fenerbahce chief financial officer Tamer Yelkovan, Fenerbahce legal advisor Sami Dinç, sporting director Cemil Turan, club translator Samet Güzel, Sivas president Mecnun Odyakmaz, Eskişehir manager Bülent Uygun and a whole array of players.
İbrahim Akın (then with İstanbul BB) is serving a ban but still managed to get a contract as a player with Gaziantepspor. Korcan Çelikay was and remains Sivasspor's goalkeeper despite a prison term for match fixing; Mehmet Yıldız,  formerly of Sivasspor, also got a prison term for fixing but is now a striker with Mersin Idmanyurdu. Gökçek Vederson is a Brazilian-Turkish player sentenced to five months for match fixing at Bursaspor and is now playing with Antalyaspor.
Ümit Karan got seven months for fixing at Eskisehirspor and is now retired from playing, and makes a living as a commentator, sometimes even appearing in that role on Government-owned TV.  İskender Alın is a striker at Boluspor, despite a prison term for fixing at Istanbul BB.
These are just a few names that demonstrate the range of people – players and otherwise – implicated in fixing and still involved in football. There were – maybe are? – still lots of others.
How did the fixing happen? I won't bore you with lots of details but the nuts and bolts are out there in thousands of pages of evidence and court transcripts. Here is a flavour from the deposition of one player, Ibrahim Akin.
"I met my agent at a restaurant called Big Chefs three days before the game after his request. He told me that Fenerbahçe SK offered me $100,000 for not scoring a goal against them. I wasn't warm to the idea at first … Following [another] request I sent a text message to [my agent] and asked for €100,000 instead of $100,000."
As it transpired, Ibrahim Akin's case was one of several where the guilty party had leaner punishment because the interpretation of the laws was changed so they were guilty not of match-fixing but attempts. Some 48 officials, players and coaches were found guilty of fixing and 44 others were cleared.
But the situation was made much less clear when the Turkish parliament changed the law governing sporting crimes (law No6222) to reduce sentences for sports-related crime. This in effect gave many of those guilty a 'get out of jail free.'
Astonishing, I know, but this happened and continues.
With the political interventions, match-fixing sanctions were amended, so the activities of individuals (officials, players, coaches) and the legal entities for whom they worked (their clubs) were differentiated, and therefore the clubs benefited because they were 'in the clear' even as their employees were convicted. More here and here.
Uefa took years to deal with Fenerbahce and Besiktas but did eventually ban them from Europe. Following this decision Fenerbahce took this case to Court of Arbitration for Sport (CAS) as did Besiktas; CAS upheld both bans.
At this stage, football lovers in Turkey were expecting Uefa to prove that really are strict in their 'zero tolerance' policy on match-fixing, and therefore order the Turkish Football Federation (TFF) to relegate all teams involved in fixing, starting with Fenerbahce and Besiktas.
Both Gianni Infantino, the general secretary of UEFA, and Michel Platini, the president of UEFA, had declared at various points that if the TFF failed to apply the necessary punishment, UEFA would get involved and make sure that the relevant punishment was applied, which is relegation, according to the rules and regulations.
Match-fixing clubs have been relegated previously, infamously: Juventus, Marseille and others know that all too well. So why have Uefa not acted on Turkey?
Certainly among large numbers of Turkish football fans, it raised speculation that Uefa will not act, for reasons unknown. And then recently we got what seems to be an answer: a leaked voice recording of Turkish Prime Minister Tayyip Erdogan apparently revealing that he could not manage to get Fenerbahce off the hook with Uefa over fixing but that, with the help of a Turkish Uefa vice-president, Senes Erzik, had succeeded in saving Fenerbahce from relegation.
.
Political Intervention in Critical Moments 
From the outside, Turkey's fixing scandal may appear to have been handled correctly in many ways: a police investigation, arrests, charges, trials and punishments. But the truth is that people's belief in justice and fair play have gradually died out, and this is closely related to the political interventions at critical moments of the "detox" of Turkish football.
One decisive intervention came on 24 November 2011, when the Turkish parliament gathered to amend Sports Law No6222 that had only been in effect since April 2011 – or just around the time that season was being fixed in Fenerbahce's favour. Members of the ruling and two other opposition parties worked all night to change the law to reduced all sentences penalising various crimes in sport, including mainly match-fixing.
They claimed the law needed amending because it was "too harsh". Not long after the amendment, a first official report revealed details of match fixing. What a coincidence!
With Fenerbahce officials in the vanguard, the club as well as leading newspapers and journalists with close links to the club effectively forced the Turkish Football Federation to amend its disciplinary code that stipulates relegation for match manipulation and attempted fixing. They claimed the Turkish football economy would sink without Fenerbahce in the top division.
The TFF president Mehmet Ali Aydınlar, who had links to Fenerbahce, resigned, under pressure, with enormous speculation that he either felt he could not be the man who saw Fenerbahce relegated, or had been threatened that he should not become that man. He was replaced by Yildirim Demirören, who resigned as the chairman of Besiktas (another match-fix club) to take up the TFF role. Perhaps not surprisingly, the TFF has still not acted to relegate the match-fixing clubs. We wonder why.
Actually, we know why. The new TFF regime restructuring their ethical committee to clear any clubs (as entities) of blame.  Prime Minister Erdoğan stated his belief that individuals involved in match-fixing should face punishment, but that sanctions against clubs could mean punishment for millions of fans. The newly-elected president, recently formerly of Besiktas, stood by the Prime Minister's view.
In May last year, the new TFF ethical committee announced final decisions, blurring matters further; attempted fixing was no longer fixing or punishable as such. The committee concluded that "alleged attempts to fix games had not altered the course of the matches." Four days later, Turkey's Professional Football Discipline Committee (PFDK) handed out punishments to officials, players, managers and employees of Fenerbahce, Beşiktaş, Eskişehirspor FC, İBB FC, Sivasspor and Bursaspor – but said that the clubs could not be blamed over individuals' activities. So all the clubs were cleared.
So Fenerbahce remain in the top division. Or to be precise, at the top of the top division.
And Uefa's 'zero tolerance' on fixing is looking lame, in Turkey at least.
Rich teams can get away with murder. Our game is not being played fair. And Turkish fans will have to keep wondering, as ever, whether they are actually watching football … or just more theatre.
.
More stories on this site mentioning fixing in sport / doping