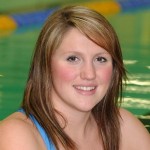 By Cassie Patten
17 August 2010
There has never been a more exciting time to be involved in British swimming and I'm thrilled to be a part of it, especially as my own discipline, in open water, is growing rapidly in popularity, more of which later.
The GB team showed at the Beijing Games that we're making waves, and at the European Championships that have just finished in Budapest, Britain's swimmers won a record 18 medals, including six golds.
Becky Adlington, already a household name, was one of those winners, this time in the 400m free. Fran Halsall (100m free), Gemma Spofforth (100m back), Lizzie Simmonds (200m back), Hannah Miley (400m IM) and the 4 x 100m medley relay team also tasted what it was like to be on top of the podium.
And while I didn't finish in the medals this time myself – despite leading for 8km in the 10km open water event – every major event like the Euros is a valuable lesson on the road to London 2012.
For any athlete, a home Olympics has to be the ultimate dream destination, and at 23, and born and bred in Cornwall, that's certainly true for me. I already have one Olympic medal, the bronze from Beijing in the 10k, but I don't think anything would beat standing on the podium at a Games in your own country.
Relatively speaking, I've only been competing in open water for a short amount of time. I took part in my first race as I've always liked the idea of a challenge. I've always been a distance swimmer in the pool but 800m is the longest race women can swim on the Game program (in the pool).
People would often say it looked like I could just keep going on and on, and that 800m was too short a distance for me, so in 2006 I jumped at the chance to take on the challenge of swimming 10km.
My first race was in Seville, a world cup meet, in the river. Having never really swum outside I took to it immediately and loved the freedom of not having walls and tiles constricting me.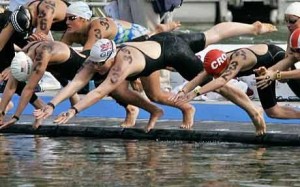 A year later I won a silver in the World Championships in Melbourne.
After that I was hooked. I love how every race is different, how no two races are ever the same. Unlike the tame pool events, we have so many factors to overcome, from the weather, tides, winds, rain and ever changing water temperatures to aquatic creatures such as fish, jelly fish and the other girls in the race!
For those who don't know much about open water swimming, races can take place in any large outdoor body of water: seas, lakes, rivers, canals, reservoirs. The distance of each event varies from 1km to 80km, but at major competitive level, the typical distances are 5km, 10km and 25km.
Swimming in open water has a long and colourful history dating back as far as 36BC, when the Japanese organised the first open water races. The Romans held high-profile races in the Tiber, when thousands would crowd along the banks to watch and cheer. The Knights in the middle ages reputedly had to swim in full armour as one of their seven required agilities. I think that even I would struggle with that!
The sport really took off in the 19th century, when long distance open water swimming really became fashionable and popular. This was partly down to Captain Webb, the first man to swim the Channel unaided in 1875.
Not many people realise that open water swimming which was the first aquatic event to be held in the Olympics. It was included in the Athens games of 1896, when the program involved three races held over 100m, 500m and 1200m. The Paris games of 1900 also included races down the Seine.
Although open water races had been held for over a hundred years it was not until 1986 that FINA, swimming's world governing body, officially recognised the event again and added it to the international competition calendar. In 2008 open water really came into the spotlight when the 10km was included in the Games in Beijing.
Great Britain stole the show and won three of the six available medals, two silvers going to David Davis and Keri-Ann Payne, plus my bronze. This event captured the interest and imagination of the public and the participation in open water has rocketed.
This has been helped along by the Great Swim series. In 2008 there was only one Great Swim, over a mile, a mass participation event held in the beautiful Lake Windermere in the Lake District. It had 2,250 entries.
Last year, three more swims were added, in London, Scotland and Ipswich with 11,000 entries over all four events, with the Great North Swim having 7,500 of those entries.
This year, there has seen a rise again in the number of people taking the plunge, with 22,000 entries and another new venue has been added due to demand in the Salford Quays.
Hopefully this trend will continue as more people pull on their costumes and leave the pool behind in favour of the freedom that open water can offer.
As for me, I have my sights firmly set on being on that starting pontoon in the Serpentine in the 2012 Olympics. It's not going to be easy to get there, but then again, I'm up for the challenge. That's why I do open water.
.
Cassie Patten is sponsored by Kellogg's as part of a 'Grassroots to gold' medals programme of swimming. Find out more here.

.
Sportingintelligence home page
.
Want to comment on this story?
The subscription and comments policies of sportingintelligence have recently changed. Any user can comment on any story, however, by emailing using this link and including the story topic in the subject box. Your comments will then be manually posted by an administrator.