By Pete Wilson
4 May 2010
The high value of sports stars' images as bankable intellectual property has been underlined by a decision by Madame Tussauds in London to spend £150,000 on a waxwork of Cristiano Ronaldo – to go on display a full year after he left British shores to sign for Real Madrid from Manchester United.
Tussauds will display the new creation to coincide with this summer's World Cup, but Ronaldo has been in demand for years, and remains so, according to a spokesman.
Visitors are canvassed on leaving the London attraction about who they would like to see immortalised in wax. "For the last three years consecutively, Ronaldo has been the most requested figure at the attraction," the spokesman said.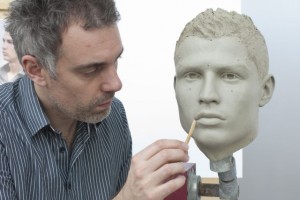 Speaking about the addition of Ronaldo's waxwork to Tussauds (entry price £22.99 for adults, £18.90 for children, groups and family discounts available), spokeswoman Liz Edwards said today: "The World Cup is one of the biggest events in the sporting calendar so it's fitting we're welcoming one of soccer's most exciting talents to the attraction to mark the occasion."
Ronaldo's waxwork will join images of his former United team-mates David Beckham and Wayne Rooney, as well as those of Pele and other sports stars including Lewis Hamilton, Sachin Tendulkar and Jonny Wilkinson in the attraction's interactive Sports Zone.
(As an aside, it is coincidental that many British or British-based stars made into waxworks for  the London Tussauds have left England or leave soon afterwards: Beckham for football reasons, Hamilton for tax reasons, Wilkinson to play rugby in France, Ronaldo to go to Spain. Could Gerrard, added only in February, be next?)
Ronaldo's figure will be kitted out in Portugal international gear, donated by the player himself, who receives no fee for having his image used.
The winger attended a sitting with Madame Tussauds sculptors at the Real Madrid training ground back in December where the team took over 300 precise measurements and a catalogue of reference photographs to work with.
The figure will take four months to create and will cost £150,000.
.
More stories mentioning Ronaldo