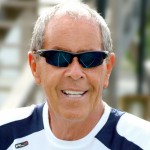 NICK BOLLETTIERI is the world's most famous tennis coach, and the most successful. He's coached an unequalled 10 players to No1 in the world, from Andre Agassi and Monica Seles to Jim Courier and Maria Sharapova. He's never been accused of being shy, and he's certainly not retiring. Ever. Holy Mackerel!
.
.
.
.
.
A handful of thoughts . . .
.
By Nick Bollettieri
21 February 2010
.
ONE: The world is Serena's to conquer in 2010
The dust has settled on the year's first Slam but the resounding message echoes on. Serena Williams has all the glory she wants within her grasp. My long-held belief is that Serena and her sister Venus are the two finest female athletes in history, period. They've had their highs and lows and distractions but Melbourne 2010 showed me again that Serena is a killer who's never going down without a fight.
At 28, she bagged her 12th singles Slam title and her fifth Down Under, but not before a knee injury, one hell of a battering, and three extremely tough matches in the quarters, semis and final. Bandaged up, hunkering down and under missile bombardment, she was close to defeat against Victoria Azarenka before winning in three; took a pounding against China's feisty Na Li before prevailing in two tie-breakers; then overcame comeback queen Justine Henin in three, but not before a scare.
Serena proved that when she's up for a tournament, she's really up, and she exhibited that core quality of a true champion. In adversity she found a way to win.
These days, Serena picks her events and she picks her moments. Pick right and all the Slams are there for the taking.
.
TWO: Super-Fed's instinct should be a lesson to Murray
Roger Federer, the GOAT, extended his record number of Slam singles titles to 16 by executing only as hard as he needed to, when he needed to. Back to full fitness after his glandular fever year in 2008 and a recovering year in 2009, he showed he can still take it up or down a notch as required, and, critically, fall back on instinct to dictate when that is.
He's sublimely talented, yes, but within his own lofty limits he's a Steady Eddie. His consistency with serve and movement and shot selection are as essential to his success as big aggressive winners. The New Orleans quarterback Drew Brees is similarly steady, for example making nine out of nine consecutive passes because he's in a zone of high-level consistency, and just trying to lob bombs every time.
Federer's consistency is his bedrock, and from that base he has certain shots he can launch by instinct. His forehand can caress like a rifle bullet.
I've been thinking about what's lacking in Andy Murray – Federer's beaten Australian Open opponent- and it's not a lot. Murray's got a fine game, a good attitude, he's creative and he can do a little of everything. He has lots of weapons but not necessarily one shot, like Federer's forehand, that is so instinctive that he can hit it 80-90 per cent of the time knowing it'll hurt. So I wonder if one of Murray's strengths – his capacity as a strategist and thinker – also holds a flaw. It's possible that under pressure, he can think too much.
.
THREE: All battles need to be put in perspective
In December it was my honour and privilege to be part of the United Service Organization's annual morale-boosting "holiday tour" to visit the United States troops in Iraq and Afghanistan.
On a seven-day trip to Baghdad, Kabul, Kandahar, and other locations I'm not at liberty to reveal, we traveled on Air Force Two and our party – comprising comedian Dave Attell, musician and actor Billy Ray Cyrus, and one of my former academy students, Anna Kournikova – was led by the chairman of the joint Chiefs of Staff, Admiral Mike Mullen. You can see some photographs of our trip by following links here and here.
The point of the trip is to bring a "touch of home" and it was humbling that we could go out there and offer some diversion to the daily toil of the work, and special for me – as a former paratrooper with the 187th Airborne Regiment – to be asked to say a few words along the way. Anna had done a couple of these tours before and needless to say she can light up the dimmest of places.
In the two items before this one, I've mentioned sporting missiles and bombs. So much talk about sport is littered with imagery and metaphors of war but let's be thankful that matters of life and death rarely darken the games we play.
.
.
.
.
FOUR: Super Bowl rocks
I went to the Super Bowl, as I do every year, because it's my favourite single sports event of the year, bar none. If you're American, you'll probably "get it", because you'll know all about the week-long build-up, the half-time show, the adverts that cost $5m per minute and are, in themselves, one reason that untold numbers of the 106 million people watching on TV in America alone tuned in.
Then there are the tail-gate parties, the ambience, the crowd, the hot dogs (80 per cent of fans will eat a frankfurter), the wall-to-wall coverage, all adding to a national sense of belonging and ownership of an event that binds. This year had the added emotional pull of the New Orleans Saints, playing not just for their own glory but for their city, still in recovery from Hurricane Katrina.
On the subject of the Saints, I was pleased for them, especially for Drew Brees. He came to the academy six or seven years back for some rehabbing and it turned out he was no mean tennis player! He played a little exhibition on my personal court against a couple of kids and he's a great guy. You can see why he has the respect of his team-mates. He doesn't panic. He's measured. He has his sport and his life in proportion.
The added lure of the Super Bowl for me is NFL party on the Friday, and the NFL golf tournament on the Saturday with former players and stars, which I was delighted to attend this year.
But key to Super Bowl's success, I believe, is that this awesome spectacle is populated with players who the fans remember watching back in college. It's a dream, realised.
On that subject, I would love to have been an NFL coach. Maybe I still can be . . .
.
FIVE: Ivanovic lacks nothing but direction
I've heard and read a lot of nonsense about the decline of Ana Ivanovic, whose most high-profile appearance in recent weeks wasn't on a tennis court but in the pages of Sport Illustrated's swimsuit edition and on SI's website in a swimsuit video. An obvious but way too simplistic reaction to this move is to say that Ivanovic is no longer a serious tennis player if she's sidetracked with such non-sporting distractions.
Everyone jives to their own tune so I'm not going to make any suppositions about her off-court activities. You've got to go with your own funk. Hell! It doesn't matter a damn whether she walks around nude if she's happy with that and all is otherwise well with her world.
But clearly something is up with her game, and I can tell you now that I'm going to send her an email in the coming days and invite her to come to the academy as my guest at any time she chooses to see what we can do to help her get back on track. Because frankly, Ana, you don't need any instruction, you just need a bit of direction. You need to believe that you're a winner and that you will be a winner again.
At 22, Serbia's French Open winner of 2008 really should be heading for her prime and be in the upper echelons of the game. Instead, she endured a season in 2009 when her win-loss record was 24-14 and she won no titles. She's dropped to No23 in the world from No1 and that's not just about a little run of bad form.
I think Ana just needs someone to tell her that if she wants to get back to where she was, then now is the time to play ball, and win back the respect of opponents who no longer fear facing her on the tennis court. Come as my guest and see what we can do, Ana. Spend a week or two and see if we can help.
You're too good not to be winning.
– – – – – – – – – – – – – – – – – –
I'm thrilled to be writing for sportingintelligence. Thanks for reading, and any time you'd like to drop by my website for news, views and tennis picks, it's linked here.
– – – – – – – – – – – – – – – – – –
.
.
.
.