*
Robbie Rogers, now a former footballer, played more than 100 games in MLS for Columbus Crew before moving to England, with Leeds. The 25-year-old Californian, who also played 18 times for the USA, came out last week in a blog in which he also announced his retirement. Ian Herbert says Rogers' declaration that he is gay represents only a very small step in the fight to drive homophobia from football.
.

By Ian Herbert
18 February 2013
Of course it's welcome.  Any sentient human being would say as much. But isn't the mood of optimism confined to a small liberal minority?
Wasn't it incredibly depressing that the former Leeds United and USA winger had to declare he was retiring from football, aged 25, before he could actually declare he was gay?
Those two announcements were not a coincidence but an acceptance, more likely, of the abuse which was bound to follow Rogers if he had pursued his career in the game.
Witness the film, published on YouTube (and embedded at the bottom of this piece), which players from Seattle Sounders have contributed to, expressing their admiration for his statement.
Marc Burch, Steve Zakuani, Ezra Hendrickson all provide the kind of positive messages that you would expect them to say. It's some of the comments posted underneath which tell us that there are too many blockheads out there for a player to come out while he is still playing. (Click on the link in the previous paragraph to see them).
"Would you want to play with him?" says one.
"OK guys, who's next. Ha, ha, ha…" says another.
Another comment has been moderated out of existence altogether on grounds of taste, which tells its own story.
This is why no professional in England has yet followed the Liverpool-born Swedish footballer, Anton Hysen, in coming out as gay and why, when reporting Anders Lindegaard's observation last November that the game needed a gay 'hero', it seemed necessary to add in parenthesis that he had a girlfriend. Just in case anyone got the wrong idea and you found, in retrospect, that you might be libelling him.
There are certainly gay players out there. Clarke Carlisle, the chairman of the Professional Footballers' Association, says the players' union has given advice to eight. But though Clarke assures any players who wants to make their sexuality public that they are guaranteed PFA support, he warned last September that there could be no guarantees about the aftermath of doing so.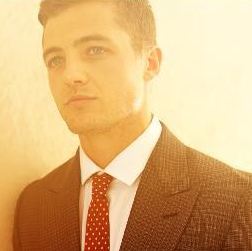 Carlisle made the astute observation that the first English player to come out could reap a cachet which was commercially exploitable – the pink pound being what it is. But he also admitted that there were still no guarantees that trouble might not be attached. It wouldn't be easy.
How might we imagine that it could be? Lindegaard observed that it was the reception a player would receive from fans, rather than team-mates, which would be a problem. But there are enough examples to suggest that the goalkeeper is being generous on some of his brethren.
West Ham's one-time Manchester United prodigy Ravel Morrison; Michael Ball, once of Everton and Manchester City and the much-travelled striker Lee Steele are among those whose views on the subject have revealed themselves on Twitter, which we all know can be a cesspit at times.
You imagine that things have moved on in the past five years or so. You also feel that Stonewall's research for the Culture, Media and Support Committee last year, which found that seven in 10 fans attending matches had recently heard homophobic abuse on the football terraces, was bound to communicate a negative picture.
But The Independent's survey of professional footballers in England, undertaken in 2006, found that 57 per cent of players thought football is homophobic and the world has not entirely turned since then.
One respondent, a 29-year-old League Two player, told us: "As a footballer, it would be difficult to come out."
Another seemed less sensitive to the issues. He ticked and underlined the "No" box next to the question: 'Do you have any friends who are gay' and added: "I've never been in any teams with any gays."
Lindegaard questions the commitment of the Danish FA in tackling the problem – compared, for example, to their Dutch counterparts who have produced an excellent advertisement.
Our own Kick it Out organization had its work cut out producing an equivalent video for Britain. It hired the advertising agency Ogilvy, which advised that the involvement of well-known players would be important if the campaign was to deliver the required impact. But players were reluctant to appear so Kick it Out, working with the Football Association, instead produce a generic viral anti-homophobic video – which the FA pulled shortly before a planned launch event because of a need to a review of its entire anti-homophobic policy.
What a rigmarole. The controversial cancellation ironically boosted awareness of the film, when it was published online. The FA has since used the viral film as part of its stewards' training programme and has made the Crown Prosecution Service aware of it.
It struck me two weeks ago when researching a piece on Cristiano Ronaldo, who has a girlfriend, that he had required some brass neck to roll up at Manchester United a decade ago with his particular obsession for fashion shoots and beautification.
In a glossy picture-book biography he produced at that time, Ronaldo described his "fondness for advertising", with stories of publicity shoots in Jakarta, Indonesia, and why he enjoyed his first modelling experience with Pepe Jeans "because I had to pose side by side with a professional model who was used to the cameras."
If he had been virtually any other footballer, he would have been slaughtered. But he got away with it because his ability seemed to belong on another planet.
It may require that type of superstar, rather a player who started one game for Leeds – at home to Peterborough – and two for Stevenage – against Southampton and Shrewsbury – to consign prejudice to the past.
.
Ian Herbert, who has been shortlisted as Sports Journalist of the Year in the prestigious Press Awards,  is The Independent's Northern Football Correspondent (see archive of his work here). Follow Herbie on Twitter here.
.
Follow SPORTINGINTELLIGENCE on Twitter
Sportingintelligence home page