Part of Sportingintelligence's guide to the 2016 FIFA presidential election: HOME PAGE here.
.
Gianni Infantino: (just) streets apart from the man he seeks to replace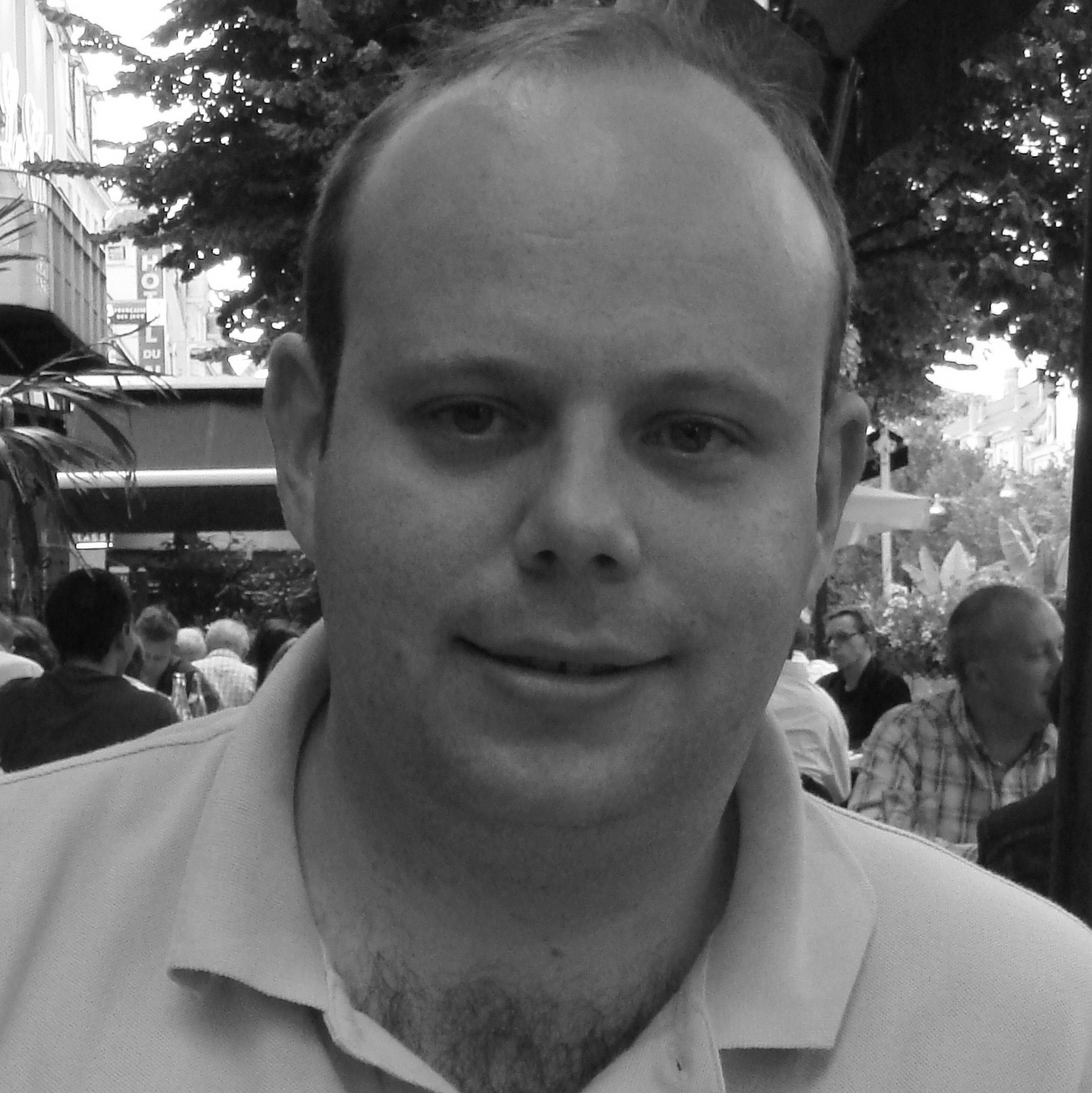 By James Corbett
18 February 2016
If Sepp Blatter's defining legacy of a 40-year long FIFA career will be as the individual who truly globalised football, the central irony of his succession may be that his heir comes not from one of the plethora of countries that his political and economic patronage has enfranchised, but from literally just down the road. Just streets apart.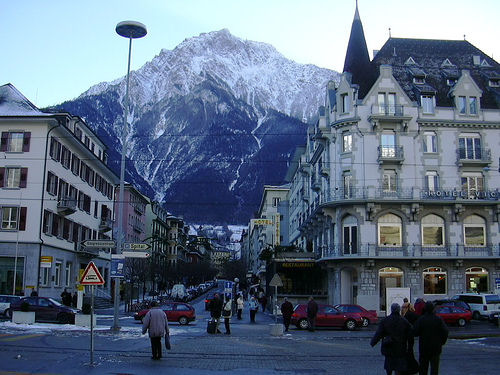 If you follow the path of the Rhone from Blatter's home village of Visp, in the Swiss canton of Valais, the next village along is Brig (right). Remarkably this is the home town of Gianni Infantino, the Swiss-Italian who is emerging as the frontrunner to succeed Blatter. The journey is 9km, a walk of less than 2 hours, and yet a win for Infantino next Friday will see this tiny part of the Valais's hold on the FIFA presidency extend into its third decade.
A quirk of geographic coincidence or is this region really the truly great breeding ground for football blazers?
Although the pair are separated by three decades of age, by German and Italian heritage, by years of sparring in rival organisations, the two men have far more in common than dividing them.
Infantino, like the older man, forged his reputation as a charismatic and multi-lingual general secretary, keen to the commercial and political possibilities of expanding his organisation's showcase competition. He is a proven administrator, charming, outwardly respectful of his rivals and enemies, albeit that he probably would never have been in with a shot of the biggest job in global football were it not for the fact that his mentor and ally, Michel Platini, is banned. Ruthless, Machiavellian and blind to institutional corruption? Only time will tell if he shares some of Blatter's less endearing characteristics.
For a purportedly humble Swiss football administrator thrust only into the FIFA election because of Platini's exclusion, Infantino's London manifesto launch at Wembley a fortnight ago betrayed plenty of chutzpah and glitz. Flanked by Jose Mourinho, Luis Figo, Roberto Carlos and several other members of the global football aristocracy (below, left) he gave an eloquent, but at times unpersuasive presentation.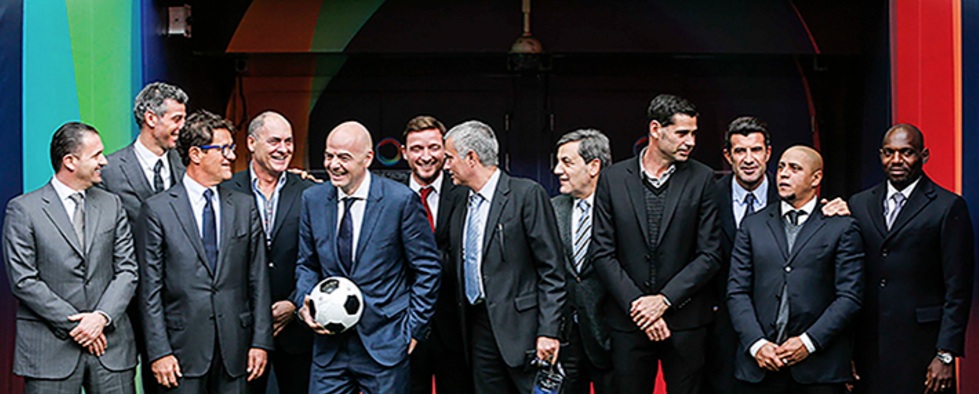 As well as an expanded World Cup of 40 teams and lots more money for member associations his vision seemed to be focused on doing a lot of things FIFA does already but better, infused with PR stunts like a legends team that will tour the world 'to promote the social impact of football globally.' 
Maybe it's too easy to sneer at these crowd-pleasing statements. Infantino's team say that the celebrity backing is 'to show that Gianni is a man of football' which might appear to be a given for someone who wants to run the game, but could the same be said for Sheikh Salman or Tokyo Sexwale?
Certainly his media strategists – Mike Lee's agency, Vero – know what they are doing and have deployed similar tactics on previous campaigns (Qatar 2022, Rio 2016, Seb Coe's IAAF presidential campaign) to great effect. It is no bad thing having a strong public presence on a campaign which will otherwise be conducted behind closed doors.
On the other hand, this website – in common with most other publications, including the print nationals in various countries – has not secured a one-on-one interview with Infantino, and there was a strong degree of media control at the Wembley event.
At one stage a renowned French journalist was in possession of the microphone, ready to ask a difficult question on match fixing in Turkey – where UEFA has a less than glorious record – the next second, as if by magic, the microphone had gone from his hand. When a question was eventually asked about match fixing in Greece (another thorny area for Infantino) it was only done through the persistence and controlled aggression of the journalist, Matt Scott.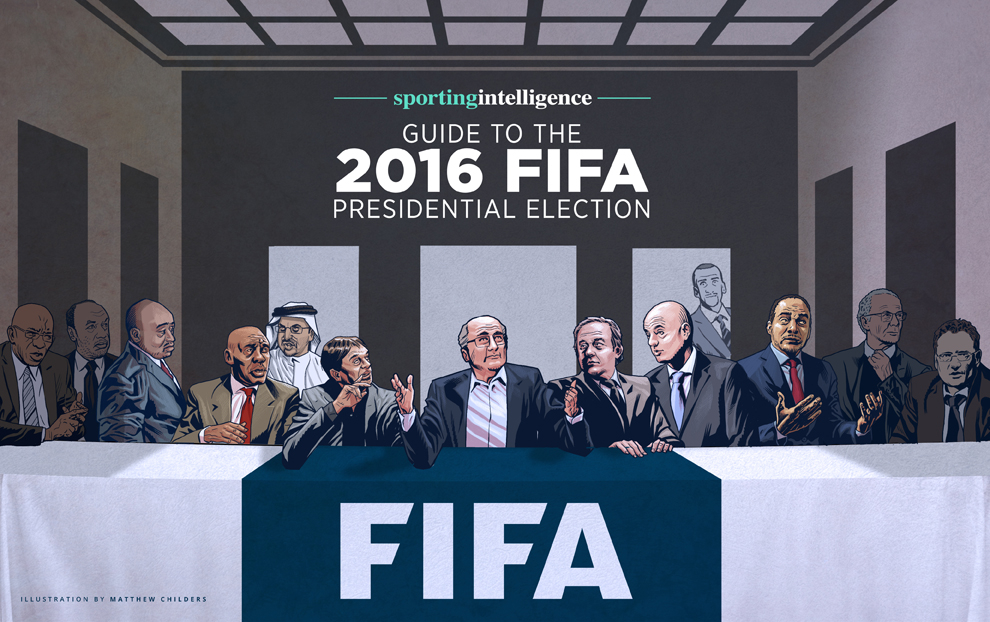 Infantino, clearly flustered, fluffed his lines on the issue. Blatter, for all his faults, may have obfuscated or spoken in platitudes at times, but Infantino's fellow Valaisian never really dodged questions at press conferences.   
Since Wembley there have been almost daily announcements of federations endorsing Infantino, who is depicted in our FIFA 'Last Supper' to the right of the now-banned Michel Platini, with whom he remains in close touch. Platini is to the right of the now-banned Sepp Blatter. Far left are the now-banned Jack Warner and Mohamed Bin Hammam and to the far right the now-banned Jerome Valcke. Otherwise scattered are the other candidates, including those now banned from running for the presidency, and Franz Beckenbauer, temporarily banned. Half the men in this piece of art have been banned from something or other football-related since the start of this presidential campaign alone. 
But these are the waters in which the candidates swim and we are now into the fifties in terms of confirmed pledges for Infantino with Conmebol also offering support. Infantino's nearest rival in this respect, Prince Ali, by contrast, has just four open declarations.
Endorsements aren't votes and this – again – is a PR exercise, but it is a good one. Firstly it shows momentum and energy behind the campaign as the vote date nears. Secondly, it casts seeds of doubt among prospective voters about the strength of the CAF-AFC-bloc Sheikh Salman purportedly has behind him. Already there are four public abstentions from CAF's support of Salman, with both Prince Ali and Infantino making some inroads in this continent; Ali in Asia too.
Moreover, Salman has looked vulnerable in his utterings to the press, with assertions that it would be better to have a deal before election day making him look far from transparent and far from presidential. Has Infantino, who was meant to be in cahoots with the Sheikh, rattled his supposed ally?
On the other hand if FIFA's governance reforms pass through Congress it will remove many of the president's executive powers, making his role more ceremonial, while the Secretary General will enjoy more decision-making powers. Given what we know about both Salman and Infantino and their views on ruling football – the Sheikh hands off, Infantino very much a man of action – perhaps a carve up would suit both parties: less a marriage of convenience than one that suits both.
In the absence of a one-on-one interview, what follows is an edited transcript of Infantino's press conference. He was, by turns, assured, composed, good when talking about financial detail, and – when put under pressure at the end – quite frankly flustered. It was a mixed bag, not unlike his manifesto; not entirely unlike the man from down the road that he seeks to succeed. 
If you win, what is the first thing you will do as FIFA president?   
The first thing I will do on 27 February, is to organise a football match. In Zurich at the FIFA headquarters they have a very nice football pitch outside.   A football match which involves all these legends [points to a front row that includes Jose Mourinho, Luis Figo, Roberto Carlos, et al] but which involves also the delegates who are there, all those who want to come; all of you, the representatives of the media, can come and join us and we'll have a great day playing football in the FIFA headquarters… This is the first thing that I will do, on day one.  The second day I pull up my sleeves and I start work.
One of the concerns of people watching this election race has is that it's been conducted in a similar way to election races previously, in which deals are done behind closed doors and talks happening in smoke-filled rooms.  Can you ensure us that no deals are being done with any other candidates, and you don't intend to do any deals with any other candidates before 26 February?
Certainly I can assure you that I haven't discussed a deal with anyone… [this] campaign is about convincing people to vote for you.  But the position of FIFA President and the candidates for FIFA President is something that is a big responsibility and has to be taken very seriously, and that's why we need the candidates for FIFA President and for nothing else, and I stand for the FIFA Presidency until the end.
Just in terms of your approach and governance, is it acceptable for somebody to be paid 2 million Swiss francs by FIFA on the basis of a verbal agreement?
I will not enter into any discussion in any situation that is in FIFA and ongoing. I don't want to speak about specific cases either; what I'm saying is that there will be clear compliance and governance rules in place which will make sure that [not only] every single payment that is made out, but also every single contract will be signed and income generated is clearly and transparently accounted for.
Sheikh Salman said that he sees this election as like a two-horse race between himself and you.  Do you see that as well?
As far as I'm concerned I am having a great deal of respect for all four candidates.  I don't underestimate any one of them.  I concentrate myself on my campaign, my vision, on my philosophy for football; so this is my point of view in this respect.
You've talked about the importance of consultation if you would be President, and yet back in December a World Cup of 40 teams nearly went through without any consultation with clubs, with players, with confederations, with their fanbase.  You were a member of the reform committee that made that recommendation.  How does your view tally as to what nearly happened in December?
Well I'm not a member of the Executive Committee of FIFA, but I think they took the right decision to study further. Anyone can of course make a proposal; we made a proposal ourselves before the committee.  I made this as a proposal in my manifesto, in my programme. By the way 40 teams means only 19% of the members.   But it's obvious that these things need to be discussed, need to be debated.  And if we don't start a discussion at some stage you will never move on either. I'm very happy as I propose in my manifesto to discuss with anyone who has a point of view in this respect.
You were part of the reform committee which proposed the new FIFA council with 36 members.  With that, don't you think that this is going to increase more the expenses with per diems, with tickets to Zurich, and getting all  these officials over there in Zurich gathering together.  Isn't it more trouble?
More trouble?  No, I don't think so.  I think you don't have to be afraid to embrace more members; you don't have to be afraid to have more participation from outside of Europe.  Today Europeans are in higher numbers.  It's not about numbers as well, it's about arguments, it's about being able to convince people, so the more people you have in a room, the more contributions can be made.  If you have good arguments you can convince them; if you don't have good arguments you cannot convince them.  If you manage to convince everyone to follow you the position will be much, much stronger; and as to the cost, well I don't think it would generate any additional cost sufficient to [not expand it]. We can optimise the ways in which people travel to places if this is a problem. I have done this for the last seven years as General Secretary of UEFA.
You're holding this meeting here at Wembley. Obviously it's well-staged, with all your celebrity supporters at the home of the FA. But the FA Council met three days ago and they didn't come out and support you like many other federations have done.  Was that a disappointment, and can you explain why they didn't back you?
Well you'll have to ask them.  It's not a disappointment to me at all.  I met Greg Dyke this morning as well, and it was explained to me the whole procedure with a board meeting later in February where they will discuss this matter.  I had the chance to present my programme to all the home associations, not only the FA, and I received their tremendous support.  I thanked those who have already come out and supported me.  I thanked those that are undecided and will come out; and I asked those who have not yet decided if they needed some additional elements to be convinced to support me, and nobody reacted to that.  So I think also when you hear what [FA vice-chairman and FIFA Exco member] David Gill said recently [that Infantino was the 'stand out' candidate], I'm pretty confident about England.  But more than that I respect fully the procedure of the English FA was to go through its board, before deciding.  They have it in February, the Germans had it on 20 January.
You say in your manifesto on development spend FIFA should easily be able to earmark at least 50% of its income for development projects.  You're a numbers man; you know that in the budget at the moment FIFA has earmarked 18% of its revenue for development projects. What you would cut to make room for that?  But you seemed just now to be talking about $1.2 billion of development spending and not $2.5billion.  So first of all, which is it?  Is it $1.2billion?  Secondly, what would you cut?
I think that's a good question.  Do you think, if I can ask you a question, that it is normal that only 18% of the revenues are distributed for the development of football? This should be the main task and the main job of FIFA.
As I've said, I'm a man of numbers…. I know how much it costs to organise a Euros; so by definition I know how much it costs to organise a World Cup.  I know how much it costs to organise a Congress in UEFA, it's €1 million, in FIFA €30 million.  The World Cup costs around three times more than the Euros.  Now, the World Cup has only 4 venues more than the Europe.
There are cuts that can be made in the administration of FIFA. [In UEFA] we have more or less similar numbers of staff; UEFA probably even a little bit bigger, and the costs of the FIFA administration are like two times the costs of UEFA.  But to clarify the point you mention, what I'm proposing is the $1.2 billion, more or less, which is the $5 million per association…  The objective will be to go to 50% [in terms of FIFA spending going on football development] because that must be the objective of FIFA. But in order to get to 50% I first need to sit inside there and see what kind of engagements have already been taken and how quickly can we get to the 50%.  So we announced the proposal which amount to $1.2 billion out of $5.5 billion, which I think is not only feasible, it's easy to get.  And these amounts will be delivered immediately and in future hopefully we can increase them quite significantly… This has to be the objective.
You say you've been around the world four times and this is a very glitzy presentation; who is actually funding your candidature?  Is the money coming from your own pocket or is it coming from UEFA?   Secondly, you talk about 40 team World Cup; you've given the reasons why you believe in that, but isn't that limiting considerably the number of countries in the world who could ever stage the World Cup?
Well as to the funding of my campaign I have been very open and transparent about that.  UEFA has given me a budget of €500,000 to fund flights – mainly flights – around the world.  I have communicated this information to FIFA's electoral committee and on my website as well.  The website has been very open, very transparent, very clear.  It's accounted for all its budget.
As to the World Cup 40 teams, well, I think we have to look at this issue as well very seriously, because already it's 32 teams [and] there are only a few countries in the world that can organize it.  If you have a country with the ability to organise such an event, it's fantastic.  But what I am proposing is to at least to study the possibility of organising the World Cup in several countries.  We are making the Euro 2020 in 13 different countries in Europe.  I think we don't have to exclude the vast majority of countries in the world from the dream of being able to organise at least part of the World Cup together with other countries.  We had to organise Euros in Poland and Ukraine recently: one country inside the European Union, one country outside the European Union.  It worked. If we can organise the Euros in 13 countries, we can organise the World Cup in four, five six countries. 
And I think that we are also a little bit more responsible on how we are dealing with these questions in the future.  It is not any more responsible to ask and to pretend from one single country, again except if it's a huge country, to build all these facilities, all these stages, the airports and so on, which in the end become white elephants, and nobody's using them.  The other side, many, many countries have at least one stadium they're proud of, or two stadiums, and we should support them.  If they have the possibility to join forces with other countries and they can come out, we can bring the World Cup to several countries. 
So under this new era of transparency within FIFA and UEFA, can you tell us how much you are actually paid at UEFA?  You told [German newspaper] Die Welt it's less than €5 million.
I told Die Welt it is much much much less than 5 million, and if I would earn anything close to 5 million I would probably not be working!  That's what I said.  What I said as well, is that all these things would become transparent and open very soon, certainly after the FIFA statutes have been approved in this respect, and this would happen as well in UEFA.  In order to be able to do this, and this is also to do with governance, you have to go through a different contract between myself and UEFA and soon this will be clear.  I was the one who proposed this.  Soon we will know how much much much less than 5 million I earn!
Could you tell us first of all the relationship with [Russian football legend and Infantino supporter] Valery Karpin, and more importantly how will you deal in your relationship with the Russian football?
Well I have of course already a great relationship with the Russian Football Union. Russia is obviously a very important country, not only because it's Russia but because it's the organiser of the next World Cup, so my focus will certainly be very much on Russia and the World Cup how to make it better.  I don't speak Russian but Valery Karpin can speak Spanish, and I speak really good Spanish so we can communicate in Spanish and that helps me.  I will learn Russian if I'm elected President. 
The crisis that's enveloped FIFA in the past year or so, many people believe that Sepp Blatter, the man who led the organisation for 17 years, is ultimately responsible for that.  Do you agree with that, and also will you rule out him being awarded an honorary presidency of FIFA if you're the president?
Well let me say my opinion about Mr Blatter is that of course there is now a procedure pending there and I don't want to participate in any speculation about the proceedings, and we must wait until the end of proceedings before being able to comment in respect of that decision, which will be taken by the bodies in charge of those decisions.
What I can say is that as far as Mr Blatter is concerned, he has been for 40 years in FIFA, I respect very much all the work that he did in terms of football development in particular around the world, and this comes through when you travel in the world as well.  So I think we need to recognise that FIFA has in the last 40 years undergone a great development, and for the rest I think Mr Blatter has said himself that he probably should have stepped back a little bit earlier in this may be right.  Then as to the honorary presidency, well we have to wait and see what happens with proceedings.
Do you believe this is FIFA's last chance essentially to get things right before FIFA loses control of football?
I think it's now or never.  Now we have the opportunity, now we have to change, we have to make a better way and work in a positive way, and united way.
I'm interested that after seven years as the General Secretary of UEFA, its ethics department remains within UEFA, is not independent of UEFA, it's in your department.   Now one of the investigations that wasn't fully prosecuted by UEFA was into the allegations of match fixing at Olympiakos, when your deputy secretary general's father is Vice-President of that club.  How can we have faith in your reform process when this is part of your legacy at UEFA?
Thanks for the question.  Let me say at the outset that the ethics and disciplinary committee at UEFA is independent; it's not a UEFA department.  The committee is independent and we have respected lawyers and judges who are part of this committee.  I think in general that no organisation in the world has had such a track record against match fixing as UEFA.  [Guffaw from audience]. No organisation in the world! We have been creating since 2009 a betting fraud detection system.  We have been creating a network into the financing of 54 integrity officers all around Europe, one per country working with the police in creating a database.  We have created a working group of all the prosecutors in Europe who are working on match fixing and they need UEFA to speak with each other and deal with these matters.  We have been excluding clubs, big clubs; we've been excluding players, we've been excluding referees.  Our disciplinary bodies have been doing this.  Not me, not the administration; I've received threats, live threats, against me, against my family, because UEFA was acting against match fixing.  It's not my decision. I had to have a police escort for my children because of the actions of UEFA in match fixing.  The Olympiakos case when I – as general seceraty of UEFA – received the case, I gave it to the ethics disciplinary body. They looked into the matter and decided there's not enough evidence and have provisionally Olympiakos.
Are you satisfied that the investigation, because I've read –
They are independent. We wait for CAS. CAS, the Court of Arbitration for Sport, confirmed this decision. They say provisionally, for the moment, and this is different to the Turkish cases for example, in Turkey you had convictions; people went to jail.  In Greece there is an investigation into the President of the club.  That's all.  There is no conviction, no decision not enough. UEFA bodies respect the Court of Arbitration for Sport decision in the Besiktas case, for example, you can read all these things you can read as well, you have to be particularly careful if there is no decision taken at national level. Fenerbahce played one year. They qualified for the semi finals of the Europa League in 2011-12 and after that were suspended by UEFA. These investigations they take time. It's not like doping where you can decide doped or not doped. Match fixing doesn't have a test that says fixed or not fixed. If and when there's proof all the clubs that are involved in match fixing will be suspended as they have always been.
.